Waterfront Dining With Feel Good Asian Favourites
If you love the experience of waterfront dining amidst the serenity of greenery and nature, pay a visit to Five & 2, located right by the water's edge in Punggol Park. The newest venture of the Timbre Group, which is behind the mixed-concept eatery, Timbre+, and ever popular Timbre at The Substation arts centre, Five & 2 is a unique establishment serving up comforting Asian cuisine and great continental dishes.
It also boasts a stellar ambience, with both indoor and outdoor seating and an amazing view of a 5 ha lake enshrined in lush greenery located in the centre of the park. One Sunday evening, in the mood for a quiet, relaxing meal, I paid a visit to the eatery for dinner with a friend.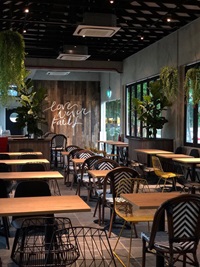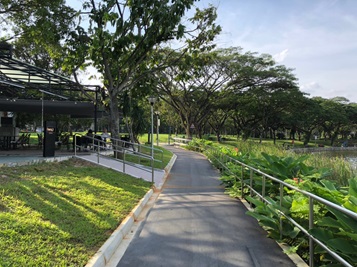 Five & 2 has a great ambience, with both indoor (left) and outdoor seating options, and great views of the lake in Punggol Park (right).
Browsing through the menu, we were impressed to learn that beyond having a great variety of Asian, local and western food at reasonable prices, Five & 2 has a social component as well. It pledges to achieve two social missions: feeding children from resource-poor backgrounds by donating one meal for every five sold, and creating an all-inclusive work environment.

Five & 2 has two social missions: creating an all-inclusive work environment and ensuring underprivileged children are well fed with nutritious meals.
To achieve its aims, Five & 2 employs the use of technology to provide equal job opportunities, for persons with disabilities and ex-inmates – customers are encouraged to return their trays in exchange for a dollar refund, and ordering is done through an integrated touch-and-pay system. This means that its employees are happier and healthier, being better able to cope with physical workload and stress. Its drinks section even has automated drink dispensers, which have pre-programmed mocktail concoctions.
In the mood for light, fruity flavours, we decided to try the Ice Coba Cabana Tea (S$6), which comes with a sugary syrup you can add to your drink to taste, and a refreshing Yummy Smoothie (S$7) made with mango juice, coconut milk, strawberry, honey and rosemary, which was absolutely delectable!

Our Ice Coba Cabana Tea (left) and Yummy Smoothie (right).
Next arrived our appetizer to share, the Cream of Mushroom (S$7.50). Served heartily warm and topped with a generous serving of truffle oil, the soup was the perfect start to our meal.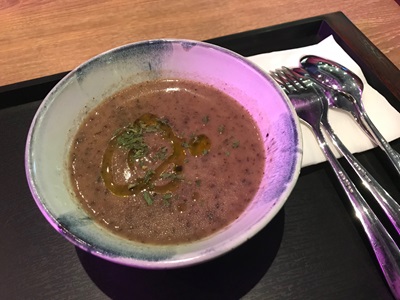 Cream of Mushroom Soup.
Our appetites awakened by the burst of flavour of truffles, we were all too ready for our mains, Fish and Chips (S$16.80), served as two crispy medium-sized fillets and fries; Sarawak Curry Chicken (S$12.80), which we ordered seeing it was the eatery's 'personal favourite', and a plate of Multi-Grain Rice (S$2.50) a mixture of barley, brown, white and black wild rice. Especially notable was the curry chicken, which had a deep aromatic flavour that was strong yet not overpowering. The chicken was tasty, with meat so soft and tender that it came off the bone with just the slightest tug of a fork.

Fish and Chips, Sarawak Curry Chicken and Multi-Grain Rice.
Five & 2 has two dessert items on its menu, and while we were already very full from our meal, we could not resist trying both these local favourites. The Chendol (S$6.50) was an exotic combination of palm sugar syrup, jelly-like noodles and coconut ice cream. It was interesting to taste, much richer than Chendol served elsewhere, which usually comes with most of the same ingredients atop a helping of shaved ice, which dilutes its flavour. But our real favourite was their Pulut Hitam with Coconut Ice Cream (S$5.50), a very well made black sticky rice dessert. The ice cream, again, was an interesting touch, lending a creaminess to the flavour.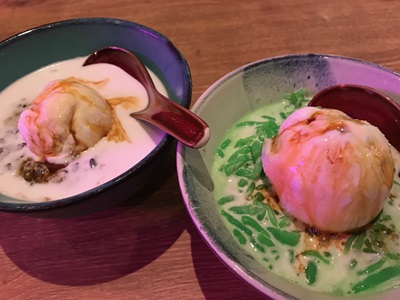 Pulut Hitam (left) and Chendol (right).
We were thoroughly impressed with the interesting blend of flavours in the food presented and agreed we would definitely return for a second visit. But perhaps next time, only after having exercised in the park first to prep our tummies for the tantalizing sweet and savoury goodies we know it has in store!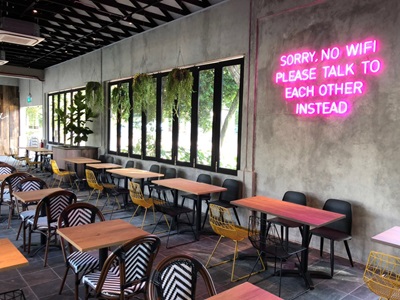 The next time you're in the northeast of Singapore, don't forget to pay Five & 2 a visit!
Five & 2 is located at Punggol Park, 97 Hougang Avenue 8. It opens from 5 pm to midnight from Sundays to Thursdays, and from 5pm to 1am on Fridays and Saturdays.
Text by Elizabeth Kamaldin