Bougainvillea: Colouring Our Streets
Our streets are often awash with colours when beautiful blooms appear on our roadside trees and shrubs, particularly during the rainier months. If you enjoyed learning about the flowers of the Yellow Flame (Peltophorum pterocarpum), Ketapang (Terminalia catappa) and Trumpet Tree (Tabebuia rosea), you may also be wondering, what about the blooms of the beautiful Bougainvillea (Bougainvillea spp.), which we can see flowering all year round? Read on for some interesting trivia about this popular ornamental plant.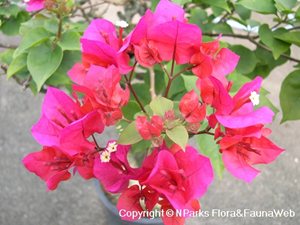 Bougainvillea glabra with red bracts. Photo credit: NParks Flora&FaunaWeb
Colourful Facts
The Bougainvillea is a popular tropical and subtropical ornamental flower which belongs to the family Nyctaginaceae. It is an evergreen woody climber which can grow up to 7 meters. Its small, cream-coloured flowers are trumpet shaped and occur in threes. Large colourful bracts, commonly mistaken for petals, surround these and help to attract pollinators. Common colours of these bracts include magenta, purple, white, orange and crimson, though 'rainbow' coloured Bougainvillea, with flowers of two colours on the same plant, are also often seen today as well.
From Brazil to the World
The Bougainvillea was named after French navigator Louis Antoine de Bougainville, whose voyage to circumnavigate the globe in the 18th century led to the discovery of the plant in Brazil. Because of its beautiful appearance and showy blooms, the Bougainvillea soon became established around the world as a decorative garden plant. In fact, even though the Bougainvillea originates from South America, its largest breeders and producers today are in India, Malaysia, Thailand, Taiwan, Hawaii and Florida!
Curating Explosions of Colour in Singapore
The Bougainvillea is a signature plant in the Singapore landscape. It is extensively planted here because it flowers all year round in our local hot and wet weather conditions, and flowering is encouraged by controlling the amount of water and fertiliser that plants receive.
Bougainvillea in Singapore and in the region are known by a number of common names: Bunga kertas, Buganvil, Buginvila, Kembang kertas and Ye Zi Hua. Use these names abroad however, and you might be greeted with a strange expression, as Bougainvillea cultivar names vary a lot throughout the world. In fact, a single cultivar might have multiple names, some which are trademarked by certain nurseries, and others which are simply used very commonly in the landscape industry. For instance, the cultivar Bougainvillea glabra 'Singapore White' is also known as 'Clifton Moonlight', 'Mauna Kea White' and 'Ms Alice'!
Interesting Variants and Cultivars
There are many varieties of the Bougainvillea, each coming with different characteristics such as thorn length as well as shape, hairiness and flowering regularity. Some species, mostly Bougainvillea glabra varieties, are relatively free-flowering, and may have inflorescences throughout the year in Singapore. Their flowering displays, however, often vary in intensity. Other species, mostly Bougainvillea spectabilis varieties, are quite seasonal, and tend to flower much less frequently in Singapore. When they do however, the resulting display is usually very intense and eye-catching.
Some species, including the two mentioned above and the Bougainvillea x buttiana (which is a hybrid of Bougainvillea glabra and Bougainvillea peruviana) are also highly variable, and can change in their behaviour and even appearance due to differences in climate, environment and mutation.
Here is a showcase of some of them:
Bougainvillea glabra 'Alba'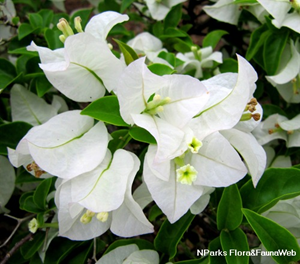 Photo credit: Vicky Lim Yen Ngoh
The Bougainvillea glabra 'Alba' has creamy white tubular flowers which measure about 2.5 cm wide. They are surrounded by white bracts.
Bougainvillea x buttiana 'Enid Lancaster'

Photo credit: Jessica Teo
The Bougainvillea x buttiana 'Enid Lancaster', also known as the Bougainvillea 'Golden Glow', Bougainvillea 'California Gold' or Bougainvillea x buttiana 'Golden Glow', has pale orange bracts and white flowers.
Bougainvillea 'Changi Airport'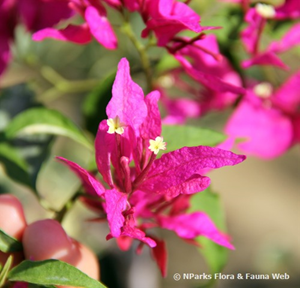 Photo credit: Pauline Tay
In 2015, a new variety of the Bougainvillea was discovered to have sprung up in the grounds of Changi Airport. This variety, later named Bougainvillea 'Changi Airport', saw flowers which had undergone natural mutations, having spiky, purple coloured bracts.
Bougainvillea 'Elizabeth Angus'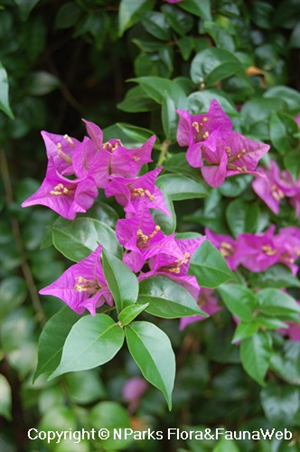 Photo credit: NParks Flora&FaunaWeb
The flowers of the Bougainvillea 'Elizabeth Angus' have bright purple, triangular bracts which form showy blossoms. It also has glossy, green leaves.
Bougainvillea glabra 'Magnifica'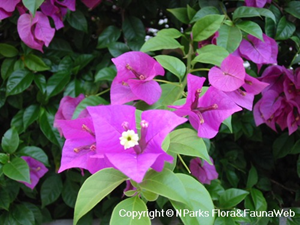 Photo credit: NParks Flora&FaunaWeb
The Bougainvillea glabra 'Magnifica' has brilliant magenta coloured bracts with tiny white tubular flowers.
To learn more about the Bougainvillea or for more interesting plant trivia, check out NParks Flora&FaunaWeb, which features cultivated and native plants, as well as a variety of animal life sighted in our parks and nature spaces.
And if you see a beautiful flowering display of the Bougainvillea or other species while you are out in our many green spaces, don't forget to share it with us on social media using the hashtag #sgblooms or #sgblooms2018!
Text by Elizabeth Kamaldin