Getting To Know Gingers
Mention 'ginger', and the first thing that may come to mind is the common spice (Zingiber officinale) that is often added to many different types of cuisine.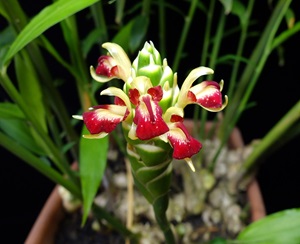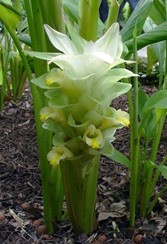 Common ginger (Zingiber officinale) and turmeric (Curcuma longa) are the two most commonly used gingers for cooking.
But did you know that gingers can be loosely used to refer to any one of a whopping 3,000 species of plants? Falling under the ginger order (Zingiberales), this group includes eight plant families as diverse as the heliconias (Heliconiaceae), orchidanthas (Lowiaceae) and even bananas (Musaceae)!
What are gingers?
.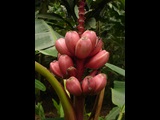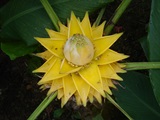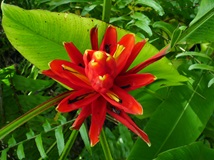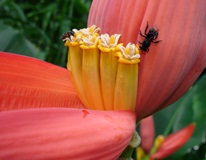 Bananas provide favourite fruits and many have ornamental value
Gingers have been described by some researchers as among the most "charismatic" of plant groups. Consisting of eight closely related plant families, the Ginger order is well known for its economically important spice crops such as ginger, turmeric, cardamom, galanga and torch ginger, all from the Ginger family, Zingiberaceae, and for bananas which are from the Banana family, Musaceae.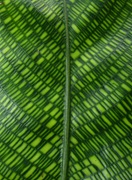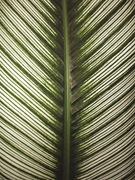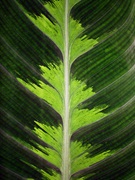 The leaves of the Prayer Plant family have beautifully intricate patterns.
Other families, like the Heliconia family (Heliconiaceae), Spiral Ginger family (Costaceae), Canna family (Cannaceae), Prayer Plant family (Marantaceae) and Bird-of-paradise family (Strelitziaceae), are known for their beauty. Many have colourful flowers or lush and intricate foliage, and are popular ornamental plants. The last family in the order is the Orchidantha family (Lowiaceae), which has orchid-like flowers which emit a strong and unpleasant smell.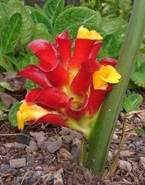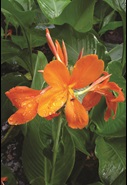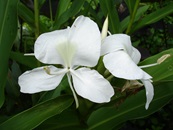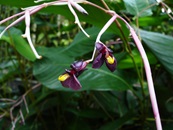 The flowers of gingers come in all shapes and colours.
Species in these eight families are essentially tropical plants which can be found throughout the equatorial zone, preferring its warm and wet climate, although some extend into subtropical areas and may occupy a wide altitudinal range as well, from sea level to altitudes of over 5,000 m.
Most thrive in the understory of forests, and display a huge variety of size. Some species grow to over 10 m in length, particularly species of bananas, while others barely exceed a few centimetres.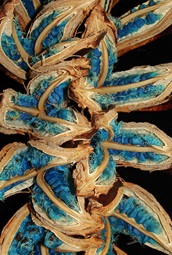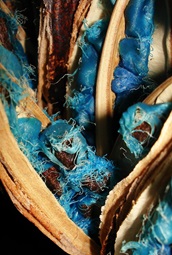 The fruits of the Traveller's Palm with the electric blue aril.
The Traveller's Palm (Ravenala madagascariensis), which falls under this order, is not a true palm, but is more closely related to bananas. Its fruits are woody capsules which split at maturity into three parts, exposing its brown seeds. These are almost fully embedded in an incredibly electric blue aril.
From cooking to cosmetics
The Zingiberales also has numerous important uses in our lives, especially in cooking. Take the Torch Ginger (Etlingera elatior) for instance. A popular landscape ornamental plant which has long-lasting inflorescences, this species has young flower buds, known locally as Kantan, which are an important ingredient in many dishes, including Penang laksa and Chinese rojak.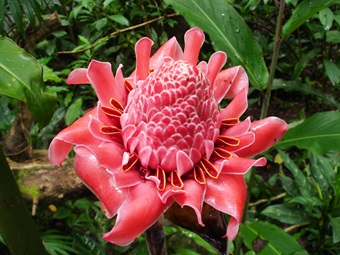 The Torch Ginger
Yet other species may be used for medicinal purposes, in making cosmetic items such as soap, shampoos, and dyes, as well as miscellaneous items such as baskets, paper and even kimonos!
Get up close with these species in the Ginger Garden
Curious to learn more about these unique plants, and even meet with some species up close? You can at the Ginger Garden in the Singapore Botanic Gardens.



The 1-ha Ginger Garden includes a picturesque lake.
The Ginger Garden, officially opened in 2003, showcases a rich living collection of several hundred species of gingers and plants from related families. Spanning an area of 1 ha, the garden has been divided into special zones where you can find gingers organised by their regions of origin. These are intertwined with mixed areas planted up with favourite ornamentals from the Ginger order.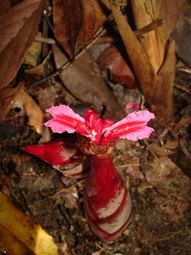 The Cheilocostus globosus (left) and Hornstedtia conica (right) are native species of Singapore.

Species featured hail from the Americas, Africa and Asia. There are even areas demarcated for species found in the Malay Archipelago and Pacific islands and a special area showcasing the native gingers of Singapore.
To connect you even closer to the plants, you can embark on trails to see some interesting species up close. And if a species is not in bloom during the time of your visit, you may be able to admire its beauty by viewing over 150 new photographs of these gingers' beautifully complex flowers.

The walk-through waterfall is one of the favourite spots in the Ginger Garden for picture taking.
Other visitor favourites include a scenic waterfall, romantic night lighting in the garden and a pool adorned with giant Amazon water lilies. Also be wowed by the beautifully manicured horticultural displays along the Garden's main walkway, perfect for those photo opportunities.
Tips for your visit
While some species of gingers will be flowering at any given time of the year, the best period to visit the Ginger Garden is between June and August.

Ginger flowers are very delicate and generally only last a single day. They look the best in the mornings or early afternoons, and wilt quickly towards the end of the day.

Not all Gingers flower at eye level! Some species flower directly from their roots or directly from their rhizomes, so do look on the ground to spot them.
For more information on the Ginger Garden, check out our website here.
There will be an exhibition on Gingers in the CDL Green Gallery in the Singapore Botanic Gardens. This is held in tandem with the 8th International Zingiberales Symposium, organised by the Singapore Botanic Gardens from 24 to 27 July 2018. It is the only international event that focuses on research on the Ginger order. More than 100 researchers from 22 countries are registered to exchange their latest findings on various aspects of the ginger research.

After the symposium, research posters will also be put up at the Botany Centre for everyone to learn more about the Ginger order.

Text by Elizabeth Kamaldin
Photos by Jana Leong-Škorničková