Discover the Community Gardens in your Neighbourhood
Is that a Wintermelon or Lady's Finger that you see? Or do you smell Pandan or Lemongrass in the air? Many of the green spaces in our neighbourhoods are actually community gardens!

We now have some 1,300 community gardens in Singapore, shared gardening spaces set up and maintained by avid gardeners from different backgrounds. Beyond beautifying our residential estates with blooming flowers, green vegetables, fragrant spices and brightly-coloured fruits, community gardens also attract biodiversity like birds and butterflies, enabling us to observe them up close.
Explore these five trails to find out more about the beautiful gardens and friendly gardeners in your neighbourhood.
Bukit Gombak-Hong Kah North Community Garden Trail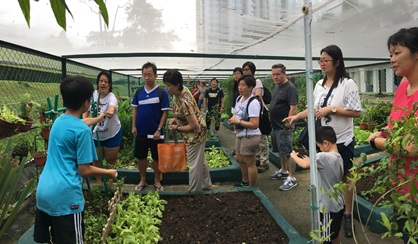 Stop and chat with the gardeners while you are on this trail; you may even learn a gardening tip from them!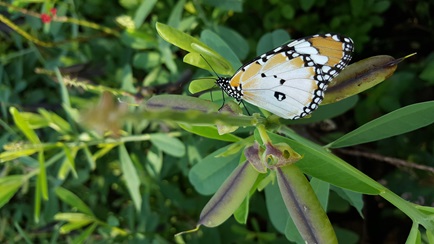 Colourful flowering plants, housed in pots at the community garden at Block 530 Bukit Batok Street 51, play host to pollinators like the Plain Tiger (Acerbas chrysippus chrysippus) (above) and Common Grass Yellow (Eurema hecabe contubernalis).
Bukit Gombak-Hong Kah North trail has nine community gardens for you to explore. Located in close proximity to Tengah Nature Way, these gardens benefit from the rich biodiversity found in the area which increases the incidence of pollination, thus improving the fruit yield of these gardens.
Look out for the False Bird of Paradise along the trail.


This means you get to admire the different birds and butterflies who come
to visit as well as the variety of edibles and biodiversity-attracting plants grown by gardeners! Look out for
one of the more commonly seen plants around Singapore, the False Bird of Paradise (Heliconia cultivars). Found on this trail, this plant is named as such because it closely resembles the Bird of Paradise (Strelitzia

reginae

)!
For more on the Bukit Gombak-Hong Kah North community garden trail, check out our DIY trail guide here.

Bukit Panjang Community Garden Trail
Come on this trail and you may find rows of Pandan and Lemongrass ready for harvesting, like this at the community garden at Block 210 Petir Road.
The Bukit Panjang community garden trail is home to over 11 community gardens. Most of the gardens grow a mixture of herbs and leafy vegetables, with Kailan (Brassica oleracea cv.), Lettuce (Lactuca sativa), Xiao Bai Cai (Brassica rapa var. chinensis), Pandan (Pandanus amaryllifolius) and Lemongrass (Cymbopogon citratus) commonly seen. You may also spot the Red Sealing-wax Palm or Pinang Rajah (Cyrtostachys renda), which has been called the plant of Bukit Panjang by some, as it is commonly planted around the estate. Its crownshaft and leaf sheaths are the same colour as the wax used to seal envelopes in the past.
In the 1950s, Bukit Panjang was home to several rural settlements and agricultural areas. Today, efforts are made by community gardeners to keep the spirit of neighbourliness and shared responsibility, termed 'gotong royong', alive in modern Singapore.
For more on the Bukit Panjang community garden trail, check out our DIY trail guide here.
Fengshan Community Garden Trail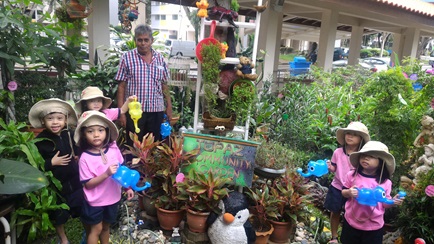 The community garden located between Blocks 93 and 94E, Bedok North Avenue 4, features interesting decorative items made from recycled materials.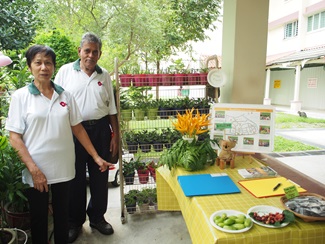 Approach gardeners for tips on growing plants such as the Four-o-clock (Mirabilis jalapa) and Roselle.
The Fengshan constituency is home to eight community gardens, featuring a variety of ornamental and fruit-bearing plants. These include the Custard Apple (Annona squamosal), Singapore Rhododendron (Melastoma malabathricum) and Roselle (Hibiscus sabdariffa). Many of these gardens incorporate environmentally-friendly initiatives, such as the upcycling of materials, to further enhance and beautify their premises.
For more on the Fengshan community garden trail, check out our DIY trail guide here.

Tampines Central Community Garden Trail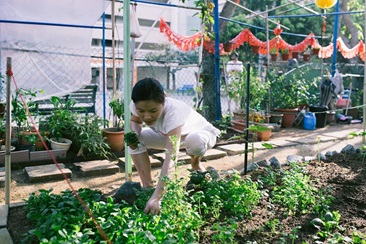 A gardener hard at work, tending to vegetables such as the Kailan at the community garden located at Block 842 Tampines Street 82.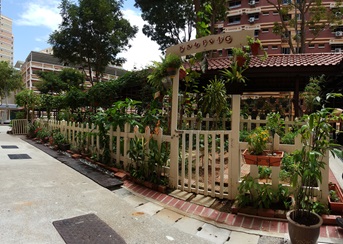 Vertical greenery hangs along the walkway of the community garden at Block 842G Tampines Street 82, which features an English garden-themed design.
Enjoy visiting eight community gardens that feature a variety of edibles, including melons and fruit trees, and a Malay medicinal herb garden, along the Tampines Central community garden trail. Some gardens also boast beautiful designs, including an attractive water feature and English garden-themed design.
And while in Tampines be sure to look out for the Tempinis Tree (Streblus elongatus), an ironwood tree which once grew abundantly in the area. It is monoecious, meaning that trees produce both male and female flowers.
For more on the Tampines Central community garden trail, check out our DIY trail guide here.
Teck Ghee Community Garden Trail

CIB Ambassador, Mr Hamzah bin Osman (far left), introduces visitors to the Kedondong (Spondias cytherea), which may be eaten raw or cooked, and even made into juice.

This 'L'-shaped garden, located at Block 309A Ang Mo Kio Avenue 1, boasts a spacious orchid shed which overlooks a row of racks for bonsai and neatly arranged lots for vegetables.
Situated in Ang Mo Kio, one of the oldest housing estate in Singapore, are the 12 community gardens which form the Teck Ghee community garden trail. Over the years, the Ang Mo Kio Town Council has worked closely with NParks to run the biennial Ang Mo Kio in Bloom competition since 2007, recognising the town's best gardens. Look forward to spotting bonsai, ornamentals, and many fruit trees!
For more on the Teck Ghee community garden trail, check out our DIY trail guide here.
Garden visit etiquette
While you are exploring the community gardens, please:
Say 'hello' to the gardeners!

Take nothing but photographs, leave nothing but footprints.

Stay on paths to prevent trampling of plants.

Note that the gardens may be closed during inclement weather.
The gardens are generally open from 7 am to 10 am or from 5.30 pm to 7 pm, as community gardeners will usually be present during these times. For special arrangements for garden visits, do get in touch with the respective Residents' Committee-in-charge.
Interested to meet like-minded individuals who are just as passionate about plants and gardening as you are? Visit our website here to learn more about our Community in Bloom initiatives, and how you can get involved with a community garden of your own!
Text by Tan Yin Qi,
Photo of the Plain Tiger by Jacqueline Chua
Photo of the False Bird of Paradise by Shi Biying