Meet Nature's Singers
With the majestic Henderson Waves and beautiful HortPark gardens, the Southern Ridges is a shutterbug's dream location. However, did you know that it is also home to more than 40 species of birds?
Recently, I went on a birdwatching tour at the Southern Ridges, which brought me through the Forest Walk and Singing Forest, and it was truly an eye-opening experience. I was excited to meet others who were passionate about the activity, with many armed with binoculars, cameras with the longest of lenses and even 500-page guidebooks on birds!
From kingfishers to woodpeckers, there is truly so much to keep your eyes peeled for in the Southern Ridges. Most of them would be most active from 7.30 am to 9.30 am due to it being their natural feeding times.
Drongos Right At The Start
At the start, I was not sure whether I would be able to see any birds, but was soon proven wrong when the group spotted a pair of male and female Greater Racket-Tailed Drongos (Dicrurus paradiseus) perched on a high branch right above us. Among the less commonly sighted birds in Singapore, they have a metallic blue sheen which can only be seen clearly through a pair of binoculars.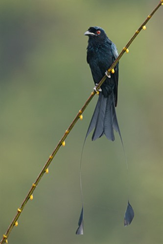 Greater Racket-Tailed Drongo. Photo credit: Francis Yap
Spot Raptors From The Henderson Waves
As we continued on to the Henderson Waves bridge, we managed to spot even more birds, such as the Pink-necked Green Pigeon (Treron vernans), Blue-collared Kingfisher (Todiramphus chloris), Black-Naped Oriole (Oriolus chinensis), Dollarbird (Eurystomus orientalis) and Lineated Barbet (Megalaima Lineata).
According to the friendly and welcoming guides, you may even catch a sight of raptors, such as the White-Bellied Sea Eagle (Haliaeetus leucogaster) and the Brahminy Kite (Haliastir indus), in action as they hunt for their breakfast in the morning.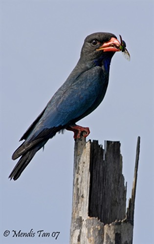 The Oriental Dollarbird was so named because of it has a prominent white patch which resembles dollar coins used in the olden days. The patch can only be spotted when it is in flight. Photo credit: Mendis Tan
Continuing Along Forest Walk
Even more interesting bird species can be spotted along the 1.3 km long Forest Walk in Telok Blangah Hill Park, where the Singing Forest is located. We came across the Golden-backed Three-toed Woodpecker (Dinopium javanense), which sports bright red feathers on its head and yellow ones on its back. Other birds to look out for include the White-crested Laughingthrush (Garrulax leucololophus), which like to move in flocks. They can be easily spotted with their brown body, black bill and mask.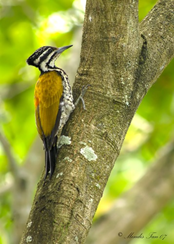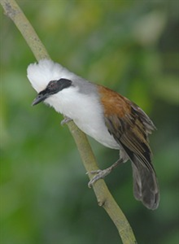 Female Golden-backed Three-toed Woodpecker (left). Photo credit: Mendis Tan; White-crested Laughingthrush (right). Photo credit: Cai Yixiong
Chirps and Calls in The Singing Forest
Finally, we reached The Singing Forest, the real highlight of our tour. Home to more than 200 bird-attracting trees native to the region, visitors to the forest can expect to be greeted by a variety of chirps and calls sounding out from a relatively open space. Here, we spotted a family of Yellow-vented Bulbuls (Pycnonotus goiavier) feeding on the seeds of the Simpuh Air (Dillenia suffruticosa), and Blue-throated Bee-eaters (Merops viridis), perched on telephone wires in the distance.

The boardwalk at The Singing Forest. Photo credit: Natasha Kong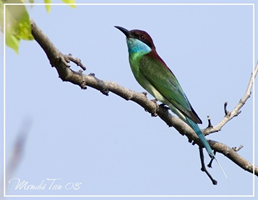 Yellow-vented Bulbul (left). Photo credit: Mendis Tan; Blue-throated Bee-eater (right). Photo credit: Mendis Tan
All in all, birdwatching certainly proved to be an interesting experience which is perfect for everyone, even absolute beginners. With the trees and the melodic chirping of birds, combined with a more than leisurely stroll, it would also be a good opportunity to unwind from the many stresses of life and get closer to the tranquility and serenity of nature. For those who want something different from the typical picnics in the parks or camping by the beach, try birdwatching at the Southern Ridges today!
Tips for your visit
For a better chance at spotting birds, do bring a pair of binoculars or camera with a zoom-function along with you. You will find that the trail provides many great photography opportunities.

Keep your noise levels to a minimum to avoid scaring birds away.

Wear clothes with long sleeves and pants to avoid being bitten by mosquitoes.
Join us for the next Bird Watching at the Southern Ridges tour on Saturday, August 18, from 7.30 am to 9.30 am. For more information and to sign up for the tour, visit our events page. If you are planning your next visit and would like to find out more information about The Southern Ridges and how you can get there, click here.
Text by Natasha Kong