Getting to Know the Binjai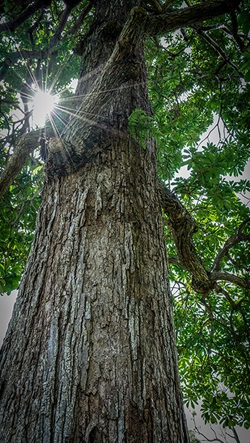 The binjai's trunk is columnar, without buttresses but with a greyish bark. The binjai's overall form with flowers.
Many trees all across Singapore flowered after a period of dry weather in April to May earlier this year. One such tree was a large stately binjai (Mangifera caesia) growing in a green space off Jalan Naung, near Hougang MRT station in the north-eastern part of Singapore.

The binjai is one of 12 species of mango recorded as native to Singapore. This species is also found in Peninsular Malaysia, Sumatra, Borneo and Java. Binjai trees flower and fruit at long intervals, usually after five years. The low branches of this binjai tree meant that flowers were easily accessible for observation, documentation, and botanical research.
Blooms and Blossoms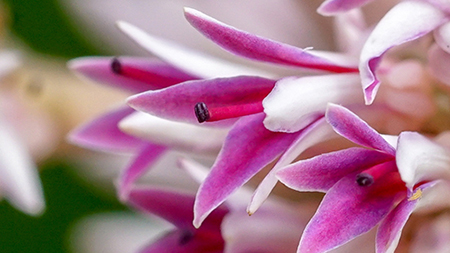 The attractive binjai flowers that are lilac on the outside and purple on the inside.
When in bloom, the binjai tree is covered in attractive bunches of flowers that are lilac on the outside and purple on the inside. However, the flowers open only for a day.

Its fleshy fruit is pear-shaped that ripens to a pale brown. Measuring about 10 to 19 cm long and 5 to 10 cm wide, it is considered a delicacy by the Malay community, and can be eaten raw but taste sour. A more common way to consume the fruit is to dip the pulp of the ripe fruit in sambal belacan, a chilli and fermented prawn paste, and eaten with rice.
Pale brown with a rough skin, the binjai fruit flesh is white in colour and has a sour taste.
There is also a variety with sweet fruits called binjai manis or wani. While the indigenous people of this region have known the binjai for hundreds of years, it was only formally named and described in western science by a Scottish botanist and surgeon named William Jack in 1824. A close confidant of Sir Stamford Raffles, Jack carried out early botanical exploration in Sumatra, Penang and Singapore, and was known for the clarity of his botanical descriptions.
Standing Tall
The binjai has a dense crown and is dome-shaped.
I first came across the lofty tree at Jalan Naung more than 25 years ago, in 1991, and brought it to the attention to my colleagues in NParks. Then, it was the only tree on a turfed piece of vacant land, the site of a former kampung. In the past, the binjai was commonly planted in such villages for its brown potato-like fruit.
Although it was not clear how long this tree had stood in this place, it is likely that it was spared when the area was cleared of buildings and other vegetation because of its large size. At about 30 m, it may have just been too difficult to fell!
Its conservation may have also been helped by the belief held by some members of local communities that spirits are associated with large trees, and harm may befall those that injure these trees.
Handle with Care
The Singapore Red Data Book lists the binjai as Critically Endangered. In 2002, this binjai was designated as a heritage tree, with an impressive girth of 3.4 m when measured in 2003.

However, accidental damage to the trunk and/or root system can lead to a decline and eventual death of a tree. One common problem is the movement of heavy machinery near the base of the tree, resulting in soil compaction that can lead to root damage. At one time, because of building construction in an adjacent piece of land, there was a danger of this happening to the tree.

To prevent this, a metal barrier was erected at the root zone of the tree, so as to protect its trunk and roots. Today, this protective barrier still stands and the tree is still as vigorous as when I first encountered it.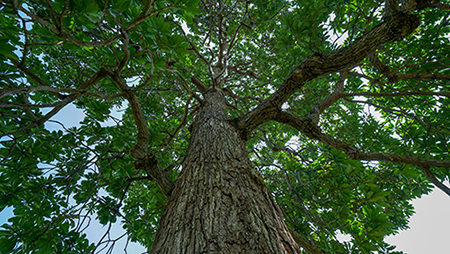 The overall form of the binjai showing its branch arrangement.
Sense of Permanency and Place
My own research is motivated by the fact that there are still many gaps in our knowledge about the trees of our region. This is no wonder considering that there is an estimated 19,000 species of trees in tropical Asia! Since my contact with forest botany, arboriculture and plant taxonomy, I have been working to improve this knowledge gap and enjoy helping others appreciate the immense biodiversity of our region.
From a landscaping perspective, this stately and beautiful tree defines the area around it. Personally, this tree reminds me that there is still much to learn about nature.

Although there has been much development in its surroundings, the presence of this tree gives the community a sense of permanency and place. I am hopeful that it will continue to grow strong and tall in its current location.
Text and photos by Dr S K Ganesan
About the writer
Dr. S.K. Ganesan is Principal Researcher in Plant Taxonomy at the Singapore Botanic Gardens, researching the biodiversity, ecology and ethnobotany of the plants of tropical and subtropical Asia. His present focus includes the botany of the mango, meranti and melunak tree families.
Interested in learning more about trees that make up our urban forest? Check out trees.sg, our online map which shows the locations of over 500,000 trees, features interesting bites of information on unique tree species, and even lets you show some love to your favourite tree by leaving it a treemail and giving it a hug!
Get up close and personal with some of the trees on our island by going on a walking or cycling trail in our parks, gardens and park connectors. Besides admiring the trees, you can also potentially spot biodiversity. Lean more about going on a DIY walk.
Mature trees are part of the natural heritage of Singapore, serving as important green landmarks in our City in a Garden. These trees help us identify with and stay rooted to the place we call home. The Heritage Tree Scheme, started in 2001, advocates the conservation of Singapore's mature trees. Learn more about how you can nominate a tree for this scheme.