Turning 125: The Vanda Miss Joaquim
Singapore's National Flower, the Vanda Miss Joaquim (Papilionanthe Miss Joaquim), turns 125 in 2018! To celebrate this occasion, here are 10 interesting trivia about this beautiful orchid hybrid.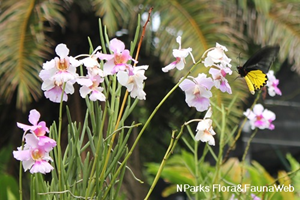 Blooms of the Vanda Miss Joaquim. Photo credit: Jennie Tang Yurue
1. National Icon
On 15 April 1981, the Vanda Miss Joaquim was selected as Singapore's National Flower. It was selected from among 40 flowers, out of which 30 were orchids. The 'Agnes' variety of the Vanda Miss Joaquim was chosen in particular for its vibrant colours, hardiness and resilience, qualities that reflect the Singapore spirit.
2. Agnes Joaquim, the Lady Behind the Orchid
The Vanda Miss Joaquim was officially recorded as a new orchid in the 'Gardeners' Chronicle' on 24 June 1893 by Henry Nicholas Ridley, then director of the Singapore Botanic Gardens. He described it as having been successfully crossed between the Vanda hookeriana and Vanda teres by Miss [Agnes] Joaquim, an Armenian lady who resided in Singapore. The Vanda Miss Joaquim is the country's first registered orchid hybrid.
3. Seeking Other 'Vandas'
Various places and roads have been named after our national flower. These include the Vanda Miss Joaquim Park in Tanjong Pagar and several roads including Vanda Road, Vanda Drive and Vanda Crescent.

Vanda Miss Joaquim Park, located along Yan Kit Road.
4. Name Change
Recent taxonomic research has revealed that the parents of our national flower should actually be in the genus Papilionanthe rather than Vanda. As such, this orchid is now accepted by the scientific name of Papilionanthe Miss Joaquim, though its common name continues to be Vanda Miss Joaquim.
5. Signature Scent
In 1988, a fragrance called Singapore Bliss, which was created by a local perfumer and uses extracts from the Vanda Miss Joaquim as its main ingredient, was used as the signature scent of the Singapore Airlines. The flowers of the Vanda Miss Joaquim can also be made into garlands, bouquets and corsages.
6. Gaining Currency
The Vanda Miss Joaquim has appeared on a number of Singapore's notes and coins, including notes of the Ship series and the five-dollar bill in the Portrait series. Some stamp series have also adopted the national flower as part of their design.
7. How the Orchid Grows
The Vanda Miss Joaquim grows in dense clumps of branching stems and thrives best in an open, sunny location with humid, non-stagnant air. The slow-growing hybrid requires support and its slender stems should be tied to posts.
8. Flowering Power
The orchid will start to bloom only when the top of the plant exceeds its support by 40 to 50 cm. Its flowers are violet in colour and have an orange centre. It is free-flowering and blooms throughout the year in Singapore. Up to 12 flowers can grow on a single inflorescence, and each measures about 5 cm across and are 6 cm tall.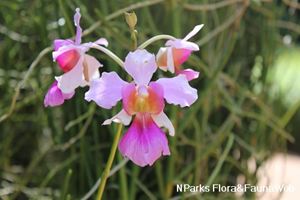 Photo credit: Jennie Tang Yurue
9. Symbolising Singapore
The motif of the Vanda Miss Joaquim has been used for a number of purposes. During National Day, images of the Vanda Miss Joaquim can be found on banners and other decorations. It has also been put on merchandise such as accessories, apparel, postcards and souvenirs. Looking for a gift for a loved one? Look no further than our Singapore Botanic Gardens' Gardens Shop, which includes beautiful journals, bookmarks, magnets, and even a plantlet which lets you grow your own Vanda Miss Joaquim at home!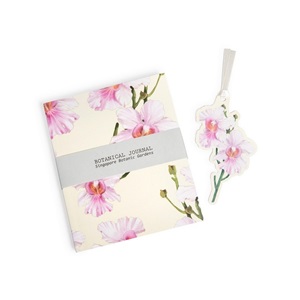 Pen down your thoughts on this beautiful Vanda Miss Joaquim Journal, which comes with a bookmark, available at the Singapore Botanic Gardens' Gardens Shop.
10. A Flower By Any Other Name…
The Vanda Miss Joaquim is also known as the Princess Aloha Orchid, Vanda Joaquim, Wah-Kim Orchid, Vanda Agnes Joaquim and Zhuojin wandailan, which translates into "orchid of everlasting excellence" in Mandarin.
Enjoyed learning about this orchid? Join us at the Singapore Garden Festival (SGF) 2018, which features a brand new Orchid Extravaganza floral display in the Flower Dome, conceptualised by award-winning Singaporean filmmaker Royston Tan! Other festival highlights include the Balcony Gardens, Floral Windows to the World and Landscape and Fantasy Show Gardens, which feature displays by celebrated local and international floral designers. There will even be a marketplace with over 100 booths offering food and beverages, plants, gardening and landscape products and services and art and craft items for sale. The fun happens from 21 July to 3 August!
For more information on SGF 2018, log onto www.singaporegardenfestival.com and www.facebook.com/SGGardenFest.
Text by Elizabeth Kamaldin