Bigger! Better! Longer! More!
Winter melons as heavy as five bowling balls and snake gourds as long as a grown man! These astronomical-sized fruits exist!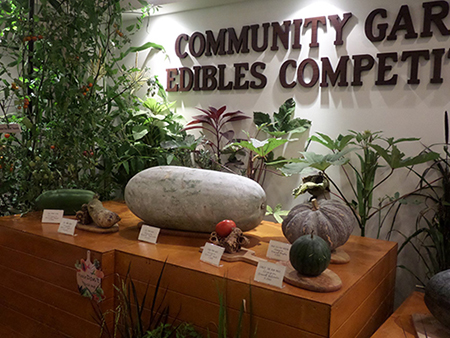 Visitors to the Singapore Garden Festival 2018 held from 21 July to 3 August had the opportunity to view these gardening wonders, the winners of the Community Garden Edibles Competition.
Showcase for Gardening Enthusiasts
First launched in April 2015, this competition provides a platform for gardeners to showcase their gardening talents and to recognise them for their ability in growing fruits and vegetables.
For this year's competition, participants had the choice of using seeds provided by NParks, source for their own, or submit fruits or vegetables from existing plants grown in their gardens. Registration began in early February 2018, with more than 280 gardening enthusiasts participating in 12 different fruit and vegetable categories.
Under the 'longest' category, gardeners can submit brinjals, chillies, cucumbers, lady's fingers, long beans and snake gourds to compete in terms of fruit length. Under the 'heaviest' category, submissions include papayas, pumpkins, radishes, tomatoes, watermelons and winter melons to compete in terms of fruit weight.
Peek Behind the Scenes
Participants presented their fruits or vegetables for shortlisting on 17 July 2018 at the HortPark. That morning, a sizable crowd of gardening enthusiast arrived, most hoping that their fruits would make the cut, while others came in support of their peers. A total of 468 individual fruits were submitted this year.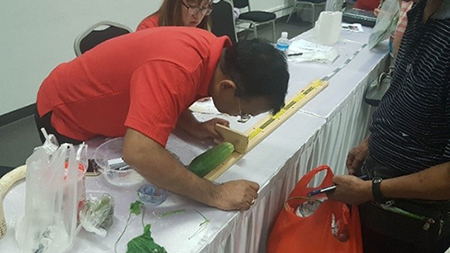 Each fruit or vegetable had to be carefully weighed or measured by volunteers.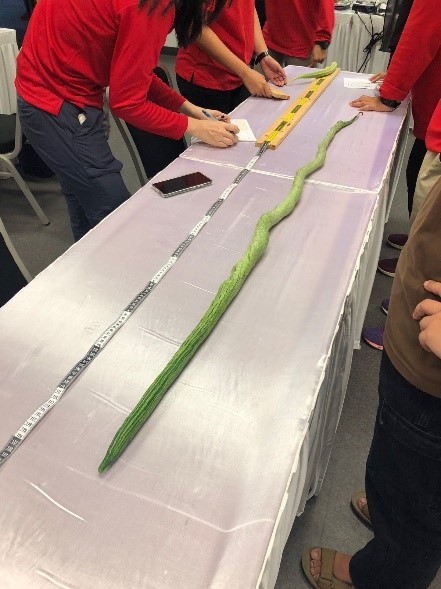 This snake gourd was a whopping 1.9 m long.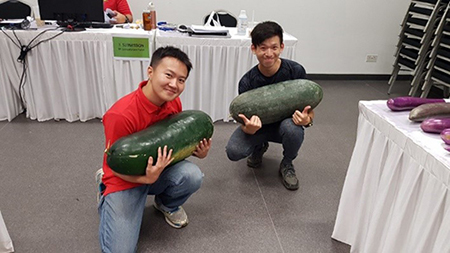 The winter melons were so heavy that volunteers had to squat before lifting them, to minimise damage to their backs.
All entries were carefully weighed or measured by volunteers, taking care not to damage some of the winter melons that weighed more than 30 kg! There were also snake gourds that grew to more than 1.8 m and long beans that measured more than 1.2 m. In the first round of measurement, the top 20 fruits in each category were shortlisted and sorted in ascending length or weight.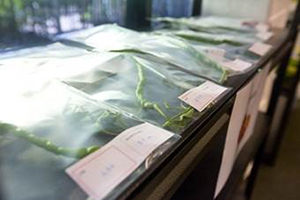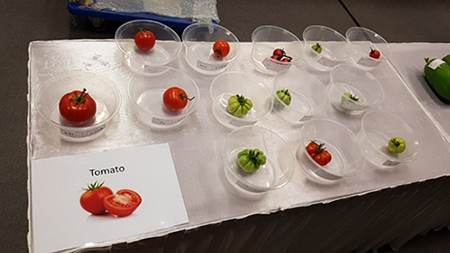 To prevent accidental bruising, the tomato entries were kept in plastic containers while the chillies were kept securely in zip-lock bags during the sorting process.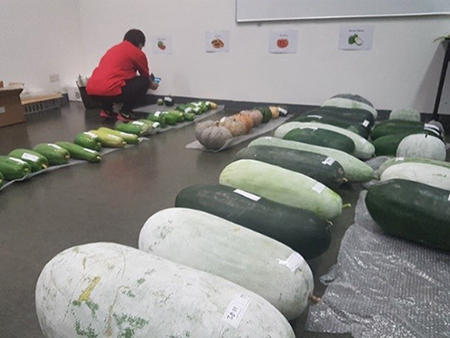 The entries were sorted by type in ascending order. Bubble wrap was used to cushion the heavier entries.
The top 20 fruits and vegetables in each category were shortlisted and sorted in ascending length or weight.
More than Weight and Length
The final judging, which took place behind closed doors, was a tough and gruelling process
The judges, which included representatives from the Singapore Gardening Society, Singapore Botanic Gardens as well as corporate partners, debated for some time, considering not just the length or weight, but also the overall freshness, form and colour of the fruit or vegetable.
For more than an hour, the judges meticulously examined the fruits and vegetables, looking for blemishes, comparing colours and shapes and even smelling them, before furthering shortlisting 10 submissions in each category. The final top three were then chosen out of the 10 entries.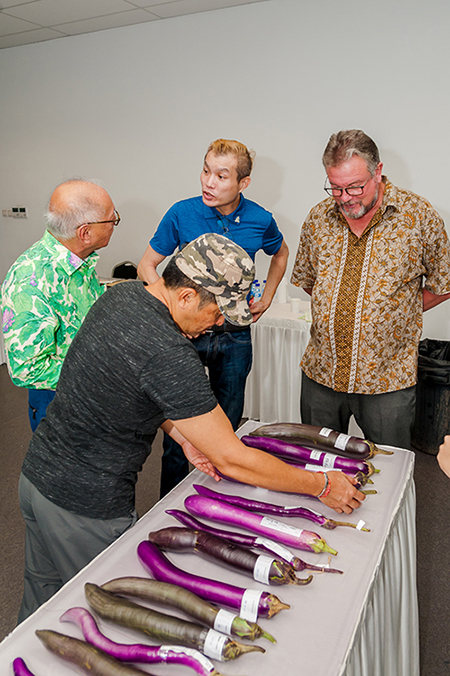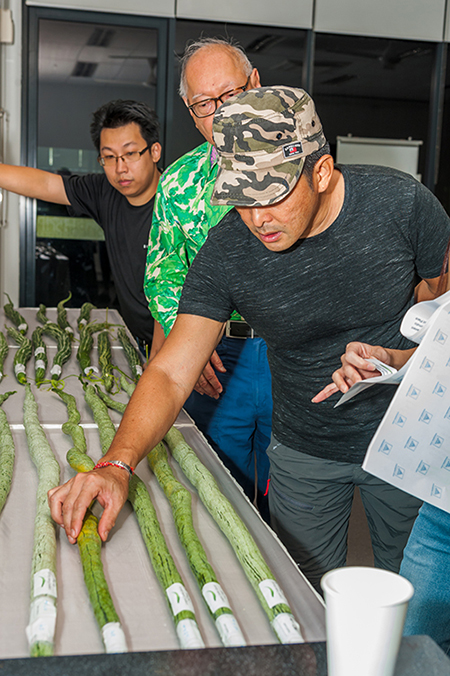 Entries sorted in a row were first judged purely on their measurements. The judges then inspected each entry for qualities such as freshness, condition, and attractiveness to make a second judgement.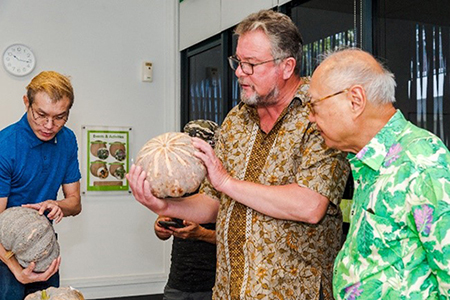 Judges would prod some fruits and vegetables to check for over-ripeness. They also sniffed some entries to check for rot.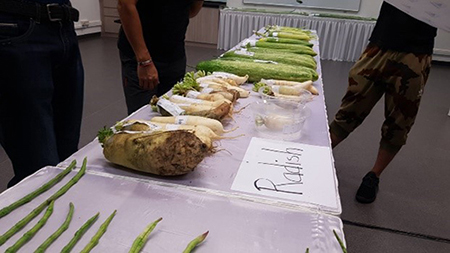 The judges commented that the general cleanliness of the fruits and vegetables, in this case the radishes, should be considered as it affects the overall attractiveness.
Handle with Care
With the winning entries confirmed, the fruits and vegetables were carefully bubble-wrapped to prevent accidental bruising or unwanted blemishes while being transported on the back of a lorry to Gardens by the Bay, the venue of Singapore Gardens Festival 2018.
The top three winners for each fruit and vegetable were set apart and tenderly displayed for viewing by visitors to the Festival. The other shortlisted entries were also put to good use, decorating the rest of the edibles showcase.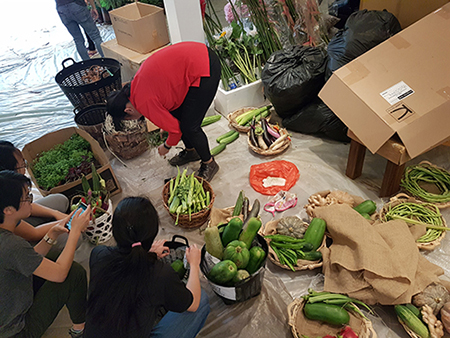 Volunteers sorting and selecting the shortlisted entries for the edibles display.
The shortlisted entries were used to decorate the edibles display.
The set up for the entire edibles competition display took about three days, with at least 15 pairs of helping hands each day. Additional plants grown by staff from HortPark were added to spruce up the display.
As the Festival was held for a fortnight, special care was made to keep all entries cool, so as to prolong their shelf life and prevent ripening. Vegetables and fruits used for decoration, were checked daily for freshness and replaced when necessary.
Most visitors were astonished by the large sizes and hefty lengths of the winning entries. They were even more surprised to learn that such giant entries were home-grown by our local community gardeners in urbanised Singapore!
For the Record
Participants competed in 12 fruit and vegetable categories:
Brinjal (Solanum melongena)
Chilli (Capsicum annuum)

Cucumber

(Cucumis sativus

L.)
Lady's Finger (Abelmoschus esculentus)
Long Bean (Vigna unguiculata)

Snake Gourd

(Trichosanthes anguina L.)
Papaya (Carica papaya)
Pumpkin (Cucurbita spp.)

Radish

(Raphanus sativus)
Tomato (Lycopersicon esculentum)

Watermelon

(Citrullus lanatus

)

Winter Melon (Benincasa hispida)
The winners of the 2018 Community Garden Edibles Competition are:
| | | |
| --- | --- | --- |
| Category | Size | Winner |
| Longest Brinjal | 43.5 cm | Low Lin Kin |
| Longest Chilli | 32 cm | Yishun Greenwalk Community Garden |
| Longest Cucumber | 54.2 cm | Wong Cheng |
| Longest Lady's Finger | 48.5 cm | Bukit Panjang Zone 8 RC |
| Longest Long Bean | 128 cm | AMK-Hougang Zone 1 RC |
| Longest Snake Gourd | 192 cm | Liew San Chaw |
| Heaviest Papaya | 3.06 kg | Lin Zhong Xian |
| Heaviest Pumpkin | 5.56 kg | Khoo Teck Puat Hospital |
| Heaviest Radish | 1.05 kg | One Farrer Hotel |
| Heaviest Tomato | 0.24 kg | Chew Mun Whye |
| Heaviest Watermelon | 1.28 kg | Emily Tai Kim Mooi |
| Heaviest Winter Melon | 33.82 kg | Lee Pian Kang |
The Community Garden Edibles Competition returns in 2019, so get your green thumbs on for another exciting competition next year!
Interested to be a gardener? Put your horticulture skills to good use and contribute to the unique green ambience of Singapore through our Community In Bloom programme.
Text by Jacky Loy
Photos by Lim Jin Hong, Jacky Loy, and Juriah Mosin
About the writer
Jacky Loy is a fourth-year Life Sciences undergraduate from the National University of Singapore. He was attached to HortPark for his final-year internship programme and was responsible for propagating and taking care of selected plants in the park. He also facilitated outreach programmes such as workshops for the Therapeutic Garden and activities for Gardeners' Day Out, and was actively involved in managing and running the 2018 Community Garden Edibles Competition held in HortPark.