Friend to the Birds
There are many reasons for everyone to celebrate Sungei Buloh Wetland Reserve turning 25 this year, but for Mdm Halilah Ahmad, this milestone is especially significant to her. It also marks her 25th year of service with NParks, all of them spent at the Reserve.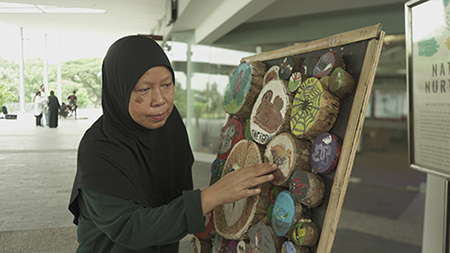 Mdm Halilah Ahmad admiring the craft work of visitors to Sungei Buloh Wetland Reserve, a place where she has been working at for the past 25 years.

Currently a Senior Officer in the Conservation (Outreach) branch of the Sungei Buloh Wetland Reserve team, Mdm Halilah, 54, recalls how it was when she started work at the Reserve in 1993, just before its opening to the public.
"I took a bus all the way to the end of Lim Chu Kang Road and then had to walk about 20 mins in to get to the Reserve. I would go past duck farms, through forested areas and alongside tall grasses where wild dogs would hide! Come to think of it, I was quite 'brave' to walk in to work everyday!" she says with a laugh.
Gaining Field Experience
Mdm Halilah has always loved being outdoors: "When I was young, I would be happiest running about and playing in the forest near my home." She adds, "Even till today, I keep nature close to me, tending to a gardening patch in my home."
So perhaps it was destiny that Mdm Halilah would work mostly with flora and fauna, particularly birds, for about half her life. After all, before she starting her job at the Reserve, she was already working as a veterinary assistant in the Jurong Bird Park to treat injured birds.
But with her background as a graphic designer, she decided to switch jobs. At that time, the then Sungei Buloh Nature Park was looking for someone to work on producing resource materials to promote the area and educate the young about the value of conservation. Matched with her love for nature, it was a good fit right from the start.

In those early days, Mdm Halilah says it was all hands on deck, especially with just a lean team of 10 staff. "We did everything. We worked together to come up with brochures, worksheets and other printed materials," she says.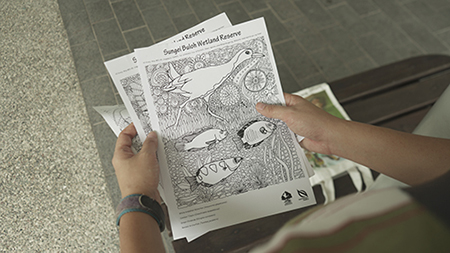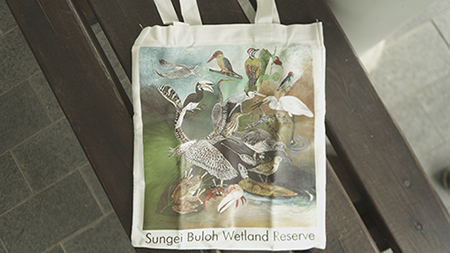 Educational material, such as colouring sheets (left), and one-of-its-kind collaterals like this Sungei Buloh Wetland Reserve shopping bag (right), were designed and hand drawn by Mdm Halilah.

"There were no specific roles. I even had to do some scientific field work, like putting up mist nets to catch birds, ringing them with tags and recording data before releasing the birds. I had to learn all these on the job. While it was hard work, it was lots of fun too," she recalls.

A Growing Sanctuary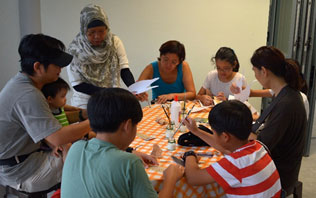 Of course things are much less manic these days, with different roles for staff. They also get assistance from a robust network of volunteers, corporate sponsors and other nature lovers, who work together to take care of Sungei Buloh as it grew over the years.
In 2002, 130 hectares were officially gazetted as a Nature Reserve and the area was renamed Sungei Buloh Wetland Reserve to better reflect its status. In the same year, it was recognised as a site of international importance for migratory birds, marking the Reserve's formal entry into the East Asian Australasian Shorebird Site Network. A year later, the Reserve became Singapore's first ASEAN Heritage Park.
In 2008, the Sungei Buloh Master Plan was unveiled, with a key thrust to link up pockets of nature around the Reserve. These areas included Lim Chu Kang mangroves, Kranji Reservoir Park and Kranji Marshes. Habitats for the various species of wildlife along this belt were enhanced, forming a corridor of complementary habitats and biodiversity.
To reduce the pressure on the Reserve as a result of greater numbers of visitors, a 31-hectare extension was added in 2014, providing all with new nature-related experiences and vistas. Two years later, Kranji Marshes, an adjacent 56.8-hectare freshwater marshland was opened to the public. NParks worked with the Urban Redevelopment Authority and the Nature Society to sensitively enhance this valuable sanctuary for birds.
Fair Feathered Friend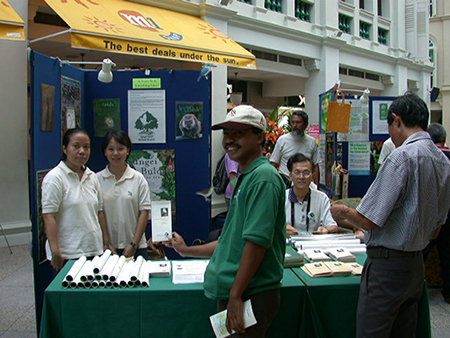 Mdm Halilah has been spreading the conservation message of Sungei Buloh Wetland Reserve for many years. In 2001, Mdm Halilah (extreme left) and her colleagues brought this message to the public at a booth in a shopping mall.
Such growth and developments have presented Mdm Halilah and her team with new challenges. They have to continue coming up with interesting activities for students and to find new ways to engage volunteers on the message of conservation.
This can be daunting, but for Mdm Halilah, she keeps her focus on the birds who live, permanently or temporary, on the Reserve.
"While we want to bring more people here to let them experience the Reserve's beauty, it is important to remember that this is not just an attraction for people. Rather it is a home for thousands of birds; some that fly here from as far away as Russia. It is an invaluable stopover spot for these birds to rest and refuel before flying further south to escape the cold."
"So we need to keep Sungei Buloh Wetland Reserve for the birds, and for the next generation of Singaporeans to learn about these birds. This forms a part of our natural heritage. I hope more people can learn about it, and appreciate what we have," Mdm Halilah says.

Job Satisfaction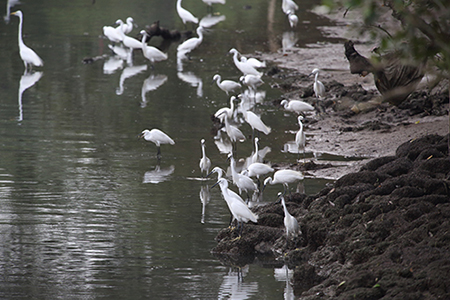 While some of us may enjoy a well-stocked pantry or views of the Singapore skyline when we go for a coffee break during office hours, Mdm Halilah's break time spot may well trump everyone else's.
"I would go out to the hides in the Reserve to relax and admire the view, looking at the birds," she says. "I love to see the flocks of waders, flying in in the hundreds before they land on the mudflats. The way they move around, it's like a dance. This is a sight I cannot forget."
And this is the best part of her job, even after 25 years.
"What I do – getting the young to appreciate nature – is important and relevant. This is true job satisfaction," she quips.

Learn about our Conservation Efforts
Learn about the diverse plants and animals found in the various habitats of Sungei Buloh Wetland Reserve through our weekly Saturday guided walks. They are suitable for everyone, including families with children. For more information and to register, click here.
Text by Felix Siew
Photos by Wong Yeang Cherng and courtesy of Mdm Halilah Ahmad