The A to Z of Plants and Greenery (Part II)
In the second of a two-part series, we bring you interesting snippets of information on common plants found in our gardens and parks, unique plant structures and other interesting botany-related facts. Learning about botany is not as easy as A, B, C, but hopefully this gives you a good start!
Don't miss our previous article covering A to M.
N for Native plant species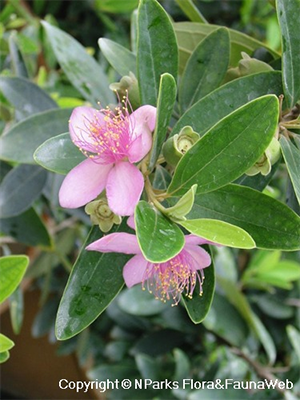 Rose Myrtle (Rhodomyrtus tomentosa) is an attractive flowering shrub or small tree that is native to Singapore and grows between 2 and 3 m tall.
Native plant species are those that occur naturally in a particular place. These are not introduced from other geographical regions – such plants are termed 'exotic'. There are several benefits to growing native plant species. Singapore natives are naturally adapted to our climate, with its high temperatures and rainfall, which makes them easier to care for.
Interested in learning more about the possibilities of gardening and landscaping with native plants? Check out the Native Garden @ HortPark! With over 100 species of native plants, this garden has by far the highest concentration of native plants, including edibles, shrubs and trees, in a single location in Singapore.
O for Orchids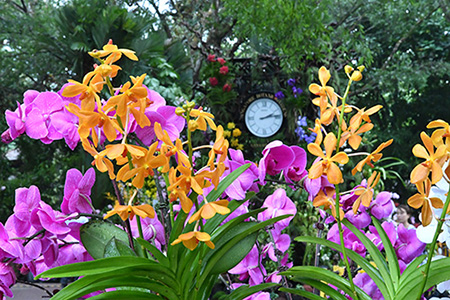 Love orchids? Then be sure to come by the National Orchid Garden to admire a huge variety of beautiful orchids.
Located amidst the lush greenery of the Singapore Botanic Gardens is the National Orchid Garden, which features 3 hectares of carefully landscaped grounds showcasing over 1,000 species and 2,000 hybrids on display. After your visit, you can purchase small orchids to take home, or peruse a variety of publications and souvenirs in the Gardens Shop.
Planning your next visit? Click here for more information on the National Orchid Garden, how to get there and admission fees.
In 2019, visitors can also look forward to new enhancements to the National Orchid Garden. These include a new Tropical Montane Orchidetum comprising The Sembcorp Cool House and a newly enhanced Tan Hoon Siang Mist House and Yuen Peng McNeice Bromeliad House, all of which will be connected by a Secret Ravine. In total, the combined orchid display area will be increased by three times! More details will be announced closer to the date of completion.
P for Pioneer forest species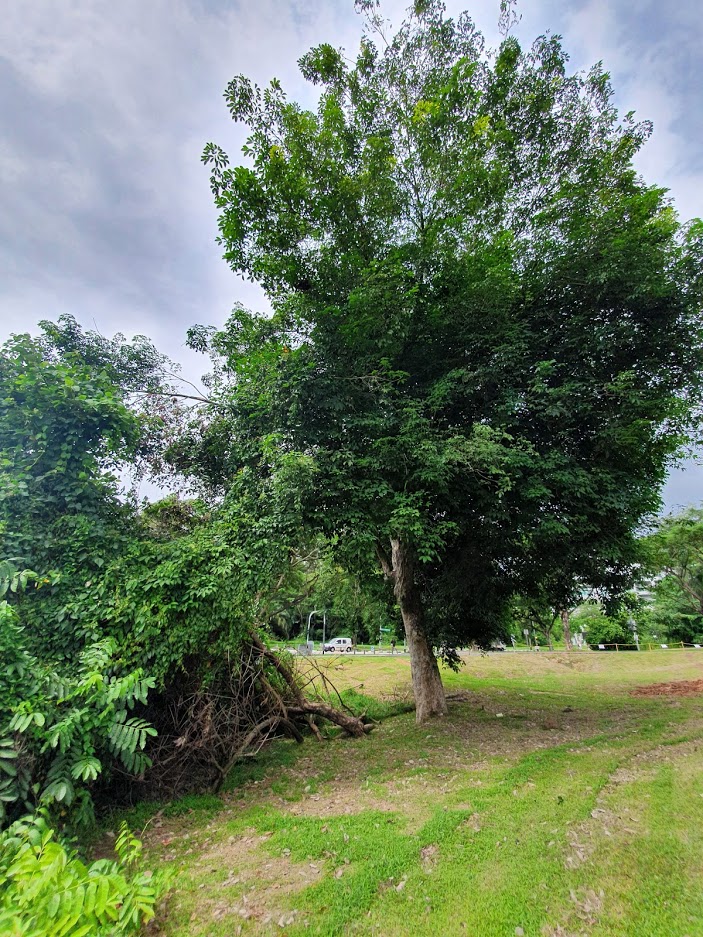 Photo credit: Pauline Tay
Pioneer species are the first species to colonise either new ecosystems or previously disrupted or damaged ecosystems. These species, such as the Albizia (Falcataria moluccana) and Tiup-tiup (Adinandra dumosa), are fast-growing. Once these plants dominate the area, they begin a chain of ecological succession where the environmental conditions in the ecosystem are altered, with new animals and plants coming in. Eventually, a more biodiverse ecosystem will follow.
Q for Queen Elizabeth Walk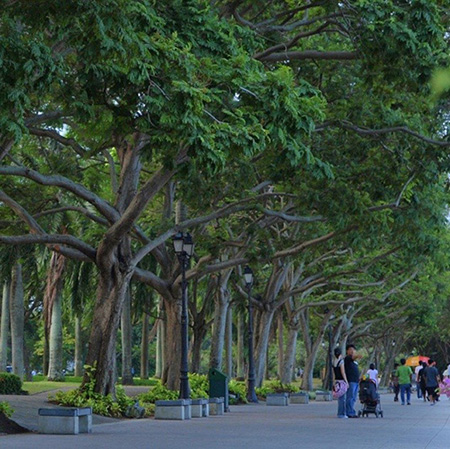 Stroll along Queen Elizabeth Walk to admire the beautiful trees around you.

Singapore's historic Civic District boasts many majestic trees, some of which have stood tall for several generations and witnessed the country's transformation through the years. A good spot to admire some of these interesting trees is along Queen Elizabeth Walk. You can admire the avenue of Rain Trees, many of which have been endorsed with Heritage Tree status, located nearby along Connaught Drive. There is also a beautiful Leopard Tree, with its distinctive colourings on its smooth bark, near the Cenotaph, as well as five special Angsana Trees to look out for.
Between the 1960s and 1980s, the area close to the Lim Bo Seng Memorial was a popular dating spot, known affectionately as Gor Zhang Chiu Kar in Hokkien, or 'under the shade of five trees'. Unfortunately, the original Angsana trees were affected by a disease in the early 1990s and had to be removed. To bring back memories of this landmark, five mature Angsana trees were sourced from Upper Serangoon Road and transplanted here in 2015.
To find out more about the trees in our Civic District, check out our Civic District Tree Trail DIY Guide here!
R for Rainforest Walking Trail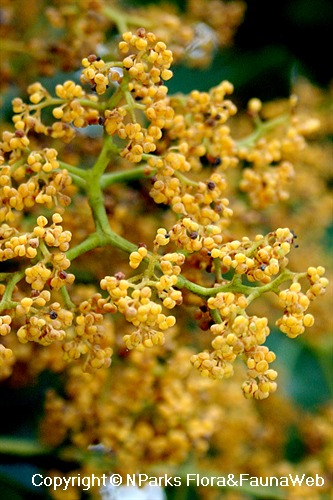 Cantley's Memecylon (left); Photo credit: Paul Leong Kiam Fee; Flowers of the Penarahan Pianggu (right)
The Singapore Botanic Gardens is home to a 6.2 hectare primary rainforest, conserved since the Gardens was established in 1859, and remains a national treasure today for its trove of biodiversity. Some 314 species of plants can be found here, forming a multi-layered ecosystem of herbs and ferns, climbers, shrubs and trees. Keep a special look out for Cantley's Memecylon (Memecylon cantleyi), which is named after one of the first superintendents in the Gardens, and the Penarahan Pianggu (Horsfieldia irya), which is a valuable source of fruit for wildlife such as hornbills.
For more information, check out our DIY Walking Trail Guide here.
S for Succulents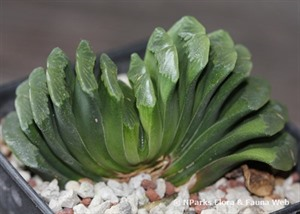 Haworthia truncata
Photo credit: Jennie Tang Yurue
Succulents are perfect for forgetful gardeners or busy urbanites. With their thick, fleshy tissues, which store water as a means of survival in arid habitats, succulents have low-water needs. This makes them relatively fuss-free and easy to maintain. Many are also attractive, coming in unique shapes and forms, perfect for decorating your home or office space!
T for Traveller's Palm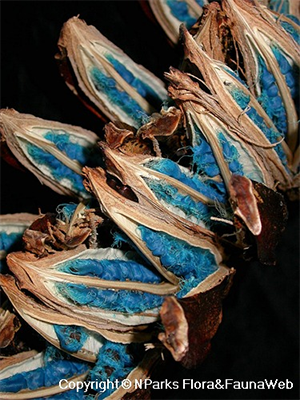 Fruits of the Traveller's Palm
Photo credit: Paul Leong Kiam Fee
Did you know that the Traveller's Palm (Ravenala madagascariensis) is not a true palm, but is actually more closely related to bananas? Its fruits are woody capsules which split at maturity into three parts, exposing its brown seeds. These are almost fully embedded in an incredibly electric-blue aril.
U for Understorey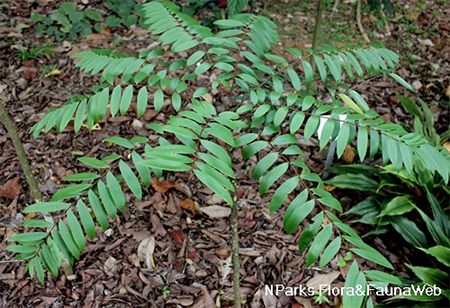 Keep a look out for the Tongkat Ali (Eurycoma longifolia), known to many as an aphrodisiac, in the understorey layer of rainforests. Photo credit: Jane Li
The rainforest is a multi-layered wonder, often with an emergent layer (typically comprising trees that grow up to 45 m), a canopy tree layer (35 m), a lower tree layer (25 m), and an understorey. The understorey is made up of species that are able to survive in heavily shaded and damp conditions created by the many layers above. Such species usually include small herbs, shrubs, fungi and some palms.
V for Variegated leaves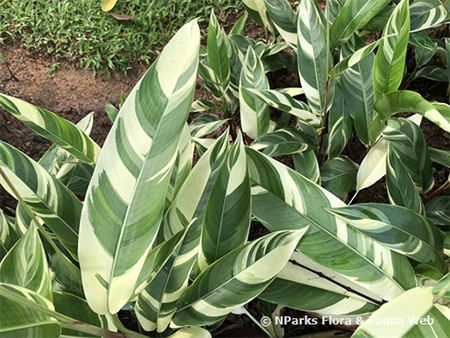 Heliconia psittacorum 'Lady Di' (Variegated)
Photo credit: Shi Biying
Variegated leaves have both green and non-green parts. Green parts of these leaves contain chlorophyll and can photosynthesize, but non-green parts do not. Variegated leaves occur in a great number of plants, enabling them to stand out amidst the typically green foliage of other plants in landscapes and gardens. In some parts of the world, cultivars of plants with certain kinds of variegated leaves may fetch incredibly high prices. In Japan for instance, variegated varieties of the Kannonchiku (Rhapis excelsa), known locally as the Ground Rattan, may cost around few thousand for a single specimen!
W for Wood, specifically Heartwood
Heartwood, is the inner wood in trees, which often comprises the majority of a stem's cross section. It can be distinguished from sapwood, the living, outermost portion of a woody stem or branch, by its darker colour. Heartwood is mechanically strong and resistant to decay. Cork is the outermost layer, made of tightly-packed cells filled with air.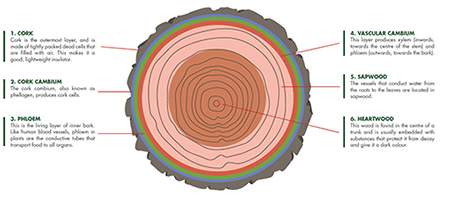 Cross-section of a trunk
X for Xylem
Water is transported within a plant via specialised tissue called xylem. Xylem runs from the plant's roots, where water is absorbed, all the way up the trunk, through the stems, and into each leaf. Water is able to move against gravity within the xylem because of cohesion (which makes the water molecules stick together), capillary action (which allows the molecules to 'creep' up the walls of the xylem), and evaporation from the surface of the leaves (which has the same effect as sucking water through a straw).

Y for Yishun Park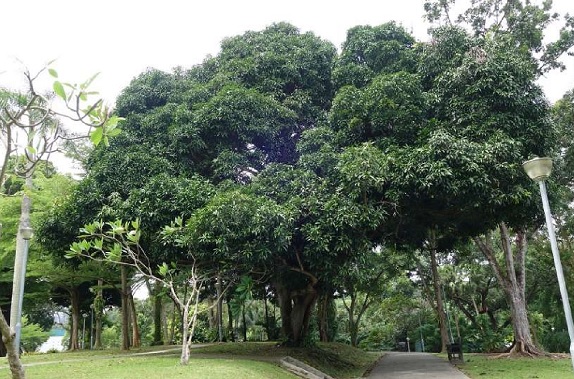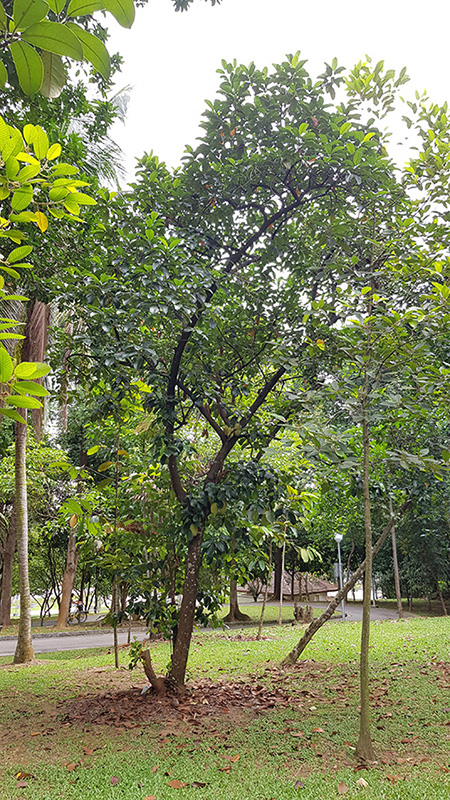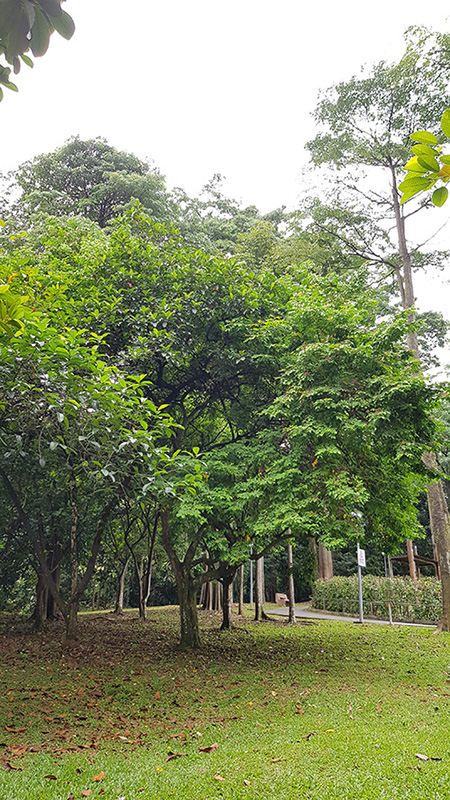 Can you spot the fruits of the Jackfruit Tree, just one of the many fruit trees in Yishun Park. You can also find the Starfruit (centre) and Mango tree in the park.
Photo credit: Titia Leong
Do you love eating fruits native to our region? Curious to learn more about how they grow? Look no further than Yishun Park in the north of Singapore. Developed on an old rubber estate, the park is home to an array of tropical fruit trees, including durian, rambutan, jackfruit, starfruit and bread fruit. You can also learn more about these different fruit trees and natural vegetation from the informative signs scattered around the park.
For more information on Yishun Park and how to get there, check out our NParks website here.

Can't get enough of fruit? Head to Pulau Ubin to discover the Ubin Fruit Orchard. At about 1 ha in size, the arboretum features a collection of some 350 fruit trees that were once commonly planted in kampongs. Expect to see over 30 different types of trees including rambutan and starfruit, as well as uncommon cultivars of durian and mango.
Learn more about Pulau Ubin here.
Z for Zingiberales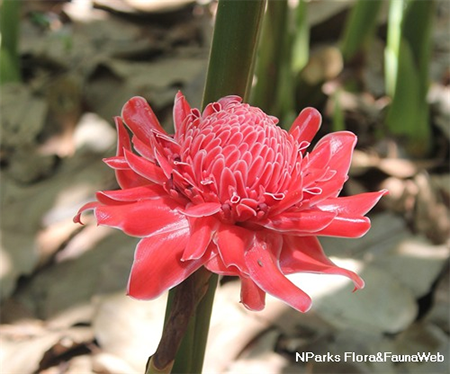 The Torch Ginger (Etlingera elatior) has a showy, waxy-looking inflorescence. Young flower buds and tender inner parts of its leafy shoots are used as spices in a number of Asian dishes. Photo credit: Pauline Tay.
Did you know that 'gingers' can be loosely used to refer to any one of a whopping 3,000 species of plants? Falling under the Ginger order, Zingiberales, this group of plants includes plant families as diverse as heliconias (Heliconiaceae), orchidanthas (Lowiaceae) and even bananas (Musaceae)! Most plants in this order prefer the warm and wet climate of the humid tropics, and can be found throughout the equatorial zone. A number of others also thrive in monsoonal parts of Africa and Asia.
If you're interested in learning more about gingers, pay a visit to the Ginger Garden at the Singapore Botanic Gardens, which showcases over 550 different species, varieties and horticultural cultivars.
To learn more about these interesting plants and greenery, check out our many Gardening Resources on our website here.
Also check out our one-stop information portal, NParks Flora&FaunaWeb, to find out more about the many plants that grow in Singapore.
Text by Elizabeth Kamaldin & Ada Davis