Savouring Familiar Favourites
Rasa Istimewa Restaurant has an extensive menu with a variety of food choices; such as seafood, barbecue, Western and Chinese. Specialising in Chinese-style halal-certified cuisine, the restaurant promises something for just about every palette.
It first opened as a small restaurant at Simpang Bedok in 1997, moving to a bigger venue in Choa Chu Kang five years later. Subsequently, two other outlets opened, in Woodlands Waterfront Park and Pasir Ris Park, respectively.
I went to Rasa Istimewa at Pasir Ris Park one afternoon for lunch with some friends. There was also a good offering of yummy-looking crab dishes like the Dry Salted Egg Crab, Black Pepper Crab and Cheese Crab (all at seasonal prices). Interestingly, I discovered you can "customise" your noodles and rice dishes!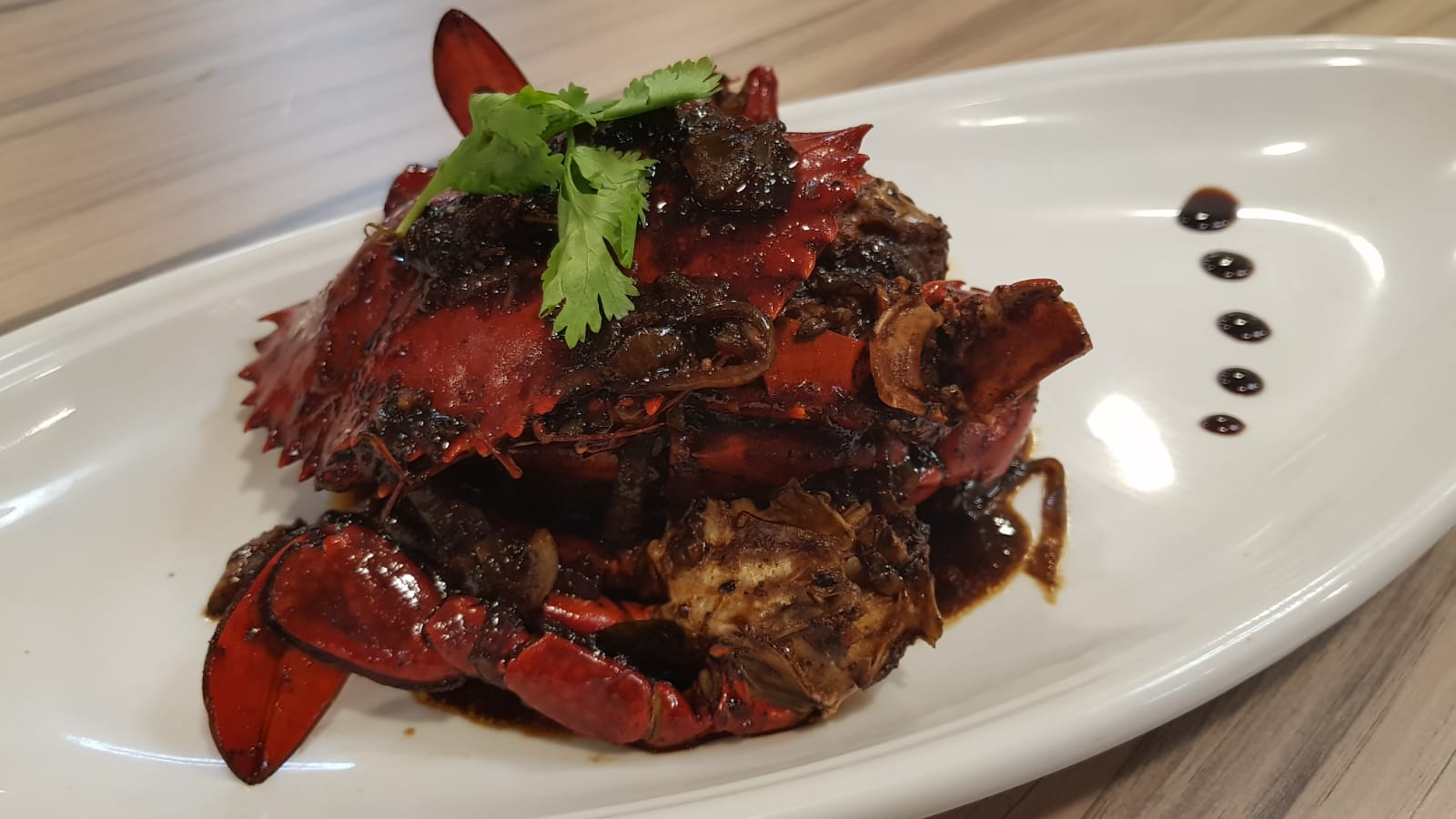 The Dry Salted Egg Crab (left) and Black Pepper Crab.
Photo credit: Rasa Istimewa Restaurant
From a list, you select ingredients like vegetables, chicken or seafood, and then the method of preparation, such as stir-fried, fried with sambal chili or Hong Kong style. As it was our first visit there and faced with so many options, we decided to customise some familiar favourites, to get a better taste of what the restaurant offers!
All-time Favourites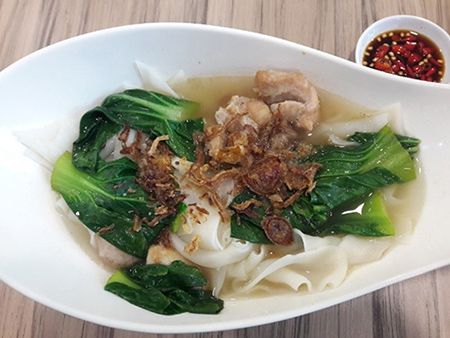 Chicken Kway Teow Soup
For many people, this dish is an all-occasion comfort food, and the Chicken Kway Teow Soup ($6) prepared by Rasa Istimewa did not disappoint. The soft kway teow noodles were served in a simple but savoury, clear broth. The ingredients, especially the tender chicken chunks and leafy greens, tasted fresh and I enjoyed them with the piping hot soup. The portions were very substantial and I slurped down all of the broth!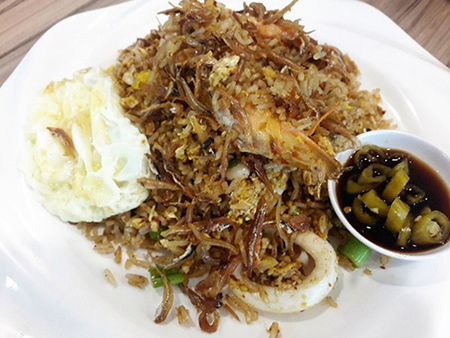 Seafood Fried Rice
Another all-time favourite, the Seafood Fried Rice ($8) was served with a fried egg, mix of scallop, juicy prawns and chewy squid rings, and topped with lots of crunchy anchovies. While fried rice is a usual crowd pleaser in just about every restaurant, here, I found the rice especially flavoursome, slightly charred yet fluffy soft.

With every spoonful of rice, you can also enjoy a good serving of the seafood ingredients – be it a scallop, some anchovies, or a squid ring. With its generous portions and great flavour, this is a good fix to satisfy any fried rice cravings.
Stir-fried Sliced Fish Kway Teow
Can't get enough of the 'wok-hei' taste? The Stir-fried Sliced Fish Kway Teow ($7) will surely satisfy. I really dug into this dish of smooth kway teow noodles and large fish slices stir-fried in tasty sweet black sauce.

Made for Sharing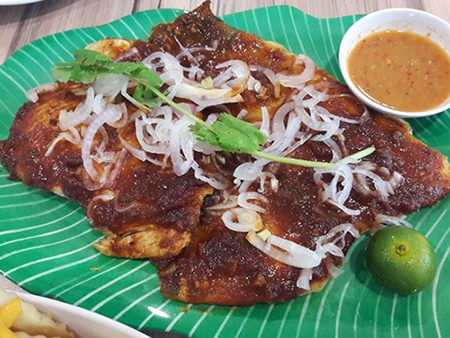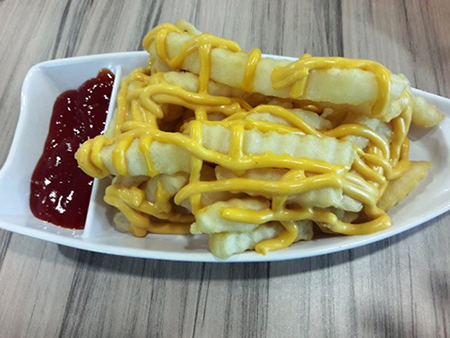 BBQ Stingray (left) and Cheese French Fries.
For sharing, we ordered two other dishes to whet the appetite. First, the BBQ Stingray (small: $14, large: $22) was tender and well-marinated. It was covered in a hearty serving of spicy sambal sauce and garnished with chopped onions.

We enjoyed this thoroughly with the chilli sauce and was sure to squeeze lime juice over the meat for that added 'zing'! As a chili lover, I would have preferred for the sambal to be even more spicy, but the good serving size, suitable as a side dish for around four people, more than made up for it.
The second dish for sharing, the Cheese French Fries ($3.50), was a "guilty pleasure" we could not resist. The thick cuts of golden-brown fries were served hot, drizzled lavishly with yummy cheese sauce.
Sweet Endings
Rasa Istimewa also has an extensive drinks and dessert menu, perfect for a sweet treat at the end of the meal. In particular, the desserts had some luscious selections, such as the Salted Caramel Molten Lava Cake ($7.90), New York Cheesecake ($5.50) and the Hotplate Fudgy Brownie ($8.90), as well as a variety of ice cream flavours, from sweet fundamentals like vanilla and chocolate cookie chip to more unique tastes like cotton candy bubblegum and blueberry yoghurt. You can have them in single scoop ($2 each), double scoop ($3.50 each), or on a waffle (single scoop for $6.90)!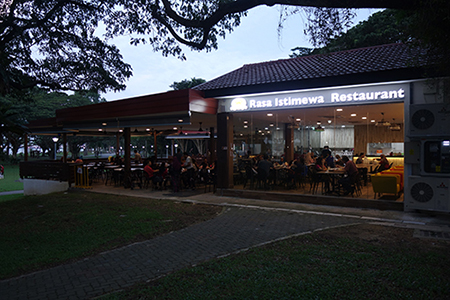 Located in Pasir Ris Park, Rasa Istimewa is a good spot for a gathering among friends and family.
Photo credit: Rasa Istimewa Restaurant
The restaurant's cosy interior makes it ideal for dining with family members and friends. Spacious with large tables to accommodate customers coming in big groups, the restaurant also offers sofa chairs for customers who prefer a less formal and more relaxing dining experience.
After enjoying a satisfying meal, you can take a breezy stroll around Pasir Ris Park. Charming and tranquil, it is a great place for families to have a fun day out. Aside from modern park activities such as pony rides, water sports, cycling, inline skating and barbeque rental, it also features multiple walking trails and a Mangrove Boardwalk where you can explore this unique habitat and spot its rich biodiversity. A three-storey Bird Watching Tower inside the mangrove forest also enables visitors to catch birds in their natural habitat.
Rasa Istimewa at Pasir Ris is located at 201 Pasir Ris Road. It opens daily from noon to 11 pm.
Text and photos by Lydia Chan
About the writer and photographer
Lydia Chan is a final year Mass Communication student of Republic Polytechnic. As part of her school's internship programme, she worked in NParks' Communications and Community Engagement department for five months. During this time, she created posts for NParks' social media platforms, wrote articles for My Green Space and was involved in the production of the Facebook Live sessions for the launch of the Singapore Botanic Gardens' Ethnobotany Centre and the Singapore Garden Festival Orchid Show 2018.
Please email wong_yeang_cherng@nparks.gov.sg for more information on our internship programme.