Second Time's the Charm at Sungei Buloh Wetland Reserve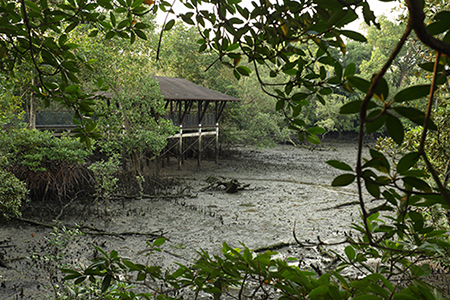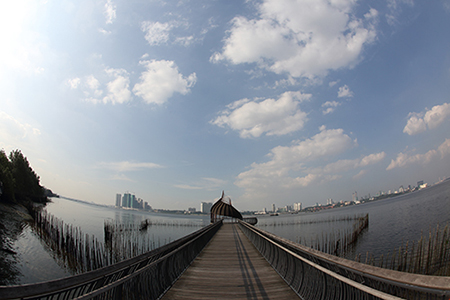 It may take multiple visits to fully take in the beauty of Sungei Buloh Wetland Reserve.
Want to leave the 'concrete jungle' that is modern Singapore? Escape from the fast pace of life to the tranquility and serenity of Sungei Buloh Wetland Reserve! You may have visited the Reserve, tucked away in the northern edges of the island, sometime in the past, but may not have fully appreciated it the first time.

When I reminisce about my first school trip to the Reserve ten years ago, I realised that I have vague memories of the place. Perhaps at Primary 3, I was too young to understand its value in conserving Singapore's biodiversity. Recently, I returned for a second visit, embarking on the Mangrove Boardwalk and Migratory Birds Trail. And what an eye-opener it was.
Mangrove Boardwalk Trail
Distance: 500 m

Estimated walking time: 30 to 45 minutes
This trail is perfect for all ages. You do not need to trek through muddy and uneven ground, but can still immerse yourself in nature and have many opportunities to spot different ecosystems.
Giant Mudskipper
Be sure to keep your eyes peeled for interesting species such as the Giant Mudskipper (Periophtalmodon schlosseri) and the Tree-climbing Crab (Episesarma spp.). Furthermore, if you notice volcano-like mounds on the ground, those are the homes of the Mud Lobster (Thalassinidea anomala). They might not be out very often, but who knows, you might just get lucky!
Wildlife aside, this trail also features interesting mangrove species, such as the Rhizophora spp., which has sturdy stilt roots, and the Avicennia alba, which has pencil roots that stick vertically out of the muddy ground to take in oxygen. Don't forget the Nipah Palm. Back in the 1930s, this species was in high demand as people used their leaves to build the attap roofs of their houses!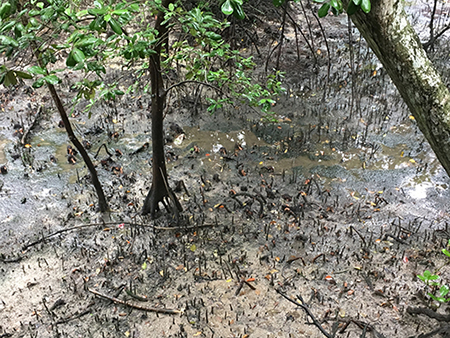 Pencil roots (Aerial roots)
Photo credit: Natasha Kong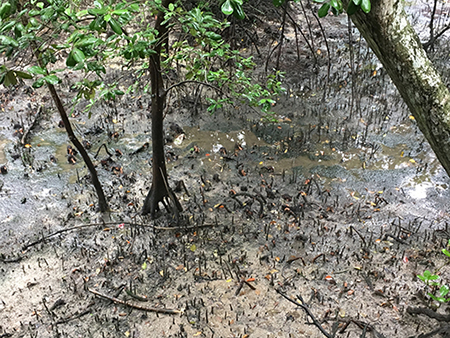 Migratory Birds Trail
Distance: 1950 m

Estimated walking time: One to two hours
On this trail, which begins at the only freshwater pond in Sungei Buloh Wetland Reserve, you can observe the migratory birds that flock to Singapore while en route to other places. In August and September every year, thousands of migratory birds arrive at the Reserve to escape from harsh winter conditions in the northern regions. Many take a rest at the Reserve, seeking the warmth of Singapore's weather as well as the abundance of food here, before continuing further south to Indonesia, Australia, and New Zealand. Yet other species stay throughout the winter months, only returning to their breeding grounds in the Northern Hemisphere in March or April.
Most birds are active during the break of dawn, from 7.30 am to 9.30 am, so do come early for a greater chance of catching a glimpse of them in action as they hunt for prey and feed on creatures hidden in the mudflats.
Look out for different species of egrets, such as the Chinese Egret (Egretta eulophotes) and the Little Egret (Egretta garzetta) as well as herons such as the Chinese Pond Heron (Ardeola bacchus). If you are lucky, you might catch a glimpse of Singapore's largest kingfisher species, the Stork-billed Kingfisher (Pelargopsis capensis), which has a large red bill, well-adapted for seizing large fish.
Chinese Egret
Photo credit: Mendis Tan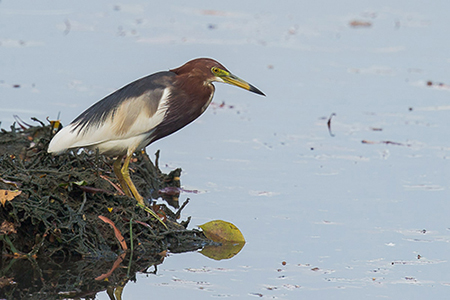 Chinese Pond Heron
Photo credit: Francis Yap
My Memories of the Reserve
All in all, my second visit to the reserve was not only interesting, but educational too. If anything, all I could possibly remember from my first trip when I was in school was probably getting my first taste of fresh 'attap chee', the seeds of the Nipah Palm which are commonly used in many Southeast Asian desserts, such as ice kachang.
Now, I have finally come to understand just how important this Reserve is to Singapore's biodiversity and its contribution to sustaining the ecosystems here. It is definitely worth a second visit and besides, like my guide had said, "No matter how many times you return to the same trail, nothing will ever be the same!"
Tips for Your Visit
Wear long pants and shirts, preferably in light colours, with long sleeves to avoid being bitten by mosquitoes.

Apply insect repellent on exposed skin and clothing before entering the reserve.

Do not touch nor enter the mangroves.

Keep your noise levels to a minimum to avoid disturbing wildlife and for better chances of spotting them.

Take nothing but photographs and leave nothing but footprints.
Getting There
Monday to Saturday:

Board SMRT Bus 925 from Kranji MRT station and alight at Kranji Reservoir Carpark B. Walk across the road to the Visitor Centre.

Sunday and public holiday: Board SMRT Bus 925 from Kranji MRT Station and alight at the entrance of the Wetland Centre. Do note that SMRT Bus 925 only operates from Woodlands Interchange on Sundays and public holidays.
Sungei Buloh Wetland Reserves turns 25
2018 marks the 25th anniversary of Sungei Buloh Wetland Reserve. Its transformation of a nature park into one of the most recognised wetland reserves in the region was made possible due to the shared passion and support from a nationwide community of volunteers, corporations, schools and partners.

To commemorate its establishment and strength awareness about the value of conserving our wetlands, the Reserve is organising a range of volunteer-run activities and programmes for the community. For more information, please check out the website here.
For more information about Sungei Buloh Wetland Reserve, check out our website here, or our DIY trail guide

Text by Natasha Kong
About the writer:
Natasha Kong is currently a student at Republic Polytechnic pursuing a Diploma in Environmental Science. She worked at NParks in early 2018 after her A-Level examinations. During her three-month stint, she wrote articles, created posts for NParks' social media platforms and facilitated replies to public queries. She was also in charge of crafting and executing a readers' survey, as well as analysing the data collected.