Shoot Like A Pro: 10 Nature Photography Tips
Photography is a wonderful way to experience and enjoy nature, and can also be a great tool for sharing your animal encounters with others. But animals move unexpectedly and nature is ever-changing, making photographing its beauty a tricky task.
We speak to Isak Pretorius, a BBC Award Winning wildlife photographer and specialist wildlife photographic guide from South Africa, to get tips on how the professionals get those amazing shots. Try using these ten pointers the next time you are out with your camera in our many green spaces.
1. Photograph Animals At Low Shutter Speeds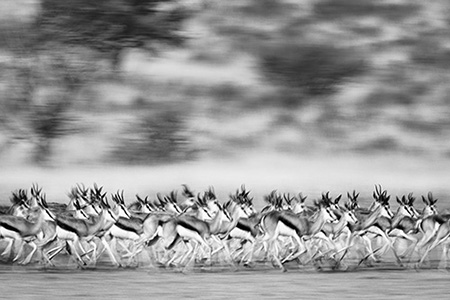 Use low shutter speeds when you want to achieve a motion blur effect, particularly when shooting animals in motion. For instance, when a herd of springbok begins to run, moving your camera slowly more or less in time with their pace can create beautiful shots where their bodies are sharp and crisp but their fast-moving legs appear blurry.
2. Get Your Default Camera Settings Ready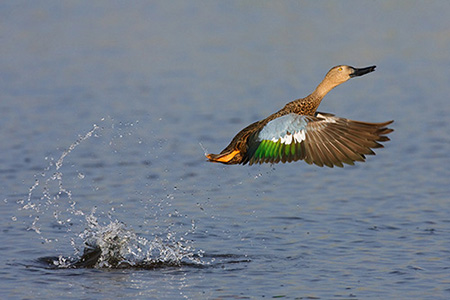 Often, when shooting wildlife, things happen very rapidly – fish suddenly jump out of the water and birds suddenly dart around in mid-flight. To be prepared to catch these scenes just as they occur, pre-programme your camera with settings that are good enough to capture just about everything.
For instance, when shooting in daylight, Isak personally uses the settings: f5.6, ISO 400 and EV -1/3, which cause shots to be slightly underexposed. Though these settings may not be perfect for all shots, having them as your standard default mode also helps you change them quicker, as you know where your starting point is.
3. Catch Them In Uneven Numbers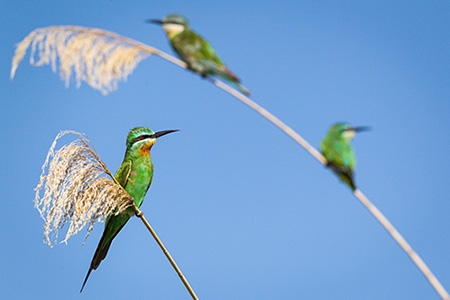 Animals tend to look better in photographs when they are in odd numbers. For instance, having three, rather than two, birds in a picture makes for a more interesting and dynamic composition, resulting in a more aesthetically pleasing image.
4. Bad Weather = Good Photos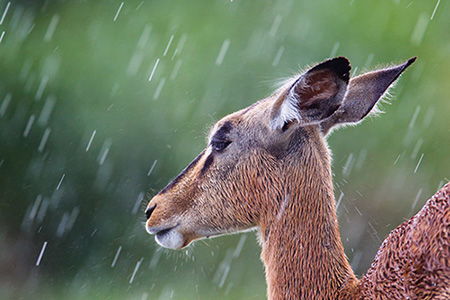 Photographers often complain when skies start turning grey and cloudy, but instead of calling it quits, grab your camera and get right back out there! One great way to achieve atmosphere and drama in your photos is to shoot in bad weather conditions, such as in low light conditions, in dust storms, or while it is raining. Your photos will definitely stand out from the norm.
5. Always Be Ready
When photographing wildlife, all it takes is an instant for something ordinary to become extraordinary. A lion may suddenly yawn, a leopard may pounce, or a bird may lift its wings just before taking off. Be patient and keep your eyes open to learn your subject's behaviour, and be ready to capture these fleeting events when they present themselves.
6. Spotlight And Side Light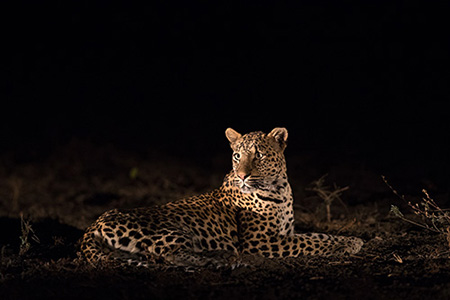 When taking photographs in the evening or at night, try to have different sources of lighting to introduce drama in your photos and avoid them looking flat. If you are on a safari and photography tour, one way to do this is to turn on spotlights on two vehicles ­– one from your own and one from another to the side. Do not, however, shine lights directly at wildlife as this may temporarily blind them.
If you are shooting during the day, try to position yourself 90 degrees away from the sun to allow side lighting in your pictures. Subjects with long fur will stand out very well against the background in such conditions.
7. Shoot Sunrises With Liveview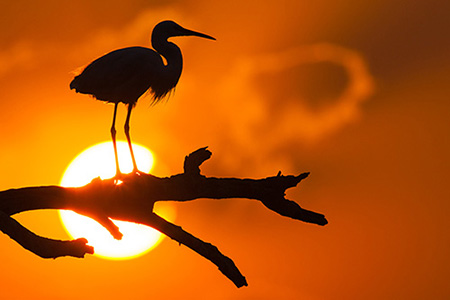 Sunrises, with their saffron hues, can be beautiful to photograph, but you must never look at the sun through your viewfinder as this can seriously damage your eyes. Instead, switch to live view and look at the sun through the screen instead. Also, shooting at f16 will get you very defined shots.
8. Let The Wildlife Come To You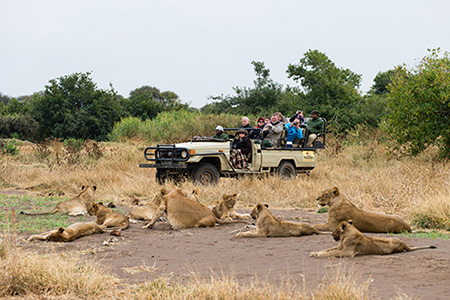 Be ethical when photographing wildlife and instead of disturbing them, allow animals to act naturally and show you what they will do normally. Once, trying out the 'polecam' technique by holding a wide angle lens upside down on a monopod, Isak managed to pique the interest of some inquisitive cheetah cubs, which stuck their faces right at the lens, making for some very wonderful shots.
9. Go Full Manual When Conditions Are Consistent
When conditions are consistent and you do not expect them to change for some time, switch to full manual mode. This is best for situations when, for instance, skies are clear and you plan to shoot birds largely from one direction.
10. Go Wide During Animal Action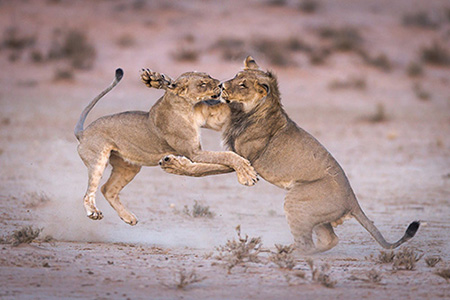 Animals often have erratic movements and may not always move in ways you predict. To avoid situations where animals move so quickly that you only manage to catch part of their bodies, opt for wider shots in order to keep them in the frame. You can always crop your photographs afterwards.
About Isak Pretorius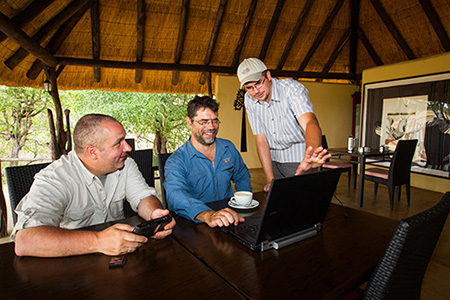 Isak Pretorius (extreme right) shares the thought process behind his spectacular photos with participants of his guided safari tours.
Not many people can claim to have survived two 'killers' in Africa – a lion attack (admittedly, they were cubs) and a bout of malaria, but Isak Pretorius has done it all, all for the love of his craft.
Trained as an engineer, Isak took up photography in 2001 when he bought his first camera and immediately fell in love, believing it to be a great means of creative expression and of enjoying and sharing his passion for nature. Professing to be a bird photographer at heart, he has shot all kinds of different African creatures and critters, from the biggest of cats such as lions and cheetahs, to the tiniest of reptiles.

Isak conducted a free talk at Sungei Buloh Wetland Reserve in December 2017, sharing about his experiences shooting wildlife and nature.

Singapore Garden Photographer of the Year 2019
The Singapore Garden Photographer of the Year (SGPY) celebrates photographers whose visual creativity and skills capture the beauty and attractive natural and cultural heritage of our City in a Garden.

Now into its third edition, the competition will feature a new Youth category to offer budding shutterbugs a platform to showcase their skills and be in the running to win attractive Nikon cameras and prizes! There are also more workshops to bring photography enthusiasts, whether beginners or professionals, together.

Interested participants can share your interpretations of the two themes: Heritage in our Parks and Gardens and Our Biodiversity, by 16 January 2019 and 15 May 2019 respectively. To submit your photographs, or for more information, visit the SGPY website here.

For more interesting photography events and workshops organised by NParks, do check back on our website for regular updates.

Text by Elizabeth Kamaldin
Photos courtesy of Isak Pretorius