The Making of The Singapore Botanic Gardens' Calendar 2019
We are happy to announce that the 2019 Singapore Botanic Gardens' Calendar is now available! Featuring thirteen paintings of plants in the Ginger order (Zingiberales), all painted by Singapore-based botanical artist Waiwai Hove, this calendar is bound to impress.
An erect inflorescence of the Heliconia longiflora, a species which is native to America.
We bring you behind the scenes for a sneak peek into how these beautiful botanical illustrations were created. Read on for an introduction to the art form and the special considerations that go into making an illustration that is both factually accurate and pretty to look at.
From Medicine to Plant Exploration
Botanical illustration has a long heritage which can be traced to the Greek era. Especially around the 1st century BC, developments in herbal medicines necessitated their inclusion in medical reference books, allowing for easier and better identification of plants.
Fast forward a couple hundred years to the 17th and 18th centuries, and we see botanical illustrations taking on a greater range of applications, when plant exploration necessitated highly accurate depictions of new species.

In fact, Henry Nicholas Ridley, the first director of the Singapore Botanic Gardens, often brought living material back from his many expeditions abroad, and commissioned the artist brothers Charles and James de Alwis to work on detailed and beautiful paintings of them. Their works are among the over 2,000 art pieces in the Singapore Botanic Gardens' botanical art collection, one of the largest and best preserved collections in Asia.
Relevance in Our Modern Era
Today, advances in photography have allowed for better depiction of plants. However, as photographs are limited in what they capture, scientists and researchers still often commission botanical artists who can apply artistic judgment to capture light, shadow and texture to create renderings that have a multi-dimensional feel.

These illustrations may then be used in scientific or academic materials. Highly technical black and white drawings of plant parts are especially useful in botany or plant taxonomy, while coloured illustrations are more often used in publications targeted towards the lay public.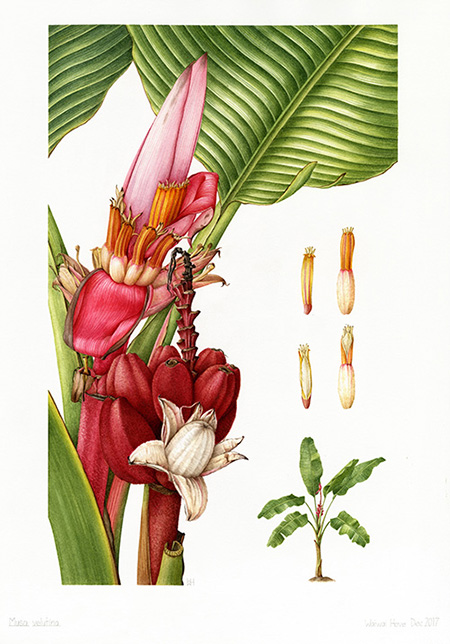 Flowers of the Velvet Pink Banana (Musa velutina) are produced as erect finger-like inflorescences, surrounded by eye-catching pink bracts.
Art and Science Work Hand in Hand
Because of their many scientific and practical applications, it is important that botanical illustrations not only look beautiful, but are also 100% scientifically accurate, for instance in terms of how structures are connected with each other. This means that artist and researcher must work hand in hand with a clear process of communication. And unsurprisingly, this can involve much hard work.
In working on this calendar, botanical artist Waiwai drew primarily from living collections in the Singapore Botanic Gardens. However, as not all plants selected to be featured were grown in the Gardens, there were instances where, after having been notified that a particular species was flowering, she made a number of trips to primary rainforests in Singapore, such as Bukit Timah Nature Reserve, to sketch from living specimens and take accurate colour swatches under natural lighting.
She often took cuttings of plants for study under the microscope, and worked with a team of researchers to dissect and study different plant parts and understand their various functions before commencing work on a sketch or layout.
Details captured during this stage are paramount. While the significance of, for instance, the absence of a stamen in a flower may seem irrelevant to the lay person, to the trained eye, it may indicate that an insect pollinator had not yet paid a visit!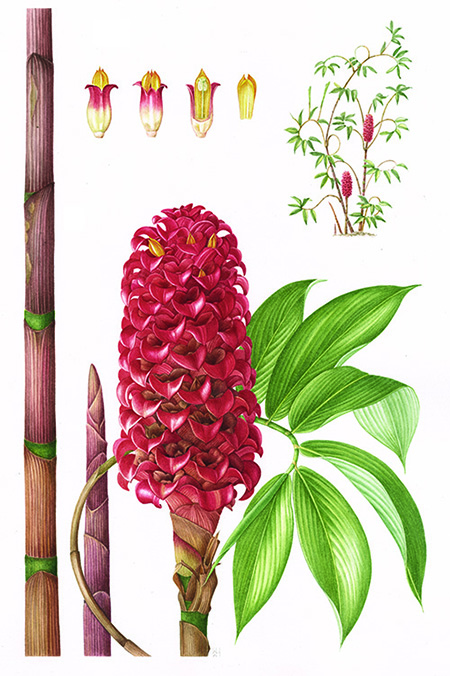 The Pineapple Ginger (Tapeinochilos ananassae) has the appearance of an upside down pineapple. It has yellow flowers with cone-shaped bracts, illustrated here with various cross sectional views.
A Long Process
Botanical illustration can take a great deal of time because it may depend on the natural life cycle of certain plants. In creating a botanical illustration of a particular species, it is often important to feature various plant parts, from flowers to seeds and fruits.
However, because numerous plant species flower and fruit at different times of the year, this means that various parts of a painting can only be completed at different times. As a result, the entire process of working on an illustration of a single species can take many months. In fact, the entire calendar took Waiwai about 18 months to complete!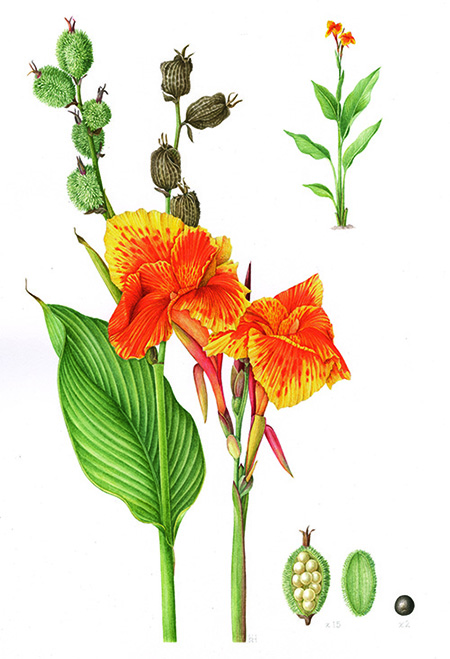 Flowers and fruits of the Canna generalis.
About the 2019 Singapore Botanic Gardens' Calendar
Researchers from the Singapore Botanic Gardens had carefully selected species to be featured such that each of the eight families in the Ginger order would be represented. These hail from three different continents: Africa, America and Asia, and even include four which are native to Singapore.
The calendar is a community project by ExxonMobile Asia Pte Ltd. All proceeds go to the Singapore Botanic Gardens Exhibition Fund, in support of its public exhibition programme.

For more information and to purchase the 2019 Gardens' Calendar, check out our Gardens Shop website here.
You can also view an exhibition showcasing a unique collection of wooden printing blocks bearing botanical inspirations. Woodblock printing is an art form that unites nature and cultural expression. Blank wooden blocks are painstakingly carved with images and then used to create identical imprints on paper. Visit this exhibition at the Centre for Ethnobotany within the Ethnobotany Garden in the Singapore Botanic Gardens.

Interested in learning more about botanical art? Look forward to viewing botanical illustrations in various artistic styles from watercolours, ink drawings to wood block carvings from the Gardens' vast collection, as well as from other botanic gardens and galleries around the world, when the Natural History Art Gallery in the Singapore Botanic Gardens opens in 2019.
Text by Elizabeth Kamaldin
Illustrations courtesy of Waiwai Hove