Seven Reasons to Join Our Events in 2019
Looking for somewhere new to go to this year? Just head outside, to our many parks and gardens!

Every year, we hold a series of events, from festivals, workshops and exhibitions to concerts, that everyone can enjoy. Whether you are a gardener, a pet owner, a shopaholic, a budding musician, an artist-in-training or a photographer looking for the perfect shot, check out seven reasons to make a date with us and attend our many events this year!
1.Get Up Close to Local Biodiversity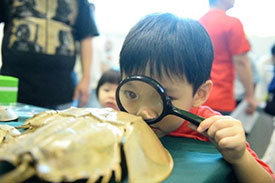 Learn more about Singapore's unique and diverse flora and fauna! Come by our annual Festival of Biodiversity, usually held in the middle of the year, and exhibition booths put up by our various partners at signature events like the annual year-end Parks Festival. Introduce the young ones to our biodiversity, and learn how you and your family can help in conservation efforts. Do not miss the fringe activities where you can get up close and personal to our biodiversity and remember to pick up unique mementos you can bring home with you.
2.Snap #instaworthy Photos
Want to up your Instagram game with #instaworthy shots? Start by exploring the outdoor spaces around you. How about discovering the Coast-to-Coast Trail? Stretching 36 km from Jurong Lake Gardens in the west to Coney Island Park in the northeast, there are multiple beautiful picture-postcard moments awaiting you as you walk along lush greenery through a variety of parks, park connectors, nature areas, places of interest and urban spaces. Keep a look out for the Coast-to-Coast DIY trail guide and mobile app to be launched in early 2019 which will give you a more immersive experience!
3.Be Inspired and Create Art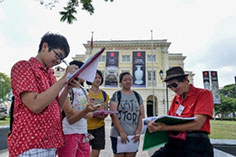 Whether you are inspired by hundred-year-old trees, picturesque nature or heritage buildings, we have tours that lead participants through our civic district to admire them, learn more about them and render them on paper. Artists like Achilles "Uhky Uhky" Estremos, Lee Yeow Heng, Choo Meng Foo and Tham Pui San have been past guides on these sketching tours, perfect mentors to inspire you and let you discover the artist in you.
4.Learn to Care for Furry Friends
Looking to adopt a pet? Join us in April at The Pawfect Match, the highly-successful speed dating adoption drive for dogs, cats and rabbits, at the Pet Expo 2019. With exciting interactive events, dedicated pet competition areas, pet products and services on sale, and health checks for the animals, there is something for all pet owners at the expo.
5.Celebrate the Joy of Gardening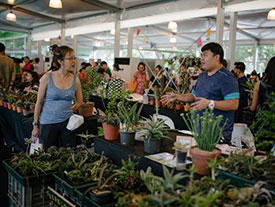 For gardening enthusiasts, be spoilt for choice with the myriad of fun-filled activities at the bi-annual Community Garden Festival, to be held later this year. Pick up something useful for your garden such as an interesting knick-knack to decorate your plant plot or special blooms to spruce up your home or office, at the popular marketplace. You will also be wowed by the stunning Community in Bloom garden and edibles-themed displays, and learn about innovative gardening technologies to help unleash your creativity while designing with edibles. Go from greenhorn to green fingers by attending the series of talks, workshops and demonstrations by gardening experts.
6.Discover the Next Music Talent
Photo credit: LJCP Photography
NParks' talent incubation programme, Live Out Loud, returns for its fourth season in 2019 with Battle of the Bands showcase. Give your support to 16 up-and-coming local bands as they battle it out for a chance to win professional training sessions and to perform at an upcoming NParks Concert Series in the Park: Rockestra. You have a say in who wins so gather your friends and family for a party and help discover Singapore's next big music talent!
7.Let your hair down and party the night away
Photo credit: LJCP Photography
What better way to cap off a fun-filled day than to party the night away at the ever-popular NParks Concert Series in the Park: Rockestra? Each concert, held quarterly, adopts a different theme, which means there is always something fresh and exciting happening. Whether you like retro hits, Top 40 favourites, Xinyao or rock, local acts like Enigma, Jive Talkin', Khim Ng & The MAD Company, SuperSonic and ShiLi & Adi have all thrilled audiences with their performances. This year, you can expect even more local musicians ready to entertain you.
More details will be made available in time to come. Stay tuned to our website (https://www.nparks.gov.sg/events),subscribe to our e-newsletter (https://www.nparks.gov.sg/e-newsletter) or follow us on our Facebook (https://m.facebook.com/nparksbuzz) and Instagram (https://www.instagram.com/nparksbuzz) pages!
Text by Elaine Pang