The Raffles' Effect
We recognise him as the man who founded modern Singapore 200 years ago. In 1819, Sir Thomas Stamford Raffles signed a treaty with the Sultan of Johor, granting the British East India Company rights to set up a trading post in Singapore.

He later also made significant contributions which helped us thrive, including conceptualising a town plan to remodel Singapore into a modern city, and devising policies to allow for a free port. But did you know that Raffles was also a nature lover who actively collected specimens of flora and fauna wherever he went?

As we commemorate the Singapore Bicentennial, we look back at his passion for natural history and five ways this impacted our local biodiversity and conservation efforts till today.
1.Setting up our first botanic gardens
While we may recognise it today as a popular venue for concerts and performances, did you know that Fort Canning Hill was actually the site of Singapore's original botanic garden? Raffles set up the very first botanic gardens there in 1822. At that time, the spice trade in Southeast Asia was very lucrative, so he grew nutmeg and cloves at the site due to their great economic value.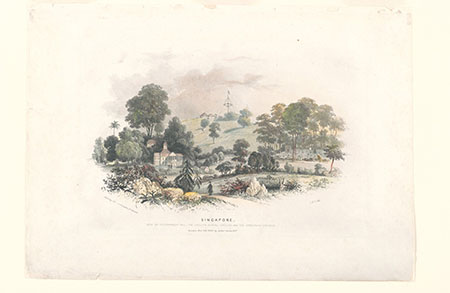 In the first half if the 19th century, Fort Canning Hill was known as Government Hill.
Picture courtesy of National Musuem of Singapore, National Heritage Board

This First Botanic Gardens will be created on the hill, extending from Fort Canning Park, onto the streetscapes of roads bounded by Hill Street, Victoria Street, Bras Basah Road, handy Road and Canning rise. A part of Armenian Street is also being pedestrianised and turned into a park featuring plants that were introduced as economic crops for the spice trade, food and horticulture in the 19th century.
2.Discovering the World's Largest Bloom
As Raffles had a deep fascination in the diversity of plants and animals, he discovered a vast number of plants and animals in this region.
One of his more well-known discoveries was the Rafflesia, considered the world's largest bloom. It is a carnivorous red flower which can grow up to 150 cm in diameter, and was discovered by Raffles and Dr Joseph Arnold, a naval surgeon and naturalist, on 19 May 1818.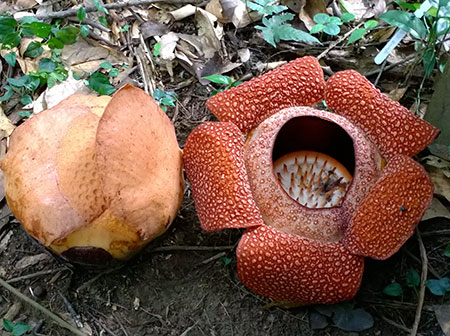 Rafflesia keithii
Photo credit: Edmund Chia
3.Identifying numerous bird species
As he was an avid bird lover, Raffles begun his study of birds in Singapore when he collected them for the East India Company Museum. He discovered and identified up to 24 species of birds in Singapore, such as the Black-naped Tern (Sterna sumatrana) and the Crimson Sunbird (Aethopyga siparaja).

Black-naped Tern and the Crimson Sunbird
Photo credit: Francis Yap
4.Having other animal and plant life named after him
There are several other native plants and wildlife named after, and associated with, Raffles. This includes the Raffles' Banded Langur (Presbytis femoralis femoralis), a kind of monkey, and the Raffles' Pitcher Plant (Nepenthes rafflesiana).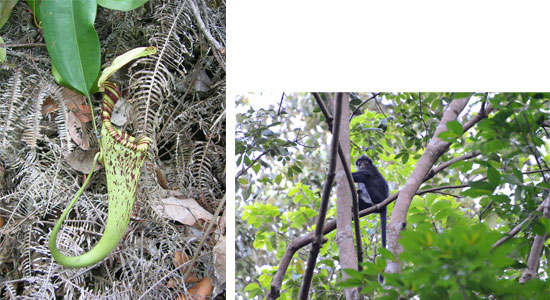 Raffles' Pitcher Plant and Raffles' Banded Langur
Photo credit: Boo Chih Min and Jayasri
5.Documenting his ideals in a natural history museum
Aside from identifying numerous flora and fauna in Singapore, as well as establishing our first botanic gardens, The Raffles Museum of Biodiversity Research was also established from Raffles' ideals in the 1800s. Renamed today as the Lee Kong Chian Natural History Museum and located in the National University of Singapore (NUS), it contains the Zoological Reference Collection – known originally as the Raffles Collection – and the collection of the NUS Herbarium.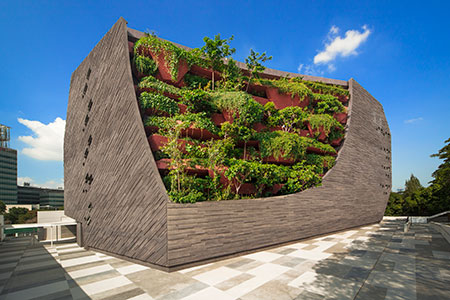 The Lee Kong Chian Natural History Museum located in the National University of Singapore was once known as the Raffles Museum of Biodiversity Research that was established from Raffles' ideals in the 1800s.
Photo credit: James Tan (courtesy of Lee Kong Chian Natural History Museum)
Text by Tan Yin Qi

About the writer
Tan Yin Qi is a final year student at Ngee Ann Polytechnic, currently taking a Diploma in Mass Communications. She interned with NParks in 2018, as part of her school curriculum. During her six-month stint, she worked on projects to inform and educate the public about our native flora and fauna. At the Singapore Garden Festival 2018, she was part of a team that story-boarded, filmed and edited three videos clips that were posted online to promote the two-week event.