Fun In The Sun
We have all been in that situation where no one has any idea what to do during the weekends. Lying on your bed at home watching cat videos or streaming movies for seven hours is just not good for your mental or physical health.

Why not head outside for some great activities that can stimulate both your mind and body and are, most importantly, fun! Here are nine exciting activities you can enjoy with friends or family in our parks and gardens.
1. Conquer Treetop Obstacles
Photo credit: Forest Adventure
Get your Tomb Raider skills on at Forest Adventure, a treetops obstacle course which will get you climbing, jumping and swinging all over the place. It has 44 adrenaline pumping obstacles including three thrilling zip lines, one of which lets you 'fly' over the water for 300 m!
This great fun is suitable for all ages, as you get a 20-minute briefing which will teach you how to navigate the course safely. Make your way to Bedok Reservoir Park for some fun among the treetops.
Visit forestadventure.com.sg for more information.
2. Get Wet Wakeboarding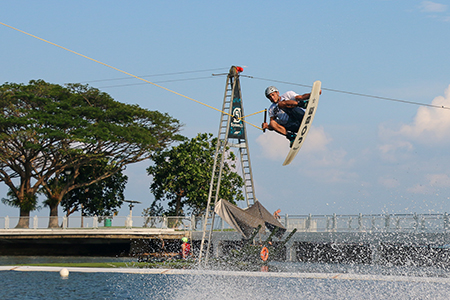 Photo credit: Singapore Wake Park
You probably have noticed the Singapore Wake Park when going past East Coast Park, and watching people skiing on water while being pulled by a line may appear super challenging. But fear not! There are three pull systems, one full size cable system for experienced wakeboarders and two straight-line systems for beginners and intermediate riders from as young as six years old.

Once you get the hang of cable-skiing on water, up the ante by using the obstacles like rails, kickers and pipes. And after an exhilarating time on the water, you can take a shower and chill out at the café and bar, Coastal Rhythm for some much-deserved R&R.
Visit singaporewakepark.com for more information.
3. Get Up Close to Horses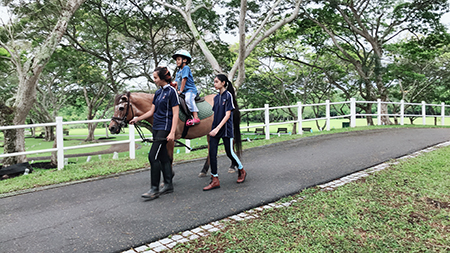 Photo credit: Gallop Stable
This activity is perfect for animal lovers. Get up close to the horses at Gallop Stable at Pasir Ris Park. Several of them are ex-race horses who were unable to find a home after retirement, but now call the stable their home.

Families will particularly enjoy a visit to the stables as there are many horse-related activities suitable for different ages to enjoy, from riding lessons, pony rides or just feeding these beautiful creatures. It is a meaningful way to spend your weekend afternoon in Pasir Ris Park.

Visit gallopstable.com for more information.
4. Explore our Coastline on Wheels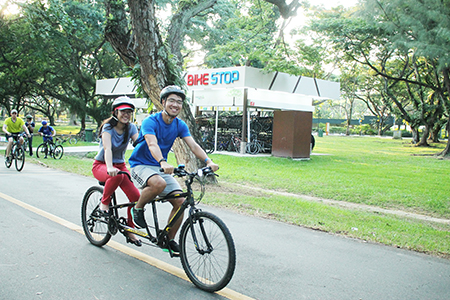 Photo credit: Coastline Leisure
Enjoy the cool breeze and wonderful views of our coastline while cycling or skating, along East Coast Park.

Rent bikes and inline skates from GoCycling and Coastline Leisure to explore our coastal parks, and if you have the time, travel from West Coast Park to Jurong Lake Gardens or from Punggol Park to Coney Island Park. There are road bikes, double seater bikes and even four-seater family bikes if want to keep everyone travelling at the same speed!

GoCycling provides the rental of bicycles at Eastern Coastal Loop, Punggol Park and West Coast Park. Go-carts are also available at West Coast Park to enjoy. Meanwhile, Coastline Leisure provides services like bicycle repair, learn-to-cycle workshops and mass bicycle rental for events.

Visit coastlineleisure.com.sg and www.gocycling.sg for more information.
5. Hit the Mountain Biking Trails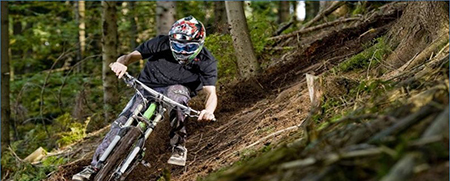 Photo credit: Aire MTB
For those who prefer something more stimulating than a leisurely ride in a park, get some dirt, rocks and a mountain bike involved! For some real thrills and spills, challenge yourself or your friends at the mountain biking trail in Chestnut Nature Park. Aire MTB provides mountain bikes that come with suspension and gears to really tackle the trails.
Contact fixiesingapore@gmail.com for more information.
6. Go for the Big Catch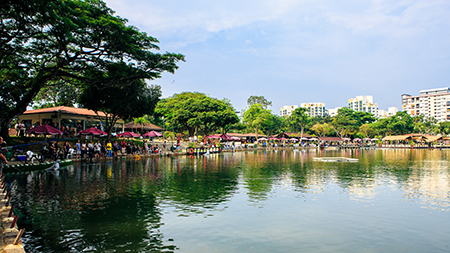 Photo credit: D'Best Fishing
Forget about catching small fry, come catch some real fish at D'Best Fishing, the only seawater fishing pond in Singapore! There are plenty of things to catch, such as prawns, crabs and fish. The pond also offers larger sized fishes for you to experience what it is like to 'fight' a fish like a true fisherman!

And if you are a night owl looking for an interesting spot to chat with friends through the night, D'Best Fishing even has a 24-hour spot! Head to Pasir Ris Town Park for a different experience.

Visit www.facebook.com/dbestfishing for more information.
7. Learn a New Sport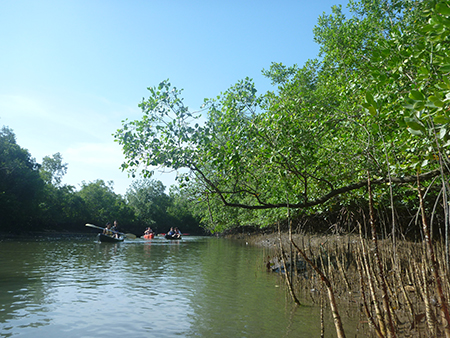 Photo credit: Ohana Beach House
Take to the waters with some exciting sports. You can rent different kinds of water sporting equipment at Ohana Beach House located in Pasir Ris Park and Aloha Water Sports in East Coast Park. Try windsurfing, kayaking, sailing or standup paddling.

You can also sign up for courses to get coaching on perfecting your strokes and travel along special trails by the coast. After catching some rays outdoors, relax and chill out with friends over some food and drinks in the two centres.

Visit adventurepaddlers.com.sg and alohaseasports.com.sg for more information.
8. Build Dreamy Sandcastles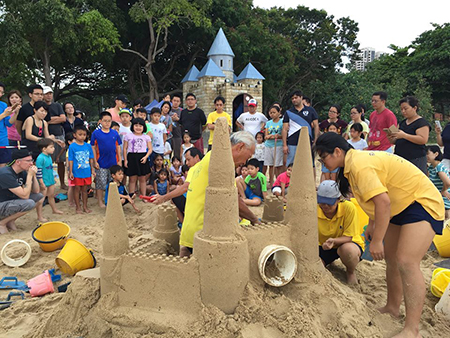 Photo credit: Castle Beach

Most of us have bad memories of trying to build sandcastles as kids, unable to get them taller than two buckets high before they crumble into a pile of sadness.

Castle Beach teaches you techniques and methods to craft sandcastles and even beautiful sculptures. And if you want to build an entire town, call on your friends and family to make this a great day out for everyone. Try it out at East Coast Park!

Visit castlescanfly.com for more information.
9. 'Shoot' Ninjas with Lasers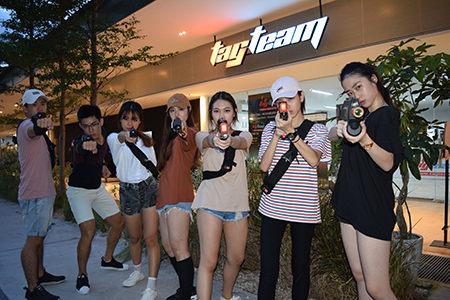 Photo credit: Tag Team
Need I say more? Laser tag is definitely one of the most fun activities to do with your friends, and even more fun with any frenemies!

Tag Team in East Coast Park is Singapore's largest indoor laser tag centre and it promises more fun and challenges. In addition to traditional gameplay, you can also choose mixed reality games that let you hunt for treasure and fight virtual ninjas. You can also use different equipment, such as pistols, swords or bows and arrows, to play tag!

Visit tagteaminc.sg for more information.

Text by Leon Chin

About the writer
Leon Chin is a final year Mass Communications student from Republic Polytechnic. He interned at NParks in 2018 as part of his school curriculum, working on projects to inform and educate the young and public about our flora and fauna. This included writing articles and helping to manage outreach activities. A wildlife enthusiast and musician, he also enjoys playing his guitar in the Singapore Botanic Gardens when he is free.

Please email wong_yeang_cherng@nparkss.gov.sg for more information on our internship programme.