Enjoying Heritage and the Arts in our Parks
Enjoying Heritage and the Arts in our Parks
To commemorate the Singapore Bicentennial, why not step back in time to experience our heritage or learn from our history while in Fort Canning Park, and then look ahead to see what budding talents of our growing arts scene are creating in two art spaces set in the city centre
History and Heritage
Lewin Terrace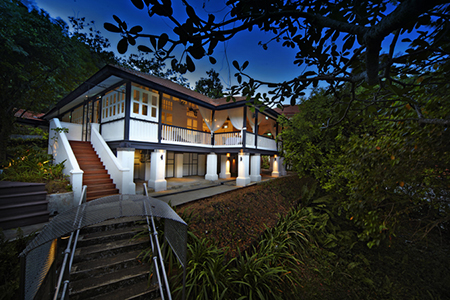 Lewin Terrace is a charming black and white bungalow that was once the residence of the Chief of the Central Fire Station located on Hill Street. Today, Lewin Terrace is surrounded by the lush greenery of Fort Canning Park, offering a unique dining experience of fresh and innovative Japanese-French cuisine set in a historic ambience.

Diners will appreciate how the restaurant maintains the integrity of Omotenashi, or the Japanese fine art of delivering outstanding hospitality with discretion. Its colonial setting, decked in a beautiful garden, also makes it a romantic and exclusive wedding venue.
Hotel Fort Canning
Hotel Fort Canning is a conservation hotel tucked amidst 18 hectares of lush greenery at Fort Canning Park. Originally built in 1926, the building has a storied past that dates back to the early 20th century, when it was part of a British military administration site. Today, the hotel's architecture and interior retain much of the building's original grandeur and glamour, complemented by modern amenities and surrounded by verdant parklands.
The Battlebox
Built in 1936, The Battlebox is a former World War II British underground command centre set within Fort Canning Hill. It was inside the Battlebox that the British decided to surrender Singapore to the invading Japanese military on 15 February in 1942. Today, The Battlebox is a museum that unveils what lead up to "the worst disaster and largest capitulation in British history".
Join The Battlebox Tour that brings to live the fall of Malaya and Singapore during the war, and shows visitors how an underground command centre functioned during the war. Its other tour, entitled Of Graves, Guns and Battles, includes a tour around the historic Fort Canning Hill as well.
Arts and Culture
Visual Arts Centre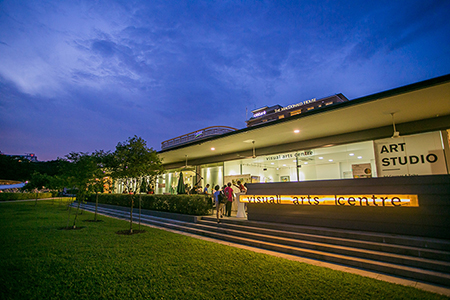 The Visual Arts Centre is a glass house exhibition gallery and studio housed in the beautiful habitat of Dhoby Ghaut Green. Although located in the midst of the bustling city centre, the Visual Arts Centre is still a peaceful oasis, bringing visitors a unique experience of experiencing the visual arts in a tranquil environment. Catch inspiring exhibitions and attend interesting art courses, from professional oil painting lessons to portrait drawing and creative children art immersion courses.
My Art Space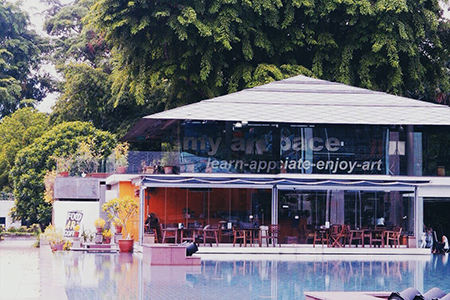 Located in Istana Park, just across from the main gates to the Istana grounds, My Art Space offers various opportunities for everyone to experience art. With a studio that overlooks a reflective pool and plenty of storage space for paintings and art equipment, this contemplative space nestled amidst a backdrop of tropical trees and palms is suitable for conducting painting and drawing workshops, outdoor art adventures and exhibitions to showcase creations from inspired minds.

-------------------------------------------------------------------------------------------------------------------------------
Re-"Ju"venate your Senses

As we move towards the middle of the year, step into our parks and gardens to rejuvenate your senses with a healthy drink or snack and refresh your mind by reminiscing about the kampong days of yesterday.

JUJU

JUJU is a takeaway café located close to the Bukit Timah Gate of the Singapore Botanic Gardens. It serves smoothies and frozen treats made from organic, sustainably-sourced whole food ingredients whenever possible. Items on its colourful menu contain no saturated animal fats as well as no refined sugars and are also free of any artificial additives.
Be sure to pick up the popular smoothie bowls as well. Handcrafted in small batches, these cool treats that include fresh ingredients like vegetables and fruits and nuts are the perfect pick-me-up on a hot day.
Apart from frozen treats, JUJU also serves slow-pressed juices, nut milks, grilled sandwiches, coffee, tea, and a variety of light snacks such as house-made kale crisps and orange almond cakes.
Address

1 Cluny Road, #01-K1, Singapore Botanic Gardens, Bukit Timah Visitor Services Kiosk, Singapore 259569

Operating hours

Monday to Friday: 11 am to 8 pm
Saturday and Sunday: 9 am to 8 pm

Contact number

93892042

E-mail

thejujubar@gmail.com

Instagram

@thejujubar
O' My Kampong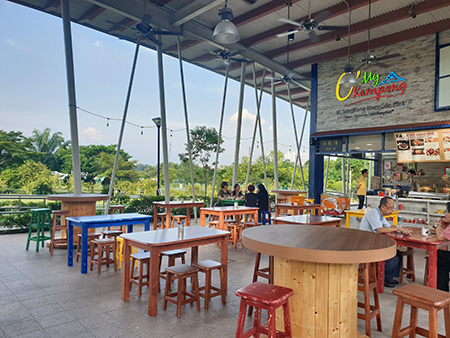 When you are in Sengkang Riverside Park, visit O'My Kampong to experience the kampong way of life. Admire its nostalgia-inspired decor, taste traditionally-prepared dishes, and enjoy the serene ambience of this space set next to the river.

We recommend trying the Signature O'My Kampong Chicken Meal and be sure to experience the many wistful kampong elements such as the Provision Shop corner where you can purchase old-school titbits, games and toys.