Fabulous Food Fabulous Mood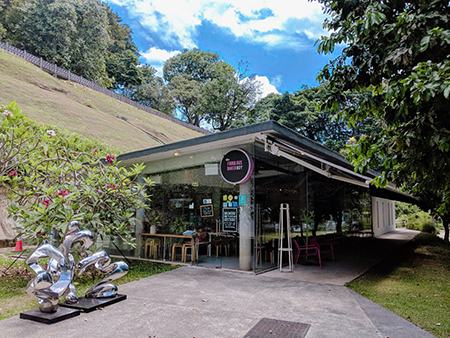 Tucked away in the foothills of Fort Canning Park is a picturesque café, The Fabulous Baker Boy (TFBB) Bakery and Cafe. TFBB prides itself in serving excellent cakes for the last 10 years.
Warm and Welcoming
Upon entering the café, I was greeted by pretty fairy lights decorating the ceiling, interesting recipes in aesthetic fonts plastered on the white walls and soft cushions with "punny" quotes on them. Taken together, the café gives customers a warm, welcoming mood, perfect to laze an afternoon away in!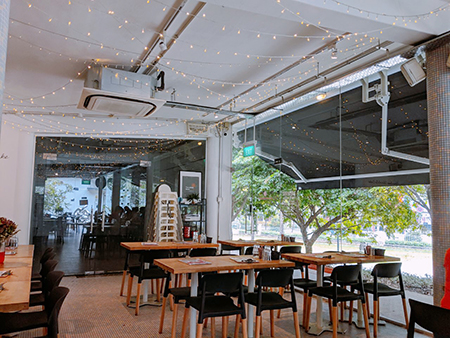 Fairy lights criss-crossing the ceiling, creating an inviting mood to the cafe.
There is an open concept baking kitchen, so you can see your orders being prepared right before your eyes. Small potted plants also bring some of the outdoor greenery into the airy and sunny interior, contributing to the café's cosy ambience.


Quirky quotes and recipes written on the walls paired with some indoor greenery and cushions with cute quotes contribute to a cosy ambience.
Satisfying Nibble
Let me dive straight into the food. There is a good variety of yummy sounding options found in the menu. From nibbles to starters, lunch or dinner main courses or even comforting breakfast items, you will be spoilt for choice.
I decided to go for the Panko Mushrooms as a starter and then a Fried Chicken and Waffles as my main course, and some cakes for dessert.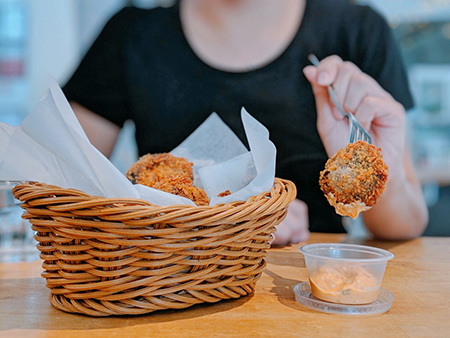 Panko dredged shitake mushrooms, fried to a crisp, lightly salted and served with a truffle mayonnaise.
Generously coated with crunchy panko bread crumbs, my pick for a light nibble proved to be a stellar choice indeed. Each bite provided a satisfying 'crunch' as the taste of the juicy mushroom filled my mouth.

Despite its extremely crispy exterior, the mushroom was not overly oily. Instead, it left a delicious buttery taste on my palate as my teeth first broke the panko shell and then sunk into the shitake.

Saucy and Spicy
Although the menu said that the dish would be accompanied by a truffle mayonnaise sauce, it was served with the Sriracha Tatar sauce instead. I had already finished about half of the mayonnaise sauce before I realised this and sounded it out to the waiter.

He proceeded to provide the Sriracha Tartar, so I had the chance to taste both sauces. Besides being pleased by the good service, both sauces tasted incredible. Talk about a happy accident!

Now on to the Fried Chicken and Waffles. Given a choice between spicy or original, I opted for spicy, but much to my surprise, the chicken was hardly spicy and was in fact somewhat sweet, a taste that I started to quickly enjoy.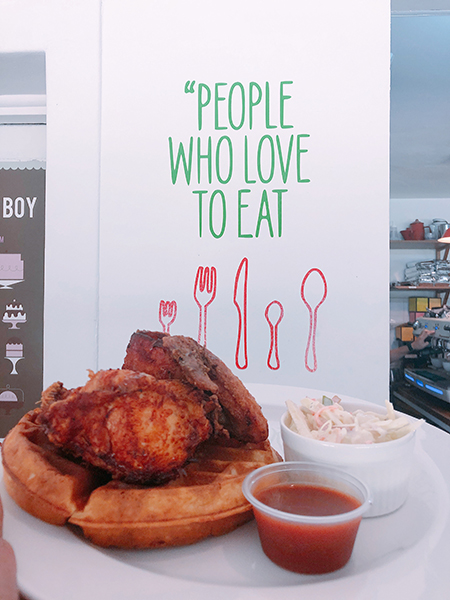 Deep fried succulent buttermilk chicken served on a whole waffle with a generous syrup drizzle and an accompanying Chinese cabbage, pear and apple slaw.
Star of the Dish
The chicken was very tender and moist. The crispy skin was well-marinated and satisfying right from the first bite.

I especially liked the accompanying side coleslaw. Perhaps I have grown used to the sour and tart taste of the vegetable mix that usually accompanies such main dishes found elsewhere, but here, the slaw of Chinese cabbage, pear and apple had a pleasant creamy texture and I enjoyed the tangy flavour of the fruits.

The star of this dish however, was the waffle. Crispy on the outside, yet soft and chewy on the inside, it is everything a good waffle should be. Served piping hot, the square of butter placed on the middle of the waffle melted evenly, giving it a delightfully buttery aroma and taste.

Overall, it was a perfectly balanced combination of textures – dense yet crispy and fluffy. Chomping down mouthful after mouthful of it, I felt that I could still have some more.

Cake Expectations
Now for dessert! I ordered the café's signature Big Lub's Carrot Cake as well as The Hossan Leong under their Divo Series.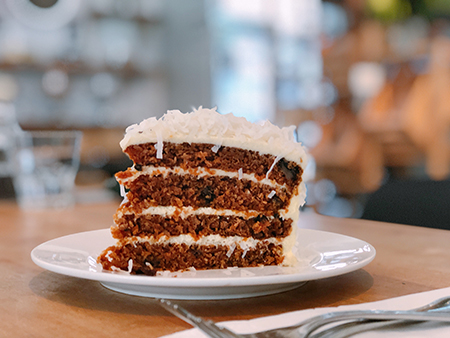 The Big Lub's Carrot Cake is a great classic with a few twists.
I was extremely impressed with the carrot cake. The way it was effortlessly crumbly while still able to hold its shape left me in awe! The layers of the sweet and nutty carrot cake were held together by substantial smooth and dense cream cheese. Crunchy coconut shavings were generously sprinkled on the cake, further enhancing the texture of this treat.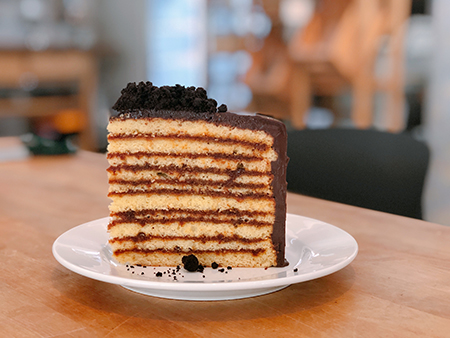 The Hossan Leong is an amazing 10 layers of butter torte and filled with hazelnut praline and covered with a chocolate ganache.
My second cake was The Hossan Leong which can only be described as a chocolate-lover's dream come true. Having never tried butter torte, I found this less crumbly as compared to the carrot cake. However, it must be due to the fact that the layers were really thin as it has an amazing 10 layers!

The hazelnut praline provided a fudgy texture and went very well with the butter torte. The Valrhona chocolate ganache coating the top of the cake was also absolutely divine. But I particularly enjoyed the sea salt chocolate crumbs that you would taste in every few bites. The saltiness somehow paired nicely with the sweetness of the ganache and praline. I wished that there was more of it, but that might be because I was just too greedy!
The café bakes its cakes fresh every day and hence, the flavours change as well. The two 'evergreen' flavours are the Big Lub's Carrot Cake as well as the Ms Jacintha under the Diva Series, which is a pandan and cream cheese cake with Gula Melaka.
It was a great lunch time spent at TFBB Bakery and Café and I would definitely go back to try the other food items and cakes next time. I recommend you head down with your family and friends for a good meal and then a beautiful day out at Fort Canning Park for your next outing!
The Fabulous Baker Boy is located at 70 River Valley Road, #01-15, Singapore 179037. It opens from 8.30 am to 6 pm on Tuesday to Thursday, to 10 pm on Friday and Saturday, and to 5 pm on Sunday. It is closed on Monday.
Text and photos by Nur Hafizah and Lynn Chan

About the writer

Nur Hafizah is a Third Year Mass Communications student of Nanyang Technological University (NTU). She worked in the Communications and Community Engagement (CCE) division of NParks, as part of her school's six-month professional internship programme. During her time in NParks, she wrote and edited articles for My Green Space, contributed to the creation of social media posts and video content, and took photographs for publicity materials for events such as the Forest Restoration Action Plan at Bukit Timah and Central Catchment Nature Reserves and the opening of Raintree Cove at East Coast Park.
Please email wong_yeang_cherng@nparks.gov.sg for more information on our internship programme.