Singapore History Amidst Lush Greenery
Fort Canning Park today is a great location for a picnic or for watching a movie or cultural performance. But did you know that it is deeply rooted in Singapore's history, from the time of the 14th century kings to the founding of modern Singapore?
While the 18-hectare park and its surroundings are currently being enhanced with the restoration of three gardens and re-curated heritage trails, among others, there is still much to see and explore.
Way before the British arrived and Sir Stamford Raffles founded modern Singapore in 1819, Fort Canning Hill was already a key landmark on our island, and has been since Singapore's earliest recorded history. Read on for a fascinating peek into the more than 700-year past of the 47.5 m high hill.


Feeling adventurous? Families and youths can discover the many lesser-known spots in Fort Canning Park.
Forbidden Hill
In the 14th century, Fort Canning Hill held a very different place in the hearts and minds of locals. Named Bukit Larangan, or Forbidden Hill, it was a site few people frequented, and one which some even avoided at all costs.
According to the Sejarah Melayu or the Malay Annals, a collection of historical stories written in the 16th century, the hill once served as the palatial compounds and burial grounds of five ancient Malay kings who used to rule Temasek (Singapore's earlier name). When early colonials first arrived in Singapore, they found sandstone foundation blocks dating back to the 14th century, marking a large palatial building along the hill's slope.
Even today, remnants from the era remain. En route up the hill, you may come across a feature known as the Forbidden Spring or Pancur Larangan. It used to be an area where the wife and consorts of the King used to take their baths. Locals were forbidden from ascending the hill without royal permission.
As part of ongoing improvement works on the park till mid 2019, the Forbidden Spring will be reconstructed with a water feature and stone murals to depict the significance of water to the site back in the day.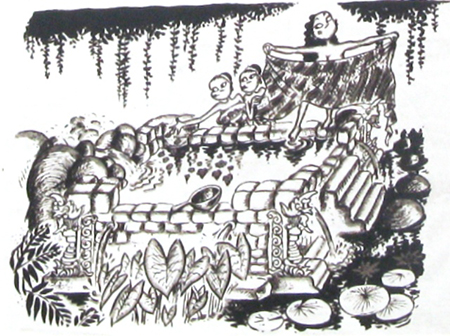 An illustration by Lat of Fort Canning's Princess Pond.
There is a second, more eerie reason why the Forbidden Hill was given such a foreboding name. The hill was regarded in awe because of ghosts and strange sounds that were heard coming from it. Due to this reputation, Major-General William Farquhar had to resort to taking men from Melaka with him on his first trip up the hill as no local Malays were willing to do so.
For a glimpse into life during this era, starting from June 2019, you can visit an archaeological dig and exhibition area in the park which showcases an actual dig site and a collection of recovered artefacts. These mostly date back to the period between 1300 and 1600, and include items such as Chinese coins and pottery, supporting the claim that Singapore was already a prosperous port of significance in the 14th century.
Enter the British
Fort Canning once again saw its significance as a residential dwelling place for Singapore's rulers during the colonial era. Atop the hill, Raffles built his first residence, a wooden bungalow, for himself and his sister's family. Completed in 1822, the bungalow stood at approximately 30 m long and 15 m wide, with venetians and an attap roof.
The house was later renamed Government House, which gave rise to the name Government Hill, or Singapore Hill. Raffles enjoyed the location so much that he suggested to be buried here on the hill, mixed with the ashes of the ancient kings. He was later, however, buried in a parish church in Hendon, England, where he lived.
Beyond being Raffles' residential base, the hill also served as an important communications centre after the British established a port in Singapore in 1819. A flagstaff was constructed on its summit to announce the arrival of ships, allowing eager merchants to quickly make their way to the harbour for business.
A lighthouse was later built beside the flagstaff to guide ships in to shore. Also, a time ball was dropped from the yard-arm of the staff at about 1 pm daily, acting as a large alarm clock. Today, replicas of the communication facilities such as the time ball, lighthouse and the flagstaff can be found at the Maritime Corner@Fort Canning Park at Raffles Terrace.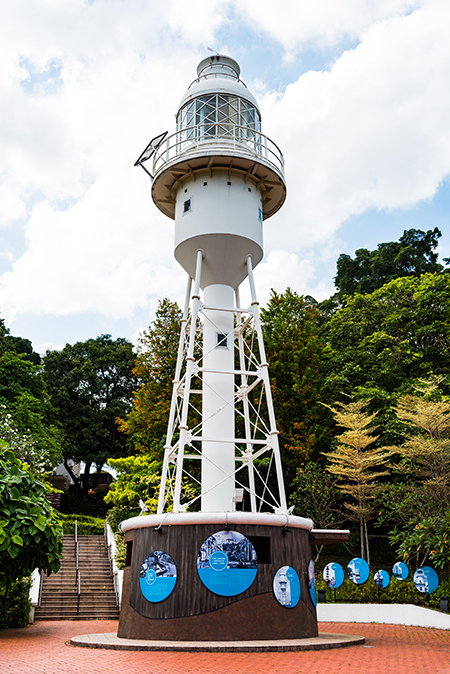 The replica lighthouse at Raffles Terrace in Fort Canning Park.
From Hill to Fort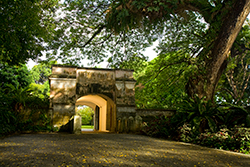 The often-photographed Fort Gate is a reminder of the park's earlier military function.
Photo credit: Koh Yee Ling
In 1860, the hill was converted into a fort and renamed Fort Canning in honour of Viscount Charles John Canning, Governor-General and the first Viceroy of India. In the 1920s and 1930s, the hill was transformed into an artillery fort which included the construction of barracks, officers' quarters and an underground bunker. However, having never been used in the defence of the country, Fort Canning was demolished in 1907.
Currently, only two nine-pound cannons and the gothic archway of the entrance, the Old Fort Gateway, designed by G.C. Collyer, still stand. Other existing facilities have been repurposed as the current Fort Canning Centre, Hotel Fort Canning and The Battlebox Museum.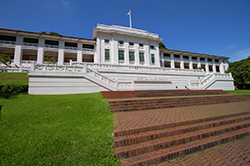 Fort Canning Centre. Photo credit: Choo Meng Foo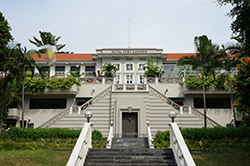 Hotel Fort Canning

The Battlebox Museum
Today, Fort Canning Park features lush greenery and expansive lawns, which offer a variety of arts, heritage and nature experiences. It is a great venue for celebrations and plays host to concerts, theatre productions and festivals such as Shakespeare in the Park and Ballet under the Stars. It also features interesting flora and fauna species, especially in its tranquil Spice Garden, which includes plants such as Tumeric, Nutmeg and Allspice.


(Left) Fort Canning Park is a great place to enjoy a performance such as Ballet Under the Stars held on Fort Canning Green or (right) for a cool night out such as the Keys of Light installation, part of the i Light Singapore Festival, held at Raffles Terrace in early 2019
The opening of the Fort Canning MRT station in late 2017 enhances accessibility to the park. So, whether you are a history buff, music lover or nature enthusiast, Fort Canning Park definitely has something in store for you.
Interested to learn more about the history and heritage of Fort Canning Park? Embark on a DIY walk with our downloadable trail guides here, or sign up for a guided walk here.
Upcoming Plans
Look out for three historical gardens that are being recreated as part of efforts to restore the rich heritage of Fort Canning Park and its surroundings. Opening in mid-2019, these three gardens within and around the park make up the heritage landscapes of Fort Canning Hill, and include Singapore's first botanic garden. These enhancements will be accompanied by a greater variety of education and outreach programmes as well as enhanced accessibility to the park.

Visitors can also look forward to the Singapore Bicentennial's anchor event: an experiential showcase to be held in Fort Canning Centre from June to September 2019. This will bring visitors in a journey of key milestones in 700 years of Singapore's history, looking at the significant contributions of Singapore's early settlers and communities.

Text by Ling Ying and Jason Ooi