Highlights From The SGF Hort Show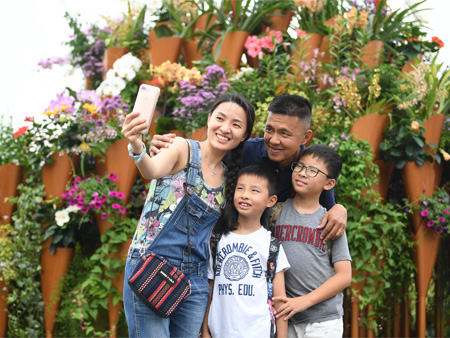 The first-ever SGF Horticulture Show was held at the new Lakeside Garden from 27 April to 5 May 2019.

An offshoot of the popular Singapore Garden Festival (SGF), the inaugural SGF Hort Show was an opportunity for industry, community and schools to showcase their horticultural skills in plant growth and care, and exchange expertise and experiences with each other. For all visitors, in addition to enjoying the SGF Hort Show, they could also explore Lakeside Garden that was opened together with the show.

If you were busy, here are five highlights and suggestions on how you can enjoy horticulture and participate in related activities, even after the show.
1) Introducing Aquascaping
Use aquatic plants and other elements such as rocks and sand to create submerged landscapes and underwater gardens known as aquascapes.
You have heard of the superhero Aquaman, but what about aquascaping? Visitors to the show had the opportunity to view the Nano Tank Aquascaping Competitio n and Display, a new feature in the series of SGF shows.
Since many of us live in high-rise apartments, indoor gardening has been becoming more popular. Over the years, SGF has introduced competitions such as the balcony gardens, showcased terrariums and miniature gardens to inspire residents to take up gardening even in small or indoor spaces.
Aquascapes are underwater gardens where aquatic plants and other elements such as rocks and sand are pieced together to create submerged landscapes. The interplay of water and greenery in aquascaping has gained a following in Singapore and the Nano Tank Aquascaping Competition and Display was a good platform to showcase an exciting alternative way for urbanites to bring greenery and nature into their homes.
Vertical greenery refers to when plants are incorporated within vertical surfaces. Traditionally, it involved climbing plants with self-clinging roots growing directly on the building's surfaces, twining plants growing on trellis and pergolas or plants growing within the crevices of stacked rocks. However, in recent years, contemporary and innovative systems have enabled developers to grow different plants on vertical planes.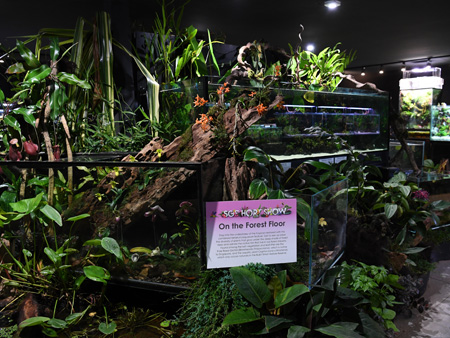 Staff from NParks created a combined terrarium/aquascape display resembling a tropical rainforest to showcase the diversity of plants that grow under the deep shade of forest trees.
2) "Hort" Plants for the Year

Bromeliads and carnivorous plants were just two of the nine categories in the SGF Horticultural Competition. Photo credit: Felix Siew
Another new component was the Horticultural Competition. Unlike the previously held Community Garden Edibles Competition that searched for the longest and heaviest fruits and vegetables in Singapore, the Horticultural Competition focused on nine categories: Aroids, begonias, bromeliads, carnivorous plants, edible plants, ferns, flowering plants and gesneriads and succulents.
Submissions were judged on the overall health of the plant, its form and size, its bloom and leaves, as well as the level of difficulty in propagating the plant. Over 450 submissions, from amateur gardeners to professionals, were received for the competition.
The variety of edible and ferns submitted by local professionals and amateurs on display during SGF Hort Show.
Visitors to the show were also in for a treat – NParks set up a special horticultural display showcasing uncommon, unusual and unique plants from our nursery, including edible, native and ornamental plants.
Are you an avid gardener who would like to show off your skills and bountiful harvest? Join the Community Gardens Edibles Competiton 2019 to pit your gardening skills against other passionate individuals.
3) Up! Up! Up!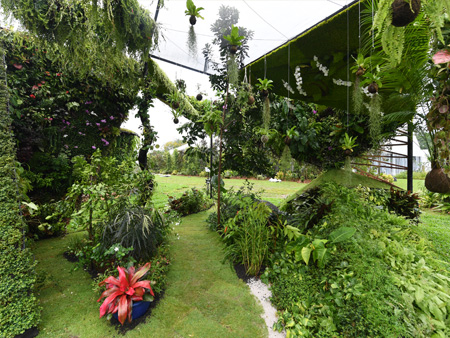 The Gold award winning display called BIO-Filial Cities was created with geometrical shapes, drawing inspiration from nature's building blocks.
Across the island, Singapore's cityscape is dotted with numerous lush green wall systems integrated seamlessly into building developments. There is also a greater variety of plants now used on vertical building surfaces, trellises, pergolas and even on crevices of stacked rocks.
The Vertical Greenery Competition, conducted together with the SGF Hort Show, featured six installations built around the theme Into the Next Dimension, and was a good way to inspire visitors to create their own green oasis at home or in the office.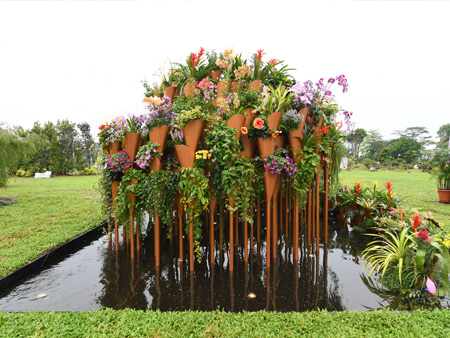 Floral Tapestry was the People's Choice Award. Its eye-catching flower towers appear to "float" above a still water feature, making it a popular photo-taking spot for visitors.
Learn more about vertical greenery here. You can also go on a DIY walk through Singapore's urban greenery landscape to discover wondrous skyrise greenery installations up close.
4) Going Big on Being Small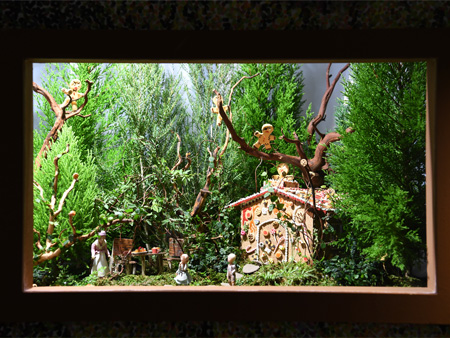 Home Sweet Home was created by gardeners from the Singapore Botanic Gardens.
Size matters – in this instance, being small!
Among the non-competitive displays at the show, the Magical World of Miniature Settings drew much interest with its vibrant dioramas created with live plants and figurines, each depicting scenes from classic fairy tales. Every element in each display was painstakingly built to scale and proportion, with props and landscape features carefully handcrafted to look true to life.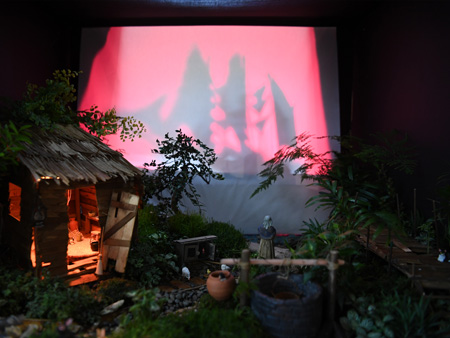 The Story of Si Tanggang was put together by students from the Institute of Technical Education.
In an adjacent display called My Mini Eden, visitors were vowed by the creativity of students and members of the community who put together pretty terrariums, demonstrating how gardening can be done indoors, and within small spaces.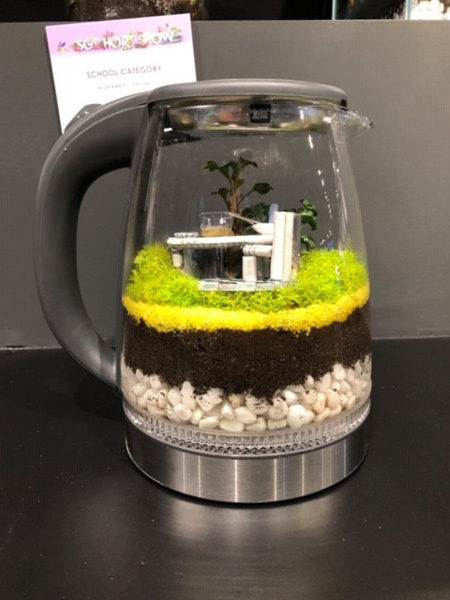 You can create a terrarium with most containers, such as this creative use of a coffee flask! Photo credit: Felix Siew
Interested to create your own mini masterpiece? NParks conducts miniature garden and terrarium-making workshops in our various parks and gardens. Look for the next workshop at a location near you here.
5) Visiting Lakeside Garden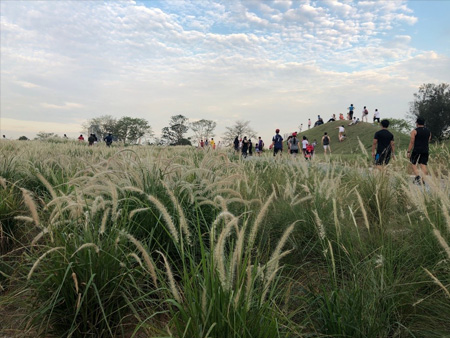 Visit the Grasslands in Lakeside Garden that includes three bird hides for you to view birds up close and observe their behaviour without alarming them.
Photo credit: Nur Hafizah
Beyond the SGF Hort Show, visitors were also thrilled to experience and explore the newly-opened Lakeside Garden, part of Jurong Lake Gardens. The 90-ha Gardens comprises Lakeside Garden (formerly Jurong Lake Gardens West), as well as Chinese and Japanese Gardens (formerly Jurong Lake Gardens Central) and Garden Promenade (formerly Jurong Lake Gardens East), that are currently under development.
Make a journey to the west to visit Lakeside Garden. Read our recommendations for Eight Must-see Spots in Lakeside Garden within the garden to help you better plan your trip.
About the SGF shows
SGF was first introduced in 2006 and over the years has grown to become an anchor festival in the international horticultural and floral arena. In 2018, SGF was expanded into a series of flower and horticultural shows comprising the anchor festival and two complementary events – the SGF Orchid Show and SGF Hort Show.
The biennial SGF Hort Show will be a mainstay at Jurong Lake Gardens, aligned with the objectives of the Gardens to showcase and promote local tropical plant collections.
To round off the year, the SGF Orchid Show will hold its second edition from 7 to 15 December 2019. During the biennial event, floral enthusiasts can admire orchid landscape displays and award-winning orchid plants showcased at the National Orchid Garden and other parts of the Singapore Botanic Gardens. Admission to the show will be free.
Stay tuned for more updates here and on the SGF Facebook Page!
Story by Naomi Goh