Day Out with Your Pets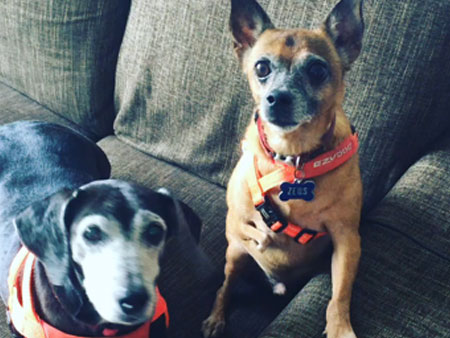 My dogs, Chaplin and Zeus, are aged 13 and 12 years respectively.

As an owner of two dogs, named Chaplin and Zeus, the parks and gardens have always been a magical place for us. There are so much to sniff, explore, do and bark at!

Here are five suggestions for pet owners looking for places to go and things to do in our green spaces with your canine friends!

1. Run Free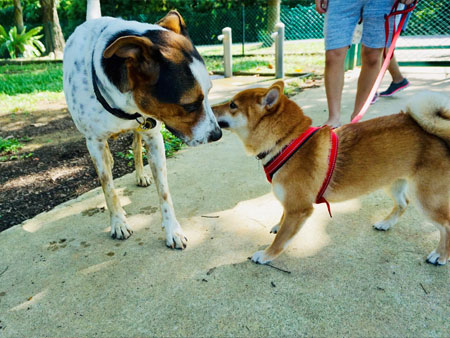 The dog run is a good place for your pet to interact with other dogs.

When Chaplin was younger and highly energetic, I enjoyed bringing him to dog runs. Because he loves the company of other dogs, dog runs are like a haven for him. It is one of those places where, yay, he can run around without a leash!

Assuming a play posture, he would invite other dogs to play a game of chase with him. It was certainly a good way to drain all that energy while having fun.

Before heading to the dog runs, I always made sure Chaplin's vaccinations are up-to-date, that he is on his flea-and-tick preventive medication. In addition, I always watch out for him when he is playing with other dogs. These measures are important for all pet owners to ensure the dog runs are safe, clean yet fun for all.

Click here to check out some of our parks with dog runs.
2. Keep Cool Pooch

Give your pet a 10-minute shower with this nifty dog wash!

While messy play can be really fun, it might be tricky to board the taxi afterwards. If you and your dog are at West Coast Park's dog run, you have an easy solution – give your dog a 10-minute shower at the fully-equipped self-service dog wash station!

The K9000 Dog Wash allows you to shampoo, condition, treat fleas and ticks and dry your dog within 10 minutes at only $10.

Since we are talking about 'mess', I just want to also share that I always have poop bags to pick up my dogs' poop. While I know it is an offence not to, I really just want to keep the area clean so others can enjoy the beautiful parks and gardens too.

3. Eating Together



You can have a meal with your pet at a section of the alfresco dining area in Canopy Garden Dining located at Bishan-Ang Mo Kio Park.

Most of the dogs I have met, including my own, have insatiable appetites. Talking about this, do you know we have restaurants in our parks that are pet-friendly? While they may not have an exclusive canine menu, you are most welcome to have your pet join you while you dine. It will certainly make a good place to gather for food and dog lovers!

For my pets' safety, I always keep their leashes on and secured to my chair so I know they are always near me.

Here are three pet-friendly cafes you may wish to visit with your pets:
Canopy Garden Dining at Bishan-Ang Mo Kio Park (1382 Ang Mo Kio Ave 1, 2, Singapore 569931)
Casa Verde at Singapore Botanic Gardens (1 Cluny Road, Singapore 259569)
Five & 2 at Punggol Park (97 Hougang Avenue 8, Singapore 538792)
4. Keep The Paw Up


Now that Zeus is older, a stroller provides a more comfortable ride for him.

Another way I really like to explore the parks is via the park connectors. When I was staying in the east, I would often bring Zeus cycling with me. Zeus is a small-sized dog and sits comfortably in my bicycle basket. He is a 'tripod', a three-legged dog, so having him with me on the bicycle means we can both explore more places. On two wheels, we have explored many parks in the east, central and even north of Singapore. It was such an adventure!

If you do not own a bicycle, fret not, you can easily rent one affordably from one of our vendors at the parks. Alternatively, using a pet stroller works just as well too.

5. Pets' Day Out

Come join us at Pets' Day Out!
I am so excited about Pets' Day Out, a new initiative by NParks. This is a pets-centric event happening at a park on the third Saturday of the month and everyone's invited! Here are the details for the first Pets' Day Out:
Date:
17 August 2019
Time:
9 am to 3 pm
Venue:
HortPark
Besides educational activities such as talks on pet care and training, you can also shop for your pets at the event. The best part for me, however, is the pet adoption drive.
I adopted both Chaplin and Zeus when they were young. Chaplin was found lost and later put up for adoption. Zeus was given up and he was so sickly at first. With a lot of love and care, Zeus recovered and found his forever home with me. If you are thinking of getting a pet, why not come down to the event and consider adoption first?
Pets and Nature Reserves

Nature reserves are homes to other 'native Singaporeans', the many distinctive plants and animals who live and thrive there. These ecologically-rich places are important for them as well as for us. Barking and scent-marking by pets may affect these native animals. Pets may also potentially pick up undesirable parasites and/or diseases from the environment.

This is why you should visit these places only when your pets are kept safely at home:
Bukit Timah Nature Reserve
Bukit Timah Mountain Biking Trail
Central Catchment Nature Reserve (MacRitchie)
Upper Seletar Reservoir Park
Upper Peirce Reservoir Park
Chestnut Nature Park
Kranji Marshes
Hindhede Nature Park
Sungei Buloh Wetland Reserve
Labrador Nature Reserve
Chestnut-Gangsa Biking Trail
Nature trails in Dairy Farm Nature Park (Wallace Trails)
Lower Peirce trail
Upper Pierce Reservoir Park access road
The pipeline at Bukit Timah
Have I gotten you excited about visiting our parks and gardens with your pet yet? Come enjoy our green spaces with your furry friends!
Story and photos by Chong Poh Choo