Playing In Nature

Is there anything better than play? How about playing… in nature? After all, humans have an innate emotional connection with nature – what we term biophilia – and studies have found that play areas set outdoors in nature can provide children with richer and more diverse experiences.
Nature playgardens in particular are designed with biophilic elements and natural materials, with play features meant for the young to engage in child-directed spontaneous play. This means children get to choose what and how to play, amid nature.

In fact, playgardens encourage creative play and decision-making, helping children develop a greater sense of adventure and discovery which in turn leads to an increase in their self-esteem, giving them a greater sense of independence. In short, playgardens can enhance the emotional and mental growth of children.
In the last couple of years, NParks has introduced three such nature playgardens in our parks and gardens. There are plans to enhance existing playgrounds to incorporate biophilic elements within them, enabling children all over the island to enjoy a more immersive play experience.

Learn more about the three nature playgardens here.
Nature Playgarden at HortPark

This playgarden features nine play features created based on biophilic design principles. Natural materials such as wood, bamboo, sand and gravel are used in all these features.

The playgarden is surrounded by greenery, where children can play amidst the sounds of nature such as bird calls and leaves rustling in the wind. They may also be able to observe birds such as the Straw-headed Bulbul (Pycnonotus zeylanicus) and Olive-backed Sunbird (Cinnyris jugularis), and insects such as the Plain Tiger (Danaus chrysippus) butterfly, Common Parasol (Neurothemis fluctuans) dragonfly and the solitary Blue-banded Digger Bee (Amegilla sp.).

Children can engage in creative play at the Building Huts, where the ground is filled with sand and gravel. Children can create structures, modify the landscape, or simply interact with the sand and gravel. There are also three teepees with open sides that children can build upon using twigs, branches, or big dried fronds found in the play area. This feature can stimulate creativity and aid in developing children's motor skills. And by playing and working together, children learn about teamwork and develop their communication and social skills in the process.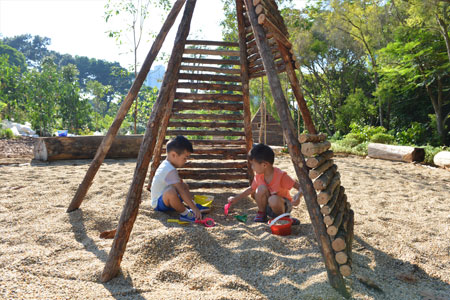 The Singing Seeds, an area for musical play, contains hanging bamboo poles of different sizes, creating different pitched chimes as children move the poles or when the wind blows. There are also hollow musical seesaws and wheels filled with seeds from the Saga (Adenanthera pavonina) and Rubber Tree (Hevea brasiliensis) as well as seed pods of the Rattleweed (Crotolaria retusa) that children can rock and spin, to listen to the percussion of the rolling seeds.

Playing in the Nature Playgarden enables children to develop physical fitness as well as their motor and social skills while promoting self-efficacy. For example, children can explore the Log Valley by climbing over, balancing on, or going under the logs placed along the existing topography of the area.

After "conquering" these logs, they reach the Secret Den, where they can enjoy some quiet time individually or bond in small groups in the shade of a grove of bamboo. The sunlight streaming through the bamboo creates diffused lighting with changes in light and shadow as time passes, giving the space an extra dimension.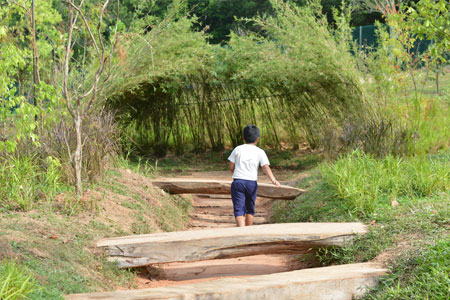 Jacob Ballas Childrens' Garden

Developed along the theme that All Life On Earth Depends on Plants, the Jacob Ballas Childrens' Garden was created as a unique and interactive place where children can discover how plants provide for our daily needs. At 4 hectares, it is the biggest children's garden in Asia, with attractions for children up to 14 years old. Kids learn about the remarkable possibilities of nature as they explore the multiple eco-systems simulated in this site.

Children begin their adventure in the Fantastic Forest by going through the Ficus Gates to cross a suspension bridge. They can then huddle through the tunnel of Frangipani (Plumeria sp.) to reach plants that can be found in our tropical rain forest. They will also discover a Tree House built around a number of Indian Banyan Trees (Ficus benghalensis), equipped with slides and ladders. The Tree House serves as a lookout point as it is located at the highest point of the Children's Garden.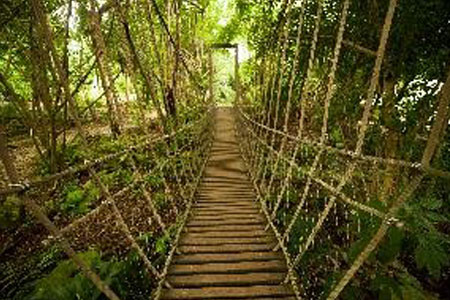 Photo credit: Benjamin Aw
There are also a cave and pond in the Fantastic Forest area. Children can study and investigate aquatic and semi-aquatic plants found here in the pond and tanks, with an accessible Timber Deck and a Floating Platform to get closer to the pond life.

Next, children can learn about the different uses of plants in the Potting Garden that showcases fruits and vegetables in their raw forms before harvesting or processing. A display called DYE-ing Plants showcases certain plants that provide natural dyes, such as the Blue 'Butterfly' Pea (Clitorea ternatea) that produces a blue dye, Henna (Lawsonia inernmis) that produces an orange-brown dye and Annatto (Bixa orellana) that produces a red-orange dye.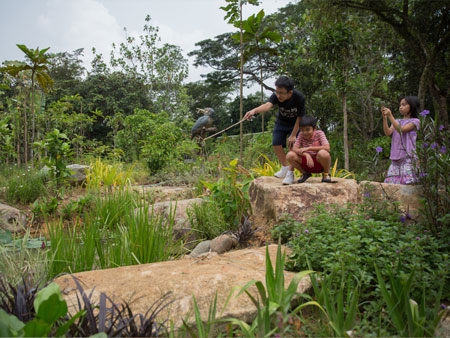 Children can also explore different habitats, such as at the Stream Garden that is built around a cool, shaded woodland creek meandering through the heart of the garden. At the Marsh Garden, children can wade into its shallow waters and observe and interact with plants and amphibians that thrive in such a habitat.

Forest Ramble at Lakeside Garden

Forest Ramble is the largest nature playgarden in the heartlands. At 2.3 hectares, it comprises 13 adventure stations for children aged two to 12 to explore. There are streams that meander across the entire playgarden and children may be able to encounter animals such as the White-breasted Waterhen (Amaurornis phoenicurus) and Variegated Green Skimmer (Orthetrum sabina) dragonfly.

Each station in the play area was designed for children to emulate the movement of animals that inhabit a freshwater swamp forest. For example, children can "soar" like a Grey Heron from one platform to another on gliders at Heron Play and climb structures, made of logs resembling heron nests, that are connected by a rope bridge.

At the Frog Play area, children can challenge themselves to hop from one "lily pad" to another, which are actually small trampolines set in the ground. Next, they can venture onto the balancing log and rope obstacle courses, balancing on springboards and ramps at the Squirrel Play area. And at the Otter Play area, children climb or jump over the logs and boulders, sharpening their balance as they play. Taken together, children are able to develop their motor skills and improve physical fitness while immersed in nature.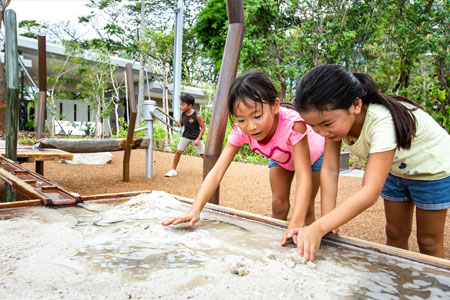 To better engage their senses, children at the Otter Play area can activate a lever to enable water to flow over a series of wooden channels and platforms. They can also play in the sand covering the platforms, digging and shifting the sand to uncover buried channels or building their own channels to change the direction of the water's flow.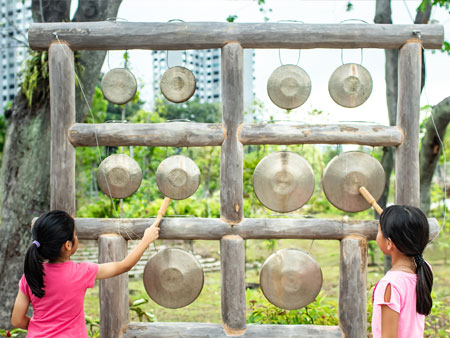 Over at the Musical Play area, children can beat a rhythm on gongs or play a tune on the wooden xylophone and bamboo poles, stimulating their auditory, sensory and visual awareness. This helps build up their sense of discovery and hand-eye coordination, as well as sharpen their motor skills and sense of rhythm and movement.

Forest Ramble also consists of inclusive play elements to enable children of all abilities to play together in nature. These include a swing, merry-go-round, and musical play panels which are wheelchair-accessible.
Come Out and Play
Bring your family down to these free nature playgardens today!
Nature Playgarden at HortPark

The Nature Playgarden is located next to the Native Garden at HortPark.

By car or taxi: HortPark is accessible via the junction of Alexandra Road-Hyderabad Road. Parking is available at the Visitor Centre Carpark.
By MRT: HarbourFront Station, Labrador Park Station
By bus: Services 51, 61, 93, 97, 100, 120, 166, 963
Opening hours: 6 am to 10 pm
Jacob Ballas Children's Garden
The Jacob Ballas Children's Garden is located in the Bukit Timah Core of the Singapore Botanic Gardens.
By car or taxi: Jacob Ballas Children's Garden is accessible via the junction of Dunearn-Kheam Hock Road or Bukit Timah-Kheam Hock Road. Parking is available at Jacob Ballas Children's Garden Car Park and NUS Bukit Timah Campus.
By MRT: Botanic Gardens Station.
By bus: Services 48, 66, 67, 151, 153, 154, 156, 170, 171 and 186
Opening hours: 8 am to 7 pm (last admission at 6:30 pm). It is closed on Monday except when it falls on a designated public holiday.
Forest Ramble at Lakeside Garden
Forest Ramble is located close to the North Carpark and Entrance Pavilion.

By car or taxi: Lakeside Garden is accessible via the junction of Yuan Ching Road-Chinese Garden Road. Parking is available at the North and South Carparks.
By MRT: Lakeside Station
By bus: Services 49, 154, 246
Opening hours: 8 am to 10 pm
Text by Tok Yin Xin