Yummy Yakitori Grilled to Perfection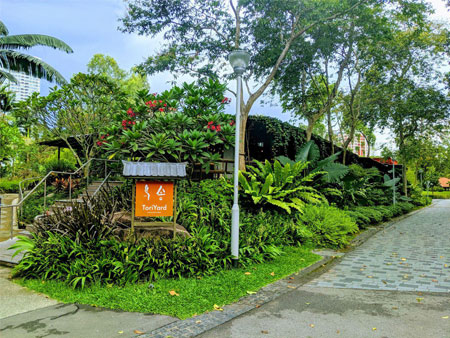 Tucked among lush foliage and greenery in a corner of Bishan-AMK Park is ToriYard, a Japanese yakitori restaurant. Helmed by chef Hasegawa Isao, this restaurant promises authentic grilled skewers and other food options for diners looking for Japanese fare in a park setting.
Open Concept Dining Space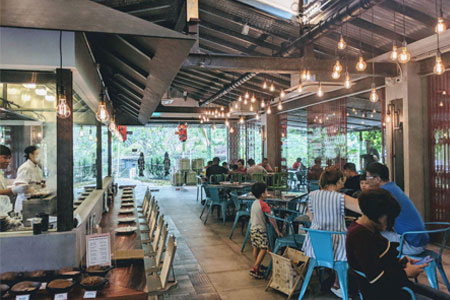 Upon entering, the first thing I noticed were the wide open spaces and different dining areas, indoor and outdoor, that made the place feel inviting and relaxed. The high, exposed ceilings and hanging lights gave the restaurant an industrial edge and the bright blue seats punctuated the interior landscape with a refreshing pop of colour.
The 'open-concept' yakitori grill was also a nice touch that is hard to miss! Diners can watch the chefs work their magic on the grill as waiting for their food.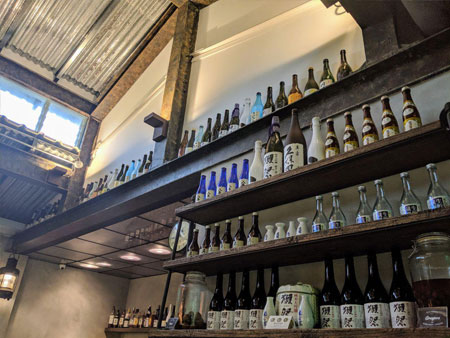 Another component that caught my eye was the exposed display of Sake bottles that formed the centerpiece and feature wall of the restaurant. For all you sake connoisseurs, ToriYard hosts a large collection of sake with unique drinks like house-flavoured shochu that has been aged with coffee, yuzu, grape and apple.
Awaken your Taste Buds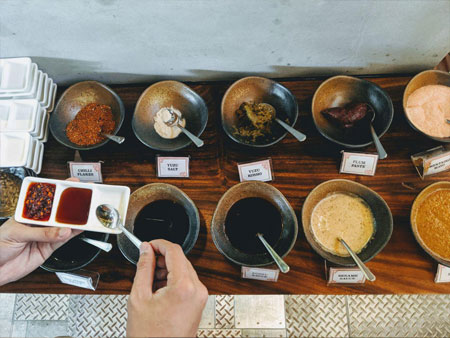 Before you start your meal, dive for the sauce bar! ToriYard has 11 different sauces to go with their yakitori sticks, ranging from Mentaiko Mayo (my personal favourite) to Plum Paste. With so many different options, you can experiment with the different sauces and experience different flavours with just one yakitori dish!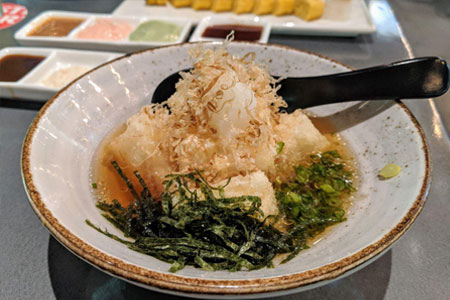 I started my meal with an Agedashi Tofu as an appetizer, a must-eat for me at any Japanese restaurant. The combination of soft tofu in a crispy fried batter, doused in an aromatic broth is the best way to awaken your taste buds. ToriYard's rendition is unlike the ones you would get in other restaurants; not only is their portion generous, the tofu is on the firmer side and the seasoning tastes less salty.
I was really hungry and ordered two more appetizers – the Dashimaki is a Japanese omelet served with radish grating. The omelet was denser than other tamagos I have tried, but the flavor did not disappoint.
Next, Tataki is a Japanese cooking method where the meat or fish is seared in a very hot pan and finished in a marinade. The restaurant's Wagyu Tataki uses wagyu beef, ponzu sauce and a generous amount of radish. The combination of good quality meat and the citrusy radish dressing resulted in a dish that was light and easy to eat.
Yakitori Delight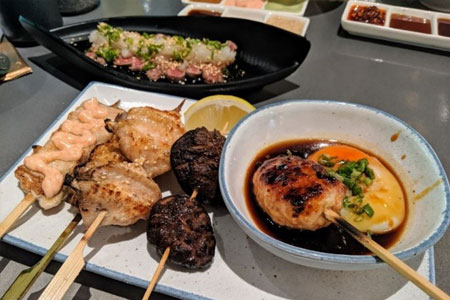 Finally, it was time to have the yakitori! Spoilt for choice, I decided on the Yakitori Platter A to get a taste of ToriYard's best-selling yakitori dishes. This set consists of a stick each of sasami (chicken fillet), tebasaki (chicken wing), momo (chicken thigh), tsukune (chicken meatball) and shiitake mushroom. The dish also comes with a wedge of lemon to help add some zest to the meats.
The grilled skewers were smokey, aromatic and flavourful. The different varieties meant there was a good mixture of textures as well! The lightly roasted shiitake mushroom retained its natural umami flavor, the chicken wings and thighs were crispy on the outside and juicy on the inside and the mentaiko chicken fillet provided a burst of creaminess.
My favourite skewer was the tsukune (chicken meatball) that tasted as good as it looked. The onsen egg mellowed the saltiness of the sauce and made it smoother and silkier. Once you are done with the meatball, do not waste the sauce as you can use it as an accompaniment to your other food too. Yummy!
Eggy Richness
For the main course, I ordered a Buta Don. The dish lived up to my expectations – tender Duroc pork belly slices stir-fried with a sweet and salty sauce on a rice bowl, finished with an onsen egg. I recommend breaking the egg and letting it coat the pork slices and rice for extra richness.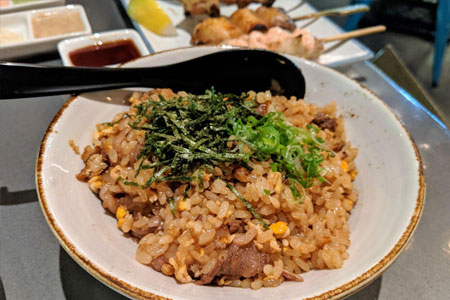 As for my last dish, I could smell its aroma even before it made its way to the table. The Wagyu Fried Rice reminded me of Chinese-style cooking that leaned heavier on garlic and soy sauce, but with the starchy goodness of Japanese short-grain rice. To make things even better, the slivers of wagyu beef in the fried rice melts in your mouth! Though the portion is not huge, the flavor made up for it.
By this point, I simply had no more space in my stomach for dessert. But if you have a sweet tooth, check out the restaurant's Matcha Tiramisu, Jikasei Chiffon of the Day, Sundae or Japan Premium Ice-Cream with interesting flavours from different areas of Japan, such as sea salt from Hokkaido, yuzu from Kouchi prefecture, and black sesame from Tokyo.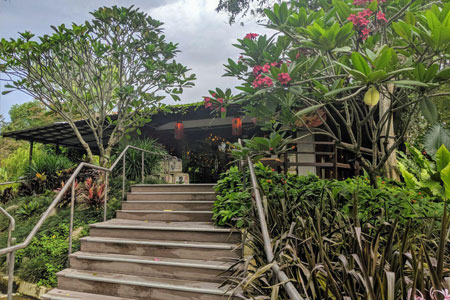 For anyone looking for authentic high-quality grilled skewers without wanting to break the bank, I recommend ToriYard. With its large dining area, it is suitable for big groups or families while its ambience and central location makes it ideal for couples looking for a unique dating spot too.
ToriYard is located at 1380 Ang Mo Kio Ave 1 Bishan Park 2 Singapore 569930. It opens from 11:30 am to 2:30 pm and 6 pm to 10:30 pm on Sunday, Monday, Wednesday and Thursday, and from 11:30 am to 2:30 pm and 6 pm to 11 pm on Friday. On Saturday, it opens from 11 am to 2:30 pm and 6 pm to 11 pm. It is closed on Tuesday.
Text and photos by Lynn Chan
About the writer
Lynn Chan is a Third Year Mass Communications student of Nanyang Technological University (NTU). As part of her school's professional internship programme, she worked in NParks' Communications and Community Engagement department for six months. During this time, she created posts for NParks' social media platforms, wrote articles for My Green Space, assisted with media queries and was involved in the preparation of media materials for events such as the opening of Lakeside Garden, Festival of Biodiversity and Festival at the Fort.
Please email wong_yeang_cherng@nparks.gov.sg for more information on our internship programme