Relooking 10 Singapore Icons
Singapore turns 54 this year! In celebration of this birthday, we re-examine 10 local icons, presenting interesting facts and figures about them that you may not know about.

1. First Botanic Gardens

The first botanic gardens was set up on Fort Canning Hill. Today you can visit a restored garden at Fort Canning Park.
The Singapore Botanic Gardens was inscribed as a UNESCO World Heritage Site in 2015, the first and only tropical botanic garden on the UNESCO's World Heritage List. It is the first in Asia, and only the third botanic garden inscribed in the world.
But did you know that the first botanic gardens was reportedly originally started out from Sir Stamford Raffles' backyard on Fort Canning Hill in 1822? This garden initially focused on growing spices and economic crops such as nutmeg and cloves to boost Singapore's economy. At a time, the garden held over 600 nutmeg trees and 300 clove plants.
This garden has been restored at the foot of Fort Canning Hill, near its original location. It stretches into the streetscapes between the hills and Bras Basah Road and features crops introduced to Singapore in the early colonial era. Learn more about this garden and the history of Fort Canning Park
here
.
2. King of Fruits

The Singapore Durian lacks a fleshy seed covering and has no commercial value.

The durian is regarded as the 'King of Fruits' for many Singaporeans who will readily purchase this thorny fruit imported from our neighbouring countries. But did you know that Singapore has its own species?

The Singapore Durian (Durio singaporensis) is a large forest tree that grows up to 40 m tall and only occurs in Singapore and Peninsular Malaysia. Unlike its tasty cousin (D. zibethinus) however, the Singapore Durian lacks a fleshy seed covering and has no commercial value.

While you probably will not want to grow the Singapore Durian, there are many other edibles you can grow in your garden. For gardening tips, click here. For more information on joining a community garden, click here.
3. Pretty Blooms

Who can miss the bougainvillea blooms that line the streets leading to and from Changi Airport?

Whether you travel for work or leisure, after touching down and leaving Changi Airport, the sight of our pretty streets filled with the blooms of the Bougainvillea (Bougainvillea spp.) is always a welcomed sight, an indication of coming home.

But the bright flowering plant that lines our streets and overhead bridges is not a shrub and actually a woody climber. If allowed to grow, the plant sends out long stems that climb up a suitable support. Its thorns help the stems to hook onto that support. For landscaping purposes, the Bougainvillea is often pruned to look like the shrub we are more accustomed to seeing.

To learn more about the Bougainvillea or for more interesting plant trivia, check out NParks Flora&FaunaWeb, which features cultivated and native plants, as well as a variety of animal life sighted in our parks and nature spaces. And if you see a beautiful flowering display of the Bougainvillea or other species while you are out in our many green spaces, don't forget to share it with us on social media using the hashtag #sgblooms or #sgblooms2019!
4. Aviation Hub

Birds such as this flock of Common Redshank rest and refuel at Sungei Buloh Wetland Reserve.
Photo credit: David Li

Changi Airport Singapore has been voted the World's Best Airport multiple times, receiving international acclaim and recognition. But did you know that there is another 'Changi Airport' in the north-west of our island?

Sungei Buloh Wetland Reserve is the 'arrival point' for more than 2,000 migratory birds of more than 30 different species annually during the wintering season from September to March. During this wintering season, birds from Russia, Mongolia, northern China, Japan and Korea come over to stay or rest in Singapore as part of the East Asian Australasian Flyway migratory route.

In 2002, the Reserve was recognised as a site of international importance for migratory birds and formally joined the East Asian-Australasian Shorebird Site Network. A year later, it was declared Singapore's first ASEAN Heritage Park. Plan a visit to the Reserve here.


5. National Flower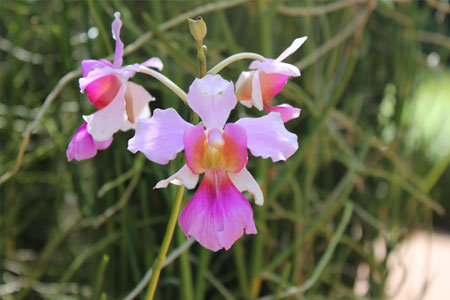 The pretty blooms of Vanda Miss Joaquim.
Photo credit: Jennie Tang Yurue

Did you know that Singapore's national flower, the Vanda Miss Joaquim (
Papilionanthe Miss Joaquim
), is a hybrid orchid? This makes Singapore the only country to have a hybrid flower as a national flower.
Agnes Joaquim was credited with creating this hybrid by Henry Ridley, former Director of the Singapore Botanic Gardens, in 1893. Its parents are
Vanda teres
and
Vanda hookeriana
, two species which scientists have recently reclassified into the genus
Papilionanthe
.
Come and admire this orchid and others at the National Orchid Garden in the Singapore Botanic Gardens which has the world's largest display of orchids, housing more than 60,000 orchids! Click
here
to plan your visit.
6. "New Citizens"

The otters were voted by readers of a local newspaper in 2016, to best represent Singapore.
Photo credit: Neo Shu Hui

Historically, Singapore has been a nation of migrants. But in recent years, the escapades of a certain kind of "new citizens" have been grabbing headlines. Whether spotted in Marina Bay, Bishan, Singapore Botanic Gardens or even the Central Business District, otters in Singapore have become the stuff of viral clips. And residents clearly love these sociable critters, so much so that readers of a local newspaper picked the Bishan otters to best represent Singapore during a poll in 2016.

The otters that live amongst us are actually Critically Endangered species. We are lucky to have the more commonly seen Smooth-coated Otter (Lutrogale perspicillata) and the rarer Asian Small-clawed Otter (Aonyx cinereus), which call Pulau Ubin and Pulau Tekong home.

When you encounter otters or any other wildlife, such as bats, civets or monitor lizards, do you know what to do? Learn more about how to react here.
7. City in a Garden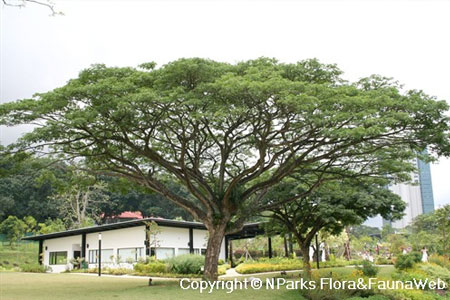 The Rain Tree is originally from Tropical America and believed to be introduced to Singapore in the 19th century.
Photo credit:

Singapore's Garden City journey began in 1963 when then Prime Minister Lee Kuan Yew planted a Mempat tree (Cratoxylum formosum), signifying the start of our greening campaign. Through the dedication and commitment of its pioneers and the community, the city's landscape has transformed to one where greenery is a major feature.

One of the most common tree found along our streets is the Rain Tree (Samanea saman). They are often planted alongside roads to lend shade and cover. Interesting enough, this is not a native tree; it is actually originally from tropical America and believed to have been introduced to other parts of the world, including Singapore, in the 19th century by colonial officials!

Interested in learning more about trees that make up our urban forest? Check out trees.sg, our online map which shows the locations of over 500,000 trees, features interesting bites of information on unique tree species, and even lets you show some love to your favourite tree by leaving it a treemail and giving it a hug!
8. In Our Waters
The Green Turtle can be found in our local waters, returning to our shores to lay its eggs.
Photo credit: Karenne Tun
Singapore's waterways have played an essential role in our progress and prosperity. With more than 130,000 vessel calls annually, our reputation as the busiest port in the world, in terms of shipping tonnage, is well-earned. But our waters have also been a lifeline to marine life, including the critically endangered Green Turtle (
Chelonia mydas
) and the Hawksbill Turtle (
Eretmochelys Imbricata
).
Both turtles continually return to our sandy shores to lay their eggs despite our high rate of urbanisation and busy waters. To help protect these animals, there is a turtle hatchery in Small Sister's Island in the Sisters Island Marine Park. This facility helps facilitate a conducive environment to receive, nurture and hatch rescued turtle eggs to increase their survivability.
Learn more about Small Sister's Island and the turtle hatchery, supported by HSBC's 150th anniversary Community Fund through the Garden City Fund,
here
.
9. Money Tree

This is the Tembusu that is depicted on the back of the S$5 bill.

We all know money does not grow on trees, but in Singapore, a tree appears on our currency! Look at the back of the S$5 note – a Tembusu (Cyrtophyllum fragrans) is depicted on it.

This Heritage Tree, believed to be more than 170 years old and found in the Singapore Botanic Gardens, has an iconic 25 m long limb which is now supported by a Dynamic Support System. A fence has also been installed around it to protect its root zone from the trampling feet of visitors.

The Heritage Tree Scheme, managed by NParks, advocates for the conservation of Singapore's mature trees that have important botanical, social, historical, cultural and/or aesthetic value. There are now 258 Heritage Trees in the Heritage Tree Register. Learn more about our Heritage Trees here.
10. Island in the Sun

Chek Jawa Wetlands on Pulau Ubin is home to six major habitats.
Photo credit: Tor Peng Hock

"Singapura, oh Singapura, Sunny island set in the sea…" goes a popular local song. But we are more than one island – Singapore is actually a nation of 63 islands! In addition to the main island, the more well-known islands include Sentosa, St John's Island, Pulau Tekong and Pulau Ubin.

On Pulau Ubin, you can find Chek Jawa Wetlands which is home to one of Singapore's richest ecosystems. It is a unique natural area where six major habitats – sandy beach, rocky beach, seagrass lagoon, coral rubble, mangroves and coastal forest – meet and mix.

Learn more about Pulau Ubin here and how you can participate in conservation efforts on the island here.

The next time you head out, why not discover the greenery around you instead? Visit one of our many parks or nature reserves and attend our free guided walks and tours to learn more the flora and fauna in Singapore! You can also participate in our conservation efforts by volunteering your time at our Citizen Science programmes or by making a donation through the Garden City Fund.
Text by Lynn Chan and Felix Siew
About the writer
Lynn Chan is a Third Year Mass Communications student of Nanyang Technological University (NTU). As part of her school's professional internship programme, she worked in NParks' Communications and Community Engagement department for six months. During this time, she created posts for NParks' social media platforms, wrote articles for My Green Space, assisted with media queries and was involved in the preparation of media materials for events such as the opening of Lakeside Gardens, Festival of Biodiversity and Festival at the Fort.
Please email
wong_yeang_cherng@nparks.gov.sg
for more information on our internship programme.