Our Centennial Treasures
Singapore is home to some 2 million trees comprising over 2,000 recorded native species. Beyond providing much needed shade and becoming part of the City in a Garden identity, mature trees are often markers of time, bearing witness to the changes around them and becoming an integral part of our natural heritage.
While documentation may not always be clear, based on old photographs and educated guesses, we introduce these trees that are thought to be more than 100 years old.
1. The Money Tree
With its signature lower branch, this is easily one of the most recognisable trees in Singapore.
Believed to be around 170 years old, this Tembusu Heritage Tree is more than 23 m tall. It is easily recognisable by its signature lower branch and is also known as the "$5 dollar tree" as it appears on the back of the Singapore five-dollar note.
The Tembusu (
Cyrtophyllum fragrans
) is native to Singapore. It has fragrant flowers that are creamy white, turning yellow with age. The fruit and seeds are eaten and dispersed by bats and birds. Its durable wood is resistant to termite attack, making it suitable for heavy construction.
Where to find it: Singapore Botanic Gardens, near to Swan Lake
2. "Teak" A Closer Look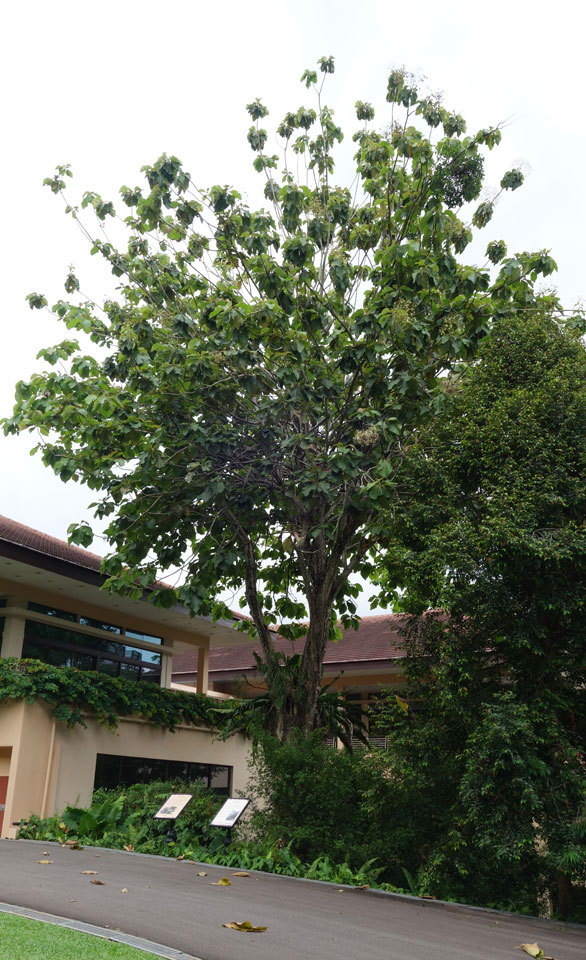 This tree was planted in the Singapore Botanic Gardens for educational purposes.
In 1875, the Singapore Botanic Gardens began to focus on plants with economic potential, including timber trees. Many such species were planted in the Economic Garden (now the Bukit Timah Core of the Gardens). This Teak, also a Heritage Tree, was raised from seed in 1884 and planted in the Gardens for educational purposes. It has grown to a height of 22.4 m and has a girth of 2.5 m.
The Teak (
Tectona grandis
) is a large deciduous tree that can grow up to 40 m tall. Teak timber is highly sought after and suitable for both indoor and outdoor furniture due to its high tensile strength, tight grain and high oil content which confers resistance to insects like termites.
Where to find it: Singapore Botanic Garden, Botany Centre
3. Towering Presence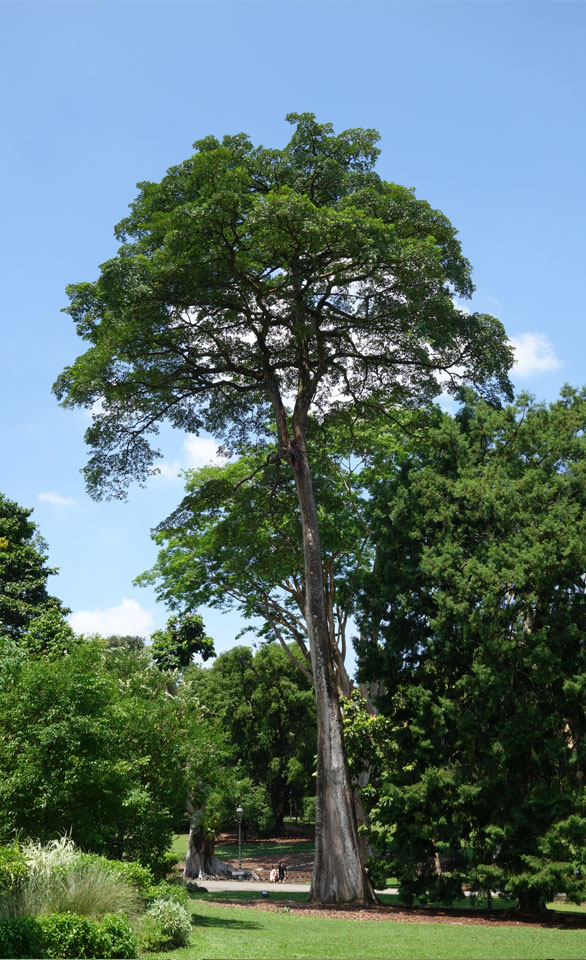 This tree is believed to be present before the Singapore Botanic Gardens was established.
This Heritage Tree has a beautiful symmetrical canopy, is 5.9 m in girth and has a height of 29.4 m. It is believed to be more than 160 years old as there is no record of this tree being planted in the Singapore Botanic Gardens. It is presumed to be present before the Garden's establishment in 1859, part of a native swamp forest that existed formerly in this part of the Garden.
The Pulai Basong or Marsh Pulai (
Alstonia pneumatophora
) is a tall emergent tree that can reach a height of more than 50 m in the forest. Its bark is smooth or sparsely scaly and grey to yellowish grey in colour. It has steep buttresses, up to 8 m high as well as well-developed pneumatophore roots that are knee-shaped. This native species is critically endangered in the wild in Singapore; specimens can still be found in the Central Catchment and Bukit Timah Nature Reserves.
Where to find it: Singapore Botanic Gardens, next to Heritage Garden
4. Island Native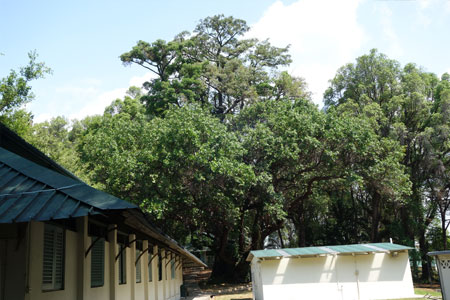 The Common Pulai is the taller tree with greyish green upper crown. Another Heritage Tree, a Calophyllum inophyllum is in front of it.
This majestic Common Pulai, at more than 30 m in height, is likely to be a part of the original vegetation on St John's Island and is estimated to have been standing there for around 100 years. It had a girth of 5.9 m when it was endorsed as a Heritage Tree in 2003.
The Common Pulai (
Alstonia angustiloba
) is a native forest tree which can reach up to 40 m in height. It bears simple leaves, arranged in circular patterns on the branches. It typically has a deeply fluted and buttressed trunk. The bark, twigs and leaves exude a sticky white latex when damaged while its creamy white or pale-yellowish flowers are mildly fragrant. The fruit occurs as a pair of long narrow cylindrical finely-haired pods (about 25 cm long) that are joined at the base. These pods contain numerous small flat smooth seeds.
Self-sown Common Pulai can sometimes be found in the secondary forests in
Singapore. Besides Singapore, it is also commonly found in open country in the
lowlands of Peninsula Malaysia.
Where to find it: St John's Island, Blocks 12 and 13
5. Slow and Steady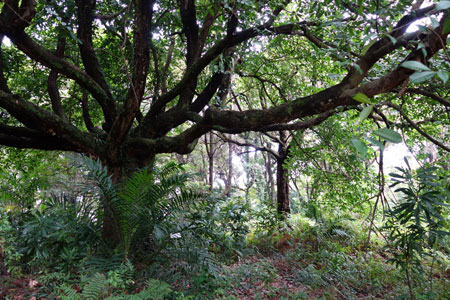 This tree sits on the edge of the original forest of St John's Island.
Another Heritage Tree you can find on St John's Island is this Tempinis that is 21.4 m in height and has a girth of almost 3.8 m when measured in March 2019. Growing at the edge of the original forest on the island, this is a very slow growing tree and botanists estimate that it should be more than 100 years old, to grow to this size.
The Tempinis (
Streblus elongatus
) is a bushy evergreen tree that can grow up to 35 m in height. It has a rounded crown with greyish brown rough bark. The leaves are oblong elliptic, tipped and thinly leathery. Its young leaves are pinkish brown while its flowers occur in hanging green spikes between 8 to 20 cm long. It bears round fruit about 1 cm wide, enclosed at the base of its flower.
Where to find it: St John's Island, near path to the Tropical Marine Science Institute
6. Two's a Company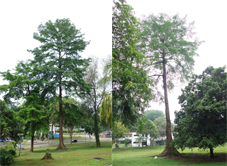 You can admire these two trees at the (almost) same location.

There is a pair of Malayan Terminalia Heritage Trees in Changi growing close to each other that are remnants of the original coastal vegetation in this area. The larger of the two trees has a girth of 2.5 m when measured in 2004, and a height of some 40 m, while the other tree has a girth of 2 m when measured in 2004 and is about 35 m in height. Botanists believe that both trees should be older than 100 years, to grow to such a size.
The Malayan Terminalia (
Terminalia subspathulata
) is a tall forest tree that can grow to 50 m in height or more. Its crown is wide and flat-topped, particularly in mature trees. While its trunk is heavily buttressed, its bark is pale brown and narrowly cracked. This native tree produces flat, two-winged fruit that are easily scattered by wind.
Where to find it: Changi, Loyang Avenue near the junction with Cranwell and Halton Roads
Learning More
Interested in learning more about trees that make up our urban forest? Check out
trees.sg
, our online map which shows the locations of over 500,000 trees, features interesting bites of information on unique tree species, and even lets you show some love to your favourite tree by leaving it a treemail and giving it a hug!
Get up close and personal with some of the trees on our island by going on a walking or cycling trail in our parks, gardens and park connectors. Besides admiring the trees, you can also potentially spot biodiversity. Learn
more
about going on a DIY walk.
Mature trees are part of the natural heritage of Singapore, serving as important green landmarks in our City in a Garden. These trees help us identify with and stay rooted to the place we call home. The Heritage Tree Scheme, started in 2001, advocates the conservation of Singapore's mature trees. Learn
more
about how you can nominate a tree for this scheme.

Text compiled by Felix Siew