Seeding Our Future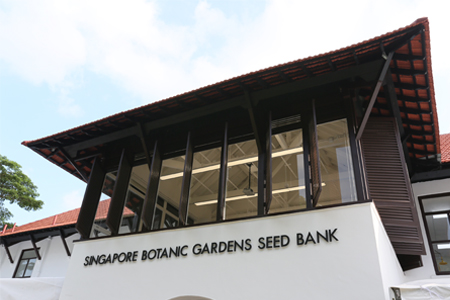 Explore the Singapore Botanic Gardens Seed Bank to learn more the process of seed banking.

Seed banks are a 'safety net' for plant species that are at risk of extinction.

Plant seeds are collected and stored ex-situ (away from their natural habitat) in seed banks around the world, serving as insurance against threats like disease, climate change and natural or man-made disasters. In the future, these seeds can be germinated for reintroduction to the wild or for research.

The Millennium Seed Bank (MSB), located in the Kew Royal Botanic Gardens in Wakehurst, England, is currently the world's largest seed bank with nearly 25% of the world's plant species conserved there. This was achieved through the contributions of over 95 countries, which provided seeds of their native plants to be stored in the MSB since the year 2000. Today, there are over 1,000 seed banks all over the world.

Singapore opened its very first seed bank in July 2019, demonstrating a commitment our government and various organisations here are making to protect and conserve plant biodiversity for future generations.

The opening of the Singapore Botanic Gardens Seed Bank also expands the Gardens' conservation capacity in safeguarding the germplasm of endangered plant species in Southeast Asia.

Seed Banking Process

Seed banking is much harder than it sounds; it is more than just taking a handful of seeds and freezing them in a refrigerator!


Look into the Seed Cleaning Laboratory (left) and the Dry Room (right) to gain insight into how seeds are prepared for storage.
The seed banking process begins in the field. Seed collectors must first correctly identify the plants they are collecting from and use the appropriate method of collection depending on factors like seed form, size and dispersal method. The Singapore Botanic Gardens Seed Bank aims to acquire 10,000 seeds per species, which you can imagine is a lot of plants to visit!
After the seeds are collected, they still have to be individually cleaned and examined, and even then not all of them will eventually make it into storage. Seeds that are 'dead' or missing their endosperm (which makes them non-viable) will be discarded, and only viable seeds will be retained.
Such seeds have to be dried thoroughly and stored in a seed vault at low humidity and freezing temperatures. Ensuring that they are properly dried is crucial as reducing moisture content by just 1% can double the seed's life span.
The process does not end at storage; seeds must be constantly monitored to ensure that they are able to germinate after a period of storage. Periodically, some seeds will be taken out of the stored collection and germinated in order to determine whether the seeds are still viable or were unable to survive the storing conditions.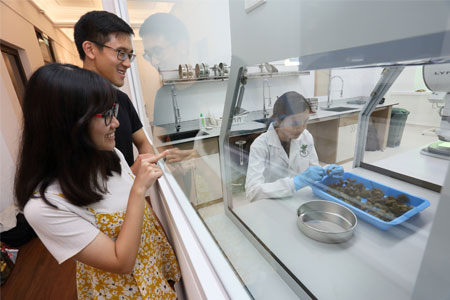 Visitors can get a glimpse of the work that goes on in the Seed Bank, thanks to large windows looking into the laboratories and educational panels.


Singapore's Tropical Challenge


While seed banking is one of the most space-efficient and effective methods of storing seeds long term, Singapore in particular faces a particular challenge: Most tropical plants, like those found in Singapore, have recalcitrant seeds.
Seeds are classified into two categories, orthodox and recalcitrant. Orthodox seeds can withstand freezing or drying conditions in ex-situ conservation, while recalcitrant seeds are unable to survive extremely dry conditions.
Since limited studies have been done to determine which plant species produce recalcitrant seeds, the Singapore Botanic Gardens will be conducting extensive research to identify such species and define the optimal storage conditions. Once these seeds are determined, they will be stored via the cryopreservation, which involves storing seeds in liquid nitrogen at -196°C to suspend all cellular processes within the seeds and minimise degradation.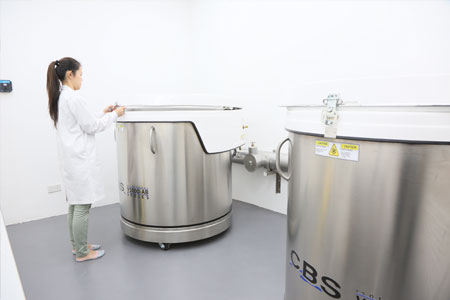 Certain recalcitrant seeds may be conserved in the Cryogenic Lab
The Singapore Botanic Gardens Seed Bank has the capacity to store approximately half the total number of seed plant species in Southeast Asia, and once fully established, aims to become a seed bank hub for Southeast Asian countries.
One example of a native plant species whose seeds will be stored in the seed bank is the
Ormocarpum cochinchinense
, which had previously been thought to be extinct in Singapore.
It was rediscovered recently and placed under the NParks Species Recovery Programme. Seeds of this plant stored in the Singapore Botanic Gardens Seed Bank were collected from the rediscovered plants in Singapore.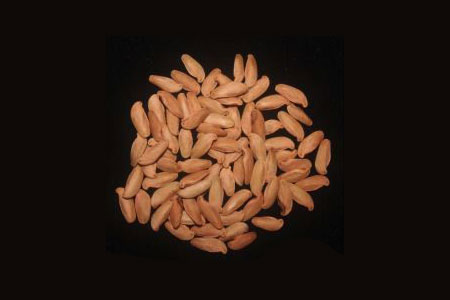 The Ormocarpum cochinchinense grows in coastal thickets and produces segmented seed pods that resemble a short necklace.

Exploring Singapore's Seed Bank
Visitors will have a chance to peek into the laboratories through large glass windows and watch researchers hard at work on the various seed storage processes. Workspaces like the Seed Cleaning Laboratory, Dry Room and Cold Room are just some of the areas where visitors can get a glimpse into how seed banking is carried out.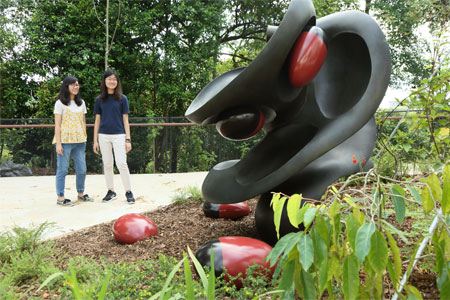 Sculptures in the Seed Dispersal Garden inform visitors about the various seed dispersal methods.
You can also learn about how seeds are dispersed. After exploring the two-storey building, step outside to walk around the Seed Dispersal Garden that features fascinating sculptures to help visitors learn about the various methods of seed dispersal.
For example, seeds dispersed by seeds, known as anemochory, are often equipped with 'wings' or hairs that enable them to float on air currents. Water dispersed seeds, on the other hand, may have thick fibrous coverings or air-filled pockets to help them stay buoyant in water for extended periods of time. This dispersal manner is known as hydrochory.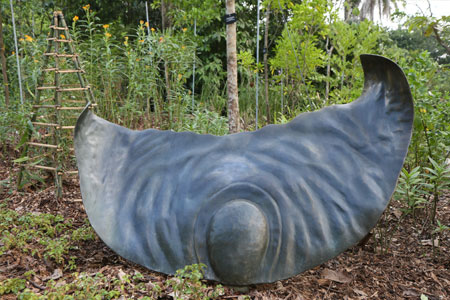 This sculpture represents Dispersal by Wind (Anemochory). Wind dispersed seeds tend to be small and light and are often equipped with wings or hairs so as to float or glide on air currents.

The sculpture, Dispersal by Water (Hydrochory), is of the Sea Pong-Pong (Cerbera manghas), an example of a seed that is dispersed by water.
The opening of the Singapore Botanic Gardens Seed Bank was made possible thanks to the continued support from the community, including a generous donation of S$1 million from the Goh Foundation in memory of Mrs Goh Cheng Liang nee Teo Sok Yong. Other donors include HSBC, Goldbell Foundation, Yokogawa Engineering Asia Pte Ltd, Alfa Tech, Kirtida & Bharat Mekani, Britesparx Design Pte Ltd and Benel Singapore. In total, over S$1.17 million has been raised to help initiate the research and education elements at the seed bank.

Your Role in Seed Banking
Come learn more about the seed banking process at Singapore's first ever seed bank!

The Singapore Botanic Gardens Seed Bank is housed in a colonial building beside the Healing Garden, opposite the National University of Singapore Bukit Timah Campus's Eu Tong Sen Building. View this clip to find out how to get to there.

If you would like to contribute to the Singapore Botanic Gardens Seed Bank or the Gardens' other conservation efforts, you can pledge your donation to Give to the Gardens programme through the Garden City Fund here.

You can also volunteer and play an integral role in areas such as visitors services, guided walks, gardening, outreach programmes and marine biodiversity surveys. Find out more here.

The Singapore Botanic Gardens Seed Bank is open from 9 am to 6 pm daily. It is closed every last Friday of the month (should this fall on a public holiday, it will be closed on the following Monday). Find out more here.
Text by Tammy Lee


About the writer

Tammy Lee is a Third Year English Language major from the National University of Singapore (NUS). As part of her school's Arts and Social Sciences internship programme, she worked with NParks' Communications and Community Engagement department for three months. During her time with NParks, she contributed articles for My Green Space, created content for its social media platforms and participated in events like Ubin Day 2019 and Singapore Botanic Gardens Heritage Festival.

Please email wong_yeang_cherng@nparks.gov.sg for more information on our internship programme.