Flower Power
Have you heard of Orchid Diplomacy?

Singapore has been honouring visiting heads of states and other distinguished guests by naming selected orchid hybrids after them since 1956. Termed Orchid Diplomacy, this serves as a gesture of friendship to promote goodwill between Singapore and other countries.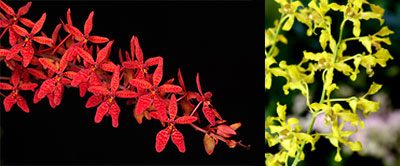 (Left) A unique Singapore Botanic Gardens orchid hybrid, Renanthera ASEAN 2018, commemorates Singapore's chairmanship ASEAN in 2018 while (right) the Dendrobium Golden Friendship celebrates 50 years of Australia and Singapore ties.Such special hybrid orchids help promote goodwill between Singapore and other countries.

It also plays an important role in building bilateral ties as it is an exclusive gesture accorded to dignitaries such as Heads of State or Heads of Government,


History of Orchid Hybridisation

Hybridisation of orchids in the Singapore Botanic Gardens began when R E Holttum, then director of the Gardens, was inspired by the hardy and free flowering Vanda Miss Joaquim (Papilionanthe Miss Joaquim) which was grown in almost every household.

Holttum's inspiration, together with the introduction of Lewis Knudson's new method of asymbiotic orchid germination in 1928 (a method that accelerated the growth of seedlings in controlled conditions) resulted in Holttum producing his first orchid hybrid (Spathoglottis Primrose) which flowered in 1931.

The success of this orchid hybrid, with its vibrant colours and free-flowering nature, encouraged Holttum to further the orchid hybridisation work. He went on to create many hybrids that were eye-catching, robust and free-flowering. Some of the hybrids created by Holttum such as Aranthera James Storie and Aranthera Anne Black are still popular in the cut-flower industry today.

The Oncidesa Goldiana, commonly known as Golden Shower or Dancing Lady orchid, was also produced by the Singapore Botanic Gardens. Flowering in 1939, this hybrid was a great success and its popularity continues to this day.

The Orchid Hybridisation Programme of the Singapore Botanic Gardens has produced hundreds of hybrids, with more than 630 hybrids registered to date. The Gardens continues to produce hybrids for the orchid industry.


An Outstanding Hybrid
In 1952, an award-winning orchid was produced by Tan Hoon Siang that put Singapore on the world's map. Papilionanda (Vanda) Tan Chay Yan, a showy, peach and salmon coloured orchid, won a First Class Certificate in the Chelsea Flower Show in 1954. This attracted much attention from orchid growers and hybridisers around the world, and many visitors flocked to see the orchids in Singapore.

Since then, Singapore has become well known for our forte in orchid breeding, and we have produced many outstanding orchids that have been used to signify Singapore's mutual relations with its surrounding nations.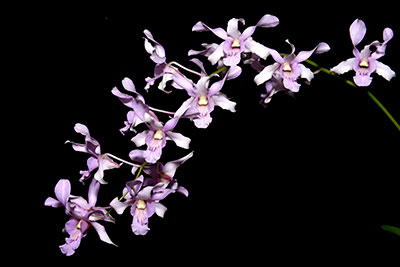 The Dendrobium Sheikha Fatima bint Mubarak is named after Her Highness Sheikha Fatima bint Mubarak, Mother of the Nation, United Arab Emirates, on 22 March 2017.

Orchids for Distinguished Guests
The first orchid named after a VIP is the
Aranthera
Anne Black in 1956. Lady Anne Black was the wife of Sir Robert Black, a former governor of Singapore.
Today, a prized collection of similarly named orchids, called VIP Orchids, has become an important attraction of the National Orchid Garden. Some of these VIP Orchids have gone on to collect outstanding awards such as Award of Merit while others have garnered many distinctions in orchid shows.

(Left) The Papilionanda William Catherine is named after Duke of Cambridge and his wife, Catherine Middleton in 2012 while (right) the Dendrobium Margaret Thatcher is named after Baroness Margaret Thatcher who was then the Prime Minister of UK during her visit to the Singapore Botanic Gardens in 1985.
The VIP Orchid Garden, located just behind Burkill Hall in the National Orchid Garden, showcases orchids named after state dignitaries such as the Duke of Cambridge, Prince William and Duchess of Cambridge, Kate Middleton, State Counsellor of Myanmar Aung San Suu Kyi, former Secretary-General of the United Nations, Ban Ki-Moon and his wife, as well as the late Nelson Mandela, former President of South Africa. All in all, there are more than 200 orchids named after distinguished guests so far.
Viewing the Orchids
Make time to admire these orchids the next time you visit the National Orchid Gardens in the Singapore Botanic Gardens. With over 1,000 species and 2,000 hybrids on display, the splendour of these gorgeous blooms is a sight to behold.
Opening hours
: 8.30 am to 7 pm daily (last ticket sales and entry at 6 pm).
Admission fee
: $5 for adults, $1 for students and $1 for senior citizens (60 years and above).
Free admission for children below 12 years.
You can enjoy free admission to National Orchid Garden for students, Singaporeans, Permanent Residents and Work Permit Holders during selected days in the year-end school term holidays. Click
here
for more information.
Text by Whang Lay Keng and Lim Siu Ann

Photos by David Lim