Three Island Getaways
Penang? Bali? Batam? Looking for a quick getaway this year end but cannot find the time to do so? Well, you do not have to look far!

If you want to immerse yourself in greenery and get closer to nature, how about putting your mobile devices on silent and emptying your mind of work deadlines? Here are three island adventure ideas that you can explore to remove yourself from the hustle and bustle of Singapore city life.
1. Pulau Ubin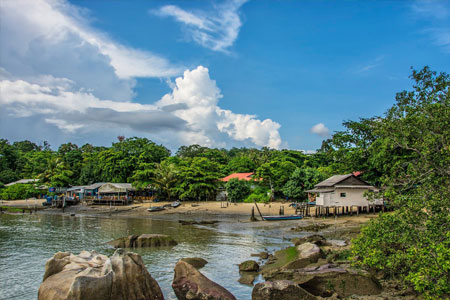 Enjoy a slice of kampong life on Pulau Ubin.

A quick boat ride from Changi Point Ferry Terminal will bring you back into the simpler pleasures of life in the 1960s. Often listed as one of the last 'kampung' in Singapore, Pulau Ubin is a unique location for visitors to be removed from their telecommunication devices and instead, take in what the natural world has to offer.

Rent a bike to get around and enjoy the spectacular views from the island.

Nature lovers and adventure explorers alike can stroll or cycle through shady trails, check out flourishing mangroves, look out for different flora and fauna or simply find a secluded spot and enjoy the calming breeze.

One of the commonly seen residents of Pulau Ubin is the Oriental Pied Hornbill (Anthracoceros albirostris) as the habitat surrounding it provides plenty of essential food and nesting site for its young to grow and mature. Other animals include the Smooth-coated Otter (Lutrogale perspicillata), Wild Pig (Sus scrofa), Straw-headed Bulbul (Pycnonotus zeylanicus), Oriental Whip Snake (Ahaetulla prasina) and many more.

There is also a wide range of plants like the Ivy Palm (Arthrophyllum diversifolium), Hookwood (Cyathula prostrata) and Water Fern (Histiopteris incisa). Find out more about the various flora and fauna here.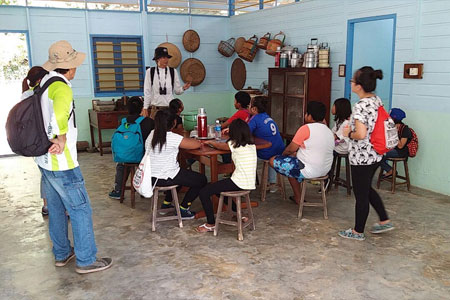 Discover how past residents lived by visiting Teck Seng's Place.
It is possible to explore most of island within a day on bike, which you can rent for the whole day. With your wheels, you can explore attractions on the island such as Teck Seng's Place, German Girl Shrine, House No.1 and Ketam Mountain Bike Park for those who want a more thrilling experience. Adrenaline seekers can also join a tour to kayak around Pulau Ubin. There are three different levels of difficulty available, for a variety of experiences.
At low tide or high tide, Chek Jawa Wetlands is a "must-see" for every visitor to the island.
Of course, if you go to Pulau Ubin, you cannot help but mention Chek Jawa Wetlands. It is a crowd favourite and is a "must-see" place on the island. But instead of long queues at theme park rides, you can always find space to take in the beauty of nature and learn about this location, home to one of the most thriving ecosystems in the country.
During low tides, as you walk along the boardwalk, you can expect to see marine creatures like mudskippers, crabs and fishes. For a more in-depth exploration and a chance to venture off the boardwalk, join one of the intertidal walks to learn about Chek Jawa Wetlands. Find out more
here
.
Cannot get enough? How about staying the night and enjoying the island by night? You can pitch a tent at one of Pulau Ubin's three campsites, at Jelutong, Mamam and Endut Senin, to completely immerse yourself in nature. For groups of more than 40 persons, approval is necessary to facilitate coordination. Find out more
here
.
Before visiting the island, how about learning more about the Ubin Way! This is a code of conduct containing principles for visitors, operators and residents of the island to adopt when on
Pulau Ubin
. Find out more
here
.
2. Sisters' Islands Marine Park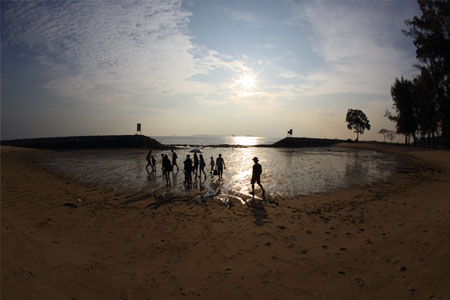 The Sisters' Islands Marine Park spans around Sisters' Islands and the western reefs of St John's Island and Pulau Tekukor.

Although it is located amidst Singapore's busy shipping routes, the 40-ha Sisters' Islands Marine Park provides a sanctuary for numerous marine wildlife. It spans around Sisters' Islands and the western reefs of St John's Island and Pulau Tekukor and includes habitats such as coral reefs, sea grass and sandy shores.

There are dive trails and intertidal guided walks available for you to appreciate the rich marine life and understand the importance of conserving them and their homes. For those with the necessary skills, the dive trails are a must-see attraction to get up and close with marine life. Find out more here.

Visitors to the Marine Park Outreach and Education Centre can get closer to marine creatures at the viewing pool or go for a 3D immersive dive experience.
If you prefer to keep dry, why not visit the Public Gallery, located amongst the cluster of research buildings at the Marine Park Outreach and Education Centre on St John's Island, to gain an overview of the Marine Park. Visitors can explore an immersive 3D experience of the dive trails, various aquariums, a viewing pool and even a mangrove mesocosm. The gallery is open daily from 10 am to 4 pm, and is about a 10-min walk from the jetty. Find out more
here
.

Go for the DIY curated trail around St John's Island to discover its beautiful trees.

After this, why not go on a DIY curated trail on the island, to discover the rich biodiversity and history of St John's Island and the Sisters' Islands Marine Park? You can also sign up for monthly guided walks. Find out more here.

There are regular ferry services to St John's Island from Marina South Pier, or you can even charter the whole ferry to yourself for the flexibility of exploring Singapore's Southern Islands like Lazarus Island and Pulau Hantu.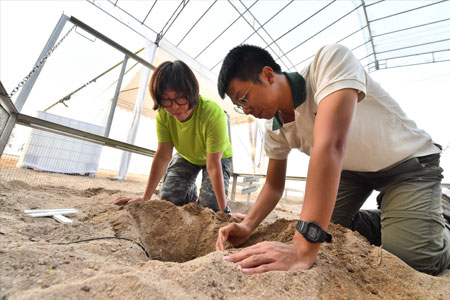 The Sisters' Islands Marine Park includes a turtle hatchery on Small Sister's Island.
There is also a turtle hatchery on Small Sister's Island as well as an in-situ coral nursery that is being established within the JTC-NParks Reef Garden off Small Sister's Island, to safeguard the hard coral species found there. Both are within a protected area zoned for conservation and research, and are not open to the general public. However, you can become a
volunteer
or make a
donation
under the Plant-A-Coral, Seed-A-Reef programme under the Garden City Fund, to contribute towards the conservation of Singapore's marine biodiversity.
In light of protecting the biodiversity in the Marine Park, camping, fishing and poaching are strictly prohibited. Furthermore, please do not feed the wild animals and remove all unwanted litter. Everybody can play a part in ensuring a safe environment for the animals to reproduce, grow and flourish. Find out more
here
.
3. Coney Island Park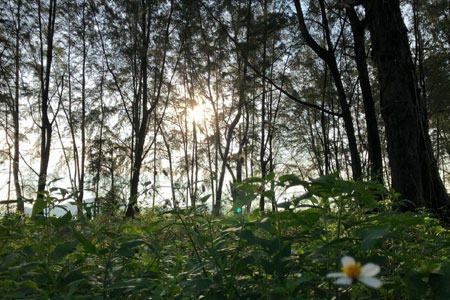 The 100-ha Coney Island Park is home to a wide range of flora and fauna.
Photo credit: Felix Siew

Located beside Punggol Promenade Nature Walk, Coney Island Park may not really be considered an "island", but is still a great place to enjoy nature, especially when you only have a few hours to spare.

The 100-ha island is home to a wide variety of habitats, such as coastal forests, casuarina woodlands and mangroves. Despite it being close to the mainland, Coney Island Park houses a diverse range of flora and fauna. In fact, it is an important sanctuary for many endangered species of native plants and animals.

Go birdwatching and see if you can spot the (left) White-bellied Sea Eagle and the (right) Scaly-breasted Munia.
Photo credit: Francis Yap (right)
Try your hand at birdwatching, spotting one of 80 species of birds that have been seen on the island. This includes the majestic White-bellied Sea Eagle (
Haliaeetus leucogaster
) with a wing span of about 2 m and the Scaly-breasted Munia (
Lonchura punclulata
), a herbivore that eats the seeds of grasses.
Within the south-western side of Coney Island Park, you can find three different areas featuring interesting fruits, bark and leaves respectively. For instance, try looking for the Mangrove Dungun (
Heritiera littoralis
), a tree that bears an oval fruit with a keel (shaped like a sail), or the white, paper-like peeling bark of the Kayu Puteh (
Melaleuca cajuouti
) tree.
And if you want to chill-lax with a good book under shelter, you may be glad to know that Coney Island Park is a sustainable park, with environmentally-friendly facilities. For example, the roof of some shelters are planted with vegetation to provide natural cooling while solar energy is used to power the pumps in the self-sufficient, zero-energy toilet.

Walk or cycle through Coney Island Park to enjoy its rustic charm.

You can bring your own or rent a bike from Punggol Point Park and cycle through the terrain. Furthermore, you can join guided walks run by volunteers to learn about the history and biodiversity of the park. With its rustic charm, Coney Island Park has much to offer to all nature enthusiasts.

To visit Coney Island Park by public transport, take bus 84 from Punggol Bus Interchange to Punggol Point Park/Punggol Settlement. Walk about 700 m east along Punggol Promenade Nature Walk to get to Coney Island Park West entrance. Find out more here.
General Tips when Visiting
Dress comfortably and put on comfortable footwear. Wear long pants and covered shoes to protect yourself from insect bites. Use a hat, put on sunglasses and apply sunscreen to shield yourself from the sun. Apply insect repellent if you are prone to insect bites.
Keep to the designated paths to protect the natural environment and take your thrash out with you. If you encounter any animals, do not approach, feed nor disturb them. If you are taking a photograph, please avoid using the flash.

Do stay hydrated and have enough food for the day's activities. It is advisable for visitors to pack their own drinking water, refreshments and food, particularly for the Sisters' Islands Marine Park. You can purchase food and drinks on Pulau Ubin as well as at the Punggol Settlement located close to Coney Island Park.


Once you have everything ready, you are all set to begin your island adventure!
Text by Darius Tay
About the writer
Darius Bryant Tay Zyn Chong is a final year student at National University of Singapore, pursuing a Bachelor of Science (Life Sciences) degree. He interned with NParks as part of his school's Final Year Internship project. During his five-month stint, he organised, produced and edited digital content for various platforms to inform the public about Singapore's native flora and fauna and conservation efforts. His background in Life Sciences and interest in environmental issues and photography/videography has led him to choose NParks as his preferred choice for his school's work.

Please email wong_yeang_cherng@nparks.gov.sg for more information on our internship programme.