Small But Mighty
Size matters.

Be it in the north, south, east, or west, Singapore has many nature areas and parks all over our island. We are all familiar with the larger parks and gardens such as the Singapore Botanic Gardens, Lakeside Garden as part of the Jurong Lake Gardens, HortPark and East Coast Park. But did you notice that we have small pockets of greenery interspersed here and there in our highly urbanised landscape?

Some of these smaller parks are planted with specific shrubs and trees to draw butterflies and birds in, serving as areas for biodiversity to thrive. And as residents develop a greater appreciation of our rich biodiversity, these smaller parks also provide opportunities for city-dwellers to play, relax and get in touch with nature, culture or heritage within proximity of their homes or workplaces.

Take a look at some of these parks, all less than 4 hectares in size, which you might have missed in the hustle and bustle of daily life.

1. Esplanade Park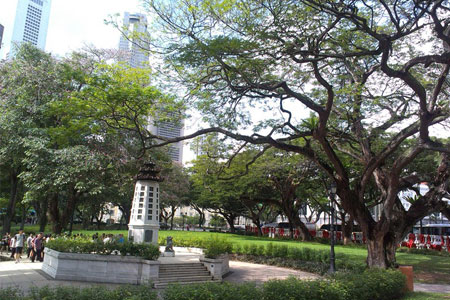 Located centrally in the Downtown Core area, Esplanade Park is one of our oldest heritage parks. The 2.4-hectare park is home to three memorials which were collectively gazetted as a National Monument, reminding us of our past amidst the modern development of the city.

You might remember Lim Bo Seng, a key leader of the anti-Japanese resistance during World War II. His efforts are commemorated by the Lim Bo Seng Memorial in the park. Another war memorial in the park is the Cenotaph, which honours the brave soldiers who sacrificed their lives in World War I and II.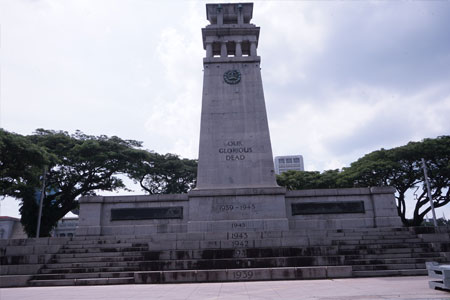 When in Esplanade Park, be sure to pause at the Cenotaph to remember the sacrifices of the soldiers who died in World War I and II.
Photo credit: Tan Yong Hui
Another important figure in our history books, Tan Kim Seng was a notable philanthropist who contributed greatly to the construction of Singapore's first reservoirs and waterworks. His generosity is memorialised by the Tan Kim Seng Fountain, an ornate Victorian-style fountain adorned with statues of Greek goddesses.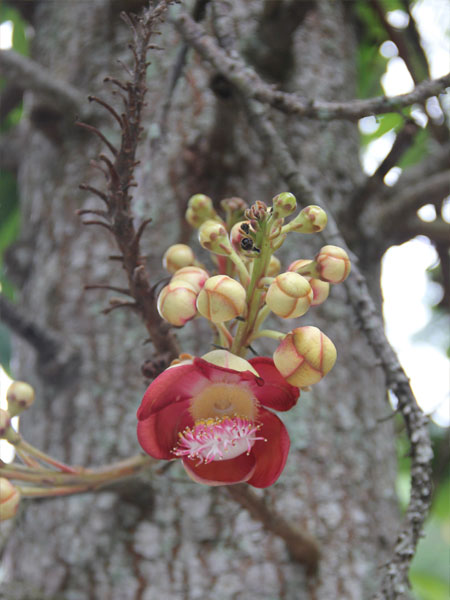 The fragrant flower of the Cannon Ball Tree is another distinctive feature of the flora in the park.
Photo credit: Pauline Tay

Aside from history, you can also admire the verdant greenery here. There are two tree species which stand out. Behind a shelter along Connaught Drive grows the Cannon Ball Tree (Couroupita guianensis). Look up to see if you can spot its large, round fruits that give this species its namesake. When in bloom, its fragrant flowers are a favourite of carpenter bees and bats that aid in pollination.

Another uncommon tree species, the Leopard Tree (Libidibia ferrea), can be found right behind the Cannonball Tree. Stop and admire its beautiful mottled trunk – a patchwork of light grey, ivory, brown, and dark grey colours, which peel off in batches with age.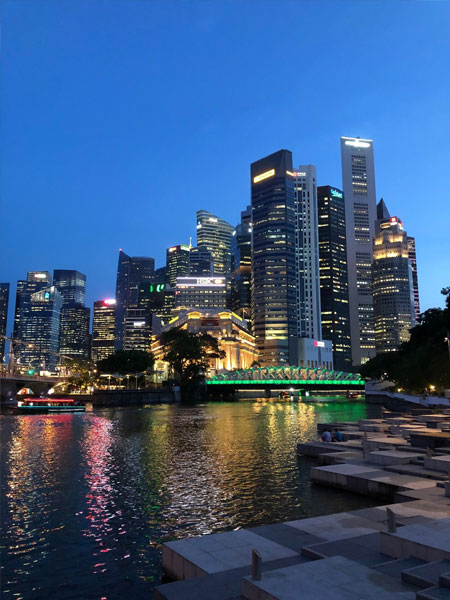 Stay on in Esplanade Park to dusk to snap some beautiful shots of the skyline alongside the waterfront.
Photo credit: Felix Siew
Come down to Esplanade Park to be a part of our Parks Festival on 26 and 27 October! Explore arts and gardening bazaar, go on a guided tour of the Civic District, or feast on the delicious food offerings by F&B vendors, all while you enjoy gorgeous views of the skyline. Click
here
for more details!
2. Youth Olympic Park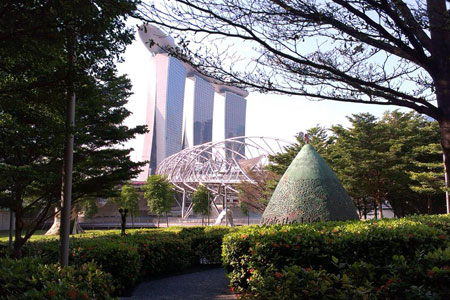 Youth Olympic Park is an oases of greenery right next to Marina Bay.

Another park located in the Downtown Core, the 0.66 hectare Youth Olympic Park is about a 15-minute stroll from Esplanade Park. It was built and named in commemoration of the Youth Olympic Games hosted by Singapore in 2010.

Artwork by local students aged 8 to 28 can be found throughout the park, including a landscaped maze and "mountain" designed by the then 11-year-olds Aniket Chavan and Joyce Seah. These pieces express our youth's life aspirations, including scaling the highest mountain in the world, expressed by a figurine perched atop the "mountain".

(Left) Designed by youths, this art piece inspires others to climb every mountain. (Right) Admire the artwork on the walls within the Youth Olympic Park.
Photo credit: Tan Yong Hui
Look for 18 drawings that are displayed along a rock wall gallery in the park, featuring familiar Singaporean sights such as the Merlion and the Esplanade. Continue along the wall to the steps leading up to the Helix Bridge, where you can feel the patriotism of 16-year-old Amanda Chong through her inspiring poem, Lion Heart, inscribed along the steps.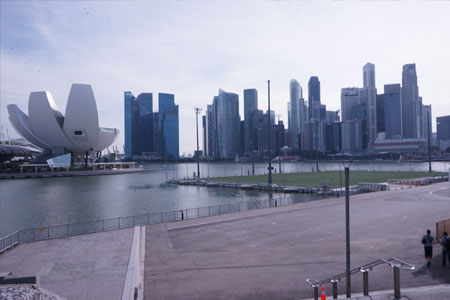 Take time to enjoy the views of Marina Bay while you are in Youth Olympic Park.
Photo credit: Tan Yong Hui
Other than admiring the art created by our youth, get some fabulous views of Marina Bay, featuring the Helix Bridge, Marina Bay Sands Singapore, and more.
3. Istana Park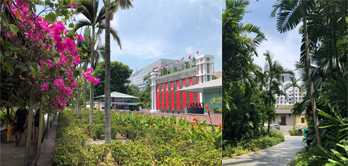 (Left) Look for the imposing Festival Arch that welcomes you into Istana Park. (Right) The park has pretty nooks for you to rest your tired feet.
Photo credit: Felix Siew

Exhausted from navigating through the busy shoppers on Orchard Road? Come take a break at this quiet park.

Located directly across the Istana, Istana Park is easily recognised by its 26-metre tall Festival Arch, which symbolises the gateposts at the Istana Entrance. Enjoy the vibrant floral display, which is changed regularly depending on the celebratory events of the year, or view the monthly changing of guards ceremony at the Istana from the park.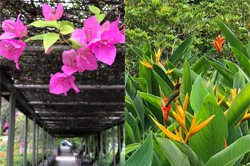 (Left) Istana Park is pretty in pink thanks to the Bougainvillea plants. (Right) Look out for the Olive-backed Sunbird among the Canna plants.
Photo credit: Felix Siew

The 1.29-hectare park is usually awashed with colours, thanks to the verdant growth of Bougainvillea and Canna plants. You may even spot the Olive-backed Sunbird (Cibbyris jugularis) or Crimson Sunbird (Aethopyga siparaja) drinking their fill of nectar from the flowers.

Visit My Art Space, a cosy art studio where you can admire the variety of different paintings or even participate in an art jamming session yourself. After that, learn more about the roles of the President, as well as the historical significance of the Istana at the Istana Heritage Gallery located inside the park.

On selected days in the year, the Istana is open to the public. Come visit during the next Istana Open House, which falls on 27 October, the same day as Deepavali. Please visit the Istana website for updates.
4. Tiong Bahru Park
A short 6-minute walk from Tiong Bahru MRT station, the 3.33-hectare Tiong Bahru Park is a community space well-loved by residents. While there are now refreshed facilities, the park still retains an old-world charm.


Flowers such as Golden Dewdrop (Duranta erecta) and Blue Butterfly Bush (Rotheca myricoides 'Ugandense') are planted within Tiong Bahru Park, attracting pollinators like butterflies and bees while an fitness corner found within the Therapeutic Garden is a good place to exercise amidst greenery.
Photo credit: Felix Siew

It now boasts a Therapeutic Garden, which is specially designed to soothe fatigued visitors and promote emotional well-being by engaging the senses of sight, smell, touch, and even taste.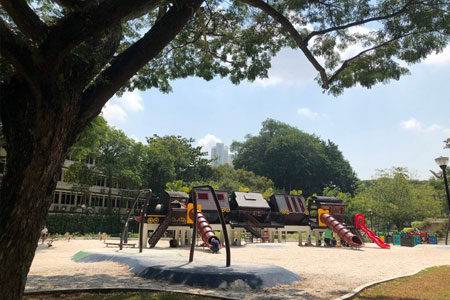 Children will love the playground designed to look like a runaway train.
Photo credit: Felix Siew
For the younger ones, a uniquely-themed playground is sure to capture their imagination. Children can have fun exploring a topsy-turvy train, climbing up the cacti structures beside the train, or even sliding along a pair of ziplines in the playground!
5. Duxton Plain Park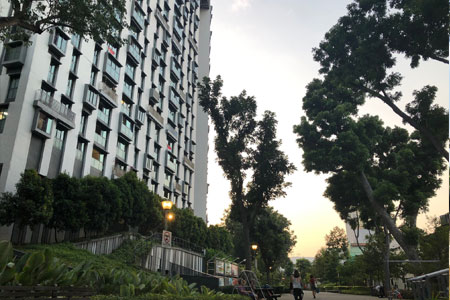 Duxton Plain Park is a great place for the community to gather as the day winds down.
Photo credit: Felix Siew

Located behind The Pinnacle@Duxton, Duxton Plain Park is a little strip of green lined with many plants bearing fragrant flowers, such as gardenias and ixora.

(Left) Use your nose to locate the richly-scented Bread Flower and (right) your eyes to spot the white, star-shaped flowers of the Kanwene.
Photo credit: Charis Chiang and Vicky Lim Yen Ngoh
Of particular interest is the richly-scented Bread Flower (
Vallaris glabra
) and Kanwene (
Pleiocarpa mutica
) tree that produces white, star-shaped flowers. As you enjoy their sweet smell, especially pronounced in the evenings, look for butterflies like the Chocolate Pansy (
Junonia hedonia ida
) and Painted Jezebel (
Delias hyparete metarete
) that dance along the path as they fly from flower to flower.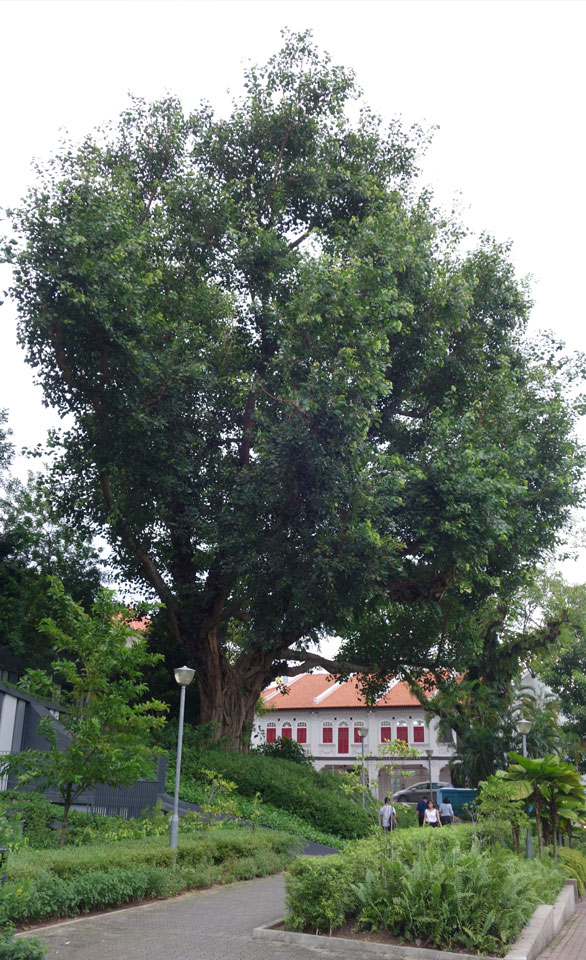 This Bodhi Tree, a Heritage Tree, towers some 25 m high and has a girth of 6.3 m.
The park is also home to a Heritage Tree. A
Bodhi Tree
(
Ficus religiosa
) can be found near Neil Road, easily recognisable by its heart-shaped leaves and purple figs. Widely regarded as sacred by Hindus and Buddhists, the Hindu god, Vishnu, was said to be born under such a tree, and the Buddha was said to have achieved enlightenment underneath it as well.
6. one-North Park: Fusionopolis South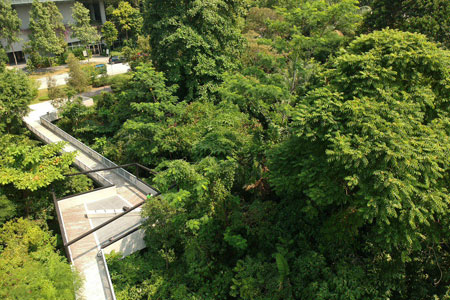 Explore the Forest Canopy Boardwalk located just a few metres away from office buildings.
Photo credit: Wendy Choo
Where can you find a small haven for birds nestled alongside high-rise office buildings?
At
one-North Park: Fusionopolis South
, there is a wide variety of interesting bird species. In fact, the 2.44-hectare park was sensitively developed to provide a conducive sanctuary for birds that depend on the conserved remnants of the secondary forest for food. Trees such as the Weeping Fig (
Ficus benjamina
), Malayan Wild Cherry (
Muntingia calabura
) and Saga Tree (
Adenanthera pavonina L
.) are attractive to, and provide food, for many bird species.
Take a walk along the Forest Canopy Boardwalk, and you may spot the Yellow-vented Bulbul (
Pycnonotus goiavier
), Oriental Magpie Robin (
Copsychis saularis
) or the White-crested Laughing Thrush (
Garrulax leucolophus
).


The Yellow-vented Bulbul (left) and the White-crested Laughing Thrush (right) are just some of the birds you may spot at one-north Park: Fusionpolis South.
Photo credit: Wendy Choo


Exploring Our Smaller Parks
Can't get enough of our small parks? You can also visit Kranji Reservoir Park, Toa Payoh Town Park or Upper Peirce Reservoir Park, which are all less than 5 hectares in size, but packed with facilities, flora and fauna as well as pretty views. And opening next year is Sembawang Hot Spring Park. It will have a 'kampung-like' environment and be kept rustic for visitors to gather and enjoy the hot spring water in this unique park. Look out for it!

So if you are free and in the area, why not show some love to our smaller parks? Relax with a nice picnic in the shade, take in the views of greenery or bring the little ones out for some sun-soaked fun. For more information on the many parks around us, check out our website.

Text by Jolyn Tan