Throwback to Kampong Days

Are you a foodie who enjoys a plate of good old Chicken Rice, Nasi Lemak, Laksa or Mee Rebus? Then O'My Kampong café at Sengkang Riverside Park is the place for you.
With its relaxing 1960s kampong village ambience, it is a halal eatery that brings you some of Singapore's all-time favourite local dishes but with a twist!
Hearty Entrées

Just by eyeing and smelling the aroma of the food, my friends and I knew it was going to be a memorable meal. For their signature O'My Kampong Chicken Rice, we ordered the Buddy Meal, which consists of a half chicken with four rice balls and garden vegetables on the side, suitable for two persons.
As I heartily tucked in, I immediately got a mouthful of the savoury and succulent chicken. Not to mention, the flavour of rice balls complemented the meat perfectly, for an entirely satisfying experience. The Chicken Rice is a must try, especially for a first time visitor!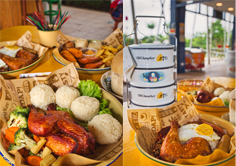 (Left) The Chicken Rice is a must-try for any customer while (right) the Eight Treasures Nasi Lemak has tasty gems like fish cake and fries that were simply delightful.
After that pleasant warm up, I was excited to try the next main course, the Eight Treasures Nasi Lemak. The chicken drumstick was tender and juicy and the skin was crispy. The coconut rice was fragrant, the fish cake was chewy and the chicken luncheon fries were delightful. The icing on the cake was the Signature Chili sauce; sweet but spicy in the exact proportions.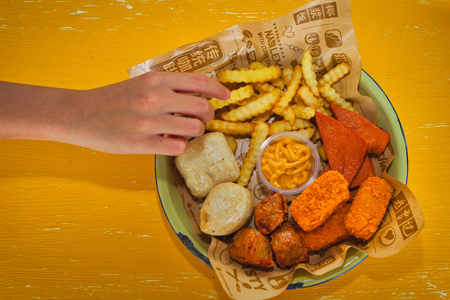 Who can stop at just one piece? The Kampong Spirit Platter is ideal for puckish eaters who love yummy finger food.
Last but not least, I also had the Kampong Spirit Platter, which was a heap of delectable small bites. This included a personal favourite, the ngo hiang. Growing up, whenever I saw my Ah Ma preparing it for our family meals, I would keep thinking about it until dinnertime.
As such, it warmed my heart to enjoy the familiar taste of well-seasoned ground meat wrapped in dried beancurd skin and fried to crispy perfect. Of course, the rest of small bites are not be disregarded. There were the soft fish fillets, springy fish balls, slightly spicy otah and, of course, crinkle cut fries, that kind that you just keep going back for more.
Refreshing Sidekicks
Enjoy a taste of the Kampong Breeze, a refreshing beverage of coconut juice and wheatgrass.
With every main act, there is a side story that helps to enhance the overall experience. That is where the drinks come in! I decided I simply had to try the Kampong Breeze, which is a mixed of coconut juice and wheatgrass. Don't let the simplicity of the drink fool you. It is a refreshing addition to any of main dishes as it helps to clear your palette before you take your next bite.
Always Room For Desserts

These bowls of Pulut Hitam (left) and Burbur Cha Cha (right) are the ideal treats to end of a satisfying meal.
Just when I thought my stomach could not expand any further, it surprised me! When the Pulut Hitam and Bubur Cha Cha were placed on the table, I did not hesitate to help myself to them. The desserts were warm, sweet, aromatic and full of texture.
Furthermore, both desserts came in generous servings. The black glutinous rice was thick that it hung by the spoon (the way I liked it!) and it felt like there was an endless amount of ingredients in the Bubur Cha Cha.
Walking It All Off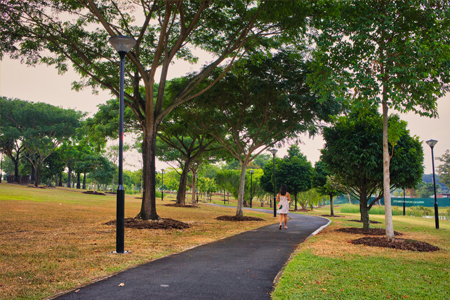 Serene views of ponds and lush greenery make Sengkang Riverside Park a gem to be discovered.
After all that delicious goodness, my friends and I had to walk some of it off. We decided to explore the park and were pleased to discover that the surrounding area was full of natural beauty, teeming with greenery and all sorts of birds and animals. The nearby ponds, surrounded by vegetation, create a calming and meditative atmosphere. The park is definitely a lesser-known gem that I hope more people will come to know of.
Final Words

(Left) The café's oh-so-cute menu and (right) provision shop that sells tidbits, toys and games. Be sure to snap some instaworthy photos after your meal!
There were so many things to see and try at O'My Kampong café. With so many food options to choose from, you will be spoilt for choice. There is also a provision shop located within the cafe, where you can buy old kampong tidbits, toys and games, just like the kind children used to eat and play with in the old days.
For anyone looking to have a hearty meal and enjoy a nostalgic trip back to the good old kampong days, O'My Kampong café is a clear winner on both fronts.
O'My Kampong café is located at
50 Anchorvale Street, #01-02, Sengkang Riverside Park, Singapore 544834
. It opens from 12 pm to 9 pm on Tuesday to Friday, and 8 am to 9 pm on Saturday, Sunday and public holidays. It is closed on Monday. Last order is at 8:15 pm.
Photo and text by Darius Tay
About the writer
Darius Bryant Tay Zyn Chong is a final year student at National University of Singapore, pursuing a Bachelor of Science (Life Sciences) degree. He interned with NParks as part of his school's Final Year Internship project. During his five-month stint, he organised, produced and edited digital content for various platforms to inform the public about Singapore's native flora and fauna and conservation efforts. His background in Life Sciences and interest in environmental issues and photography/videography has led him to choose NParks as his preferred choice for his school's work.
Please email
wong_yeang_cherng@nparks.gov.sg
for more information on our internship programme.