Project Good Causes
1. JUJU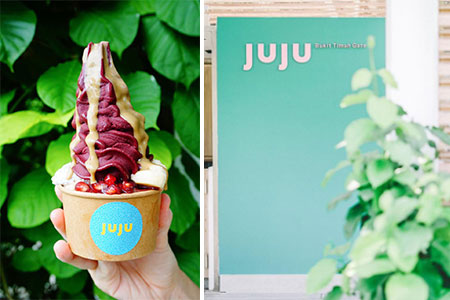 Photo credit: JUJU

JUJU is a takeaway joint offering delectable and wholesome vegan-friendly acai bowls and desserts that are 100% plant-based and made without refined sugar. Besides a wide range of toppings, it offers acai flavours: classic Acai, Dragon and Chocolate Oat.

Environmentally conscious, JUJU's menu is vegetarian-friendly with ingredients sourced locally or from nearby neighbouring region to reduce its carbon footprint. Enjoy these yummy offerings served on guilt-free compostable packaging made from sugarcane, bamboo and corn-starch.

Where: Visitor Services @ Singapore Botanic Gardens, Bukit Timah Gate

Opening hours:
Monday to Friday – 11 am to 7 pm
Saturday and Sunday – 9 am to 7 pm
Public holidays – 9 am to 6 pm
2. Starbucks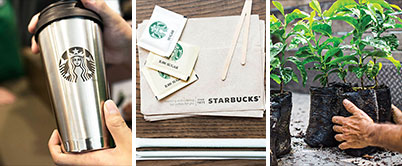 Photo credit: Starbucks
Starbucks is the largest coffee retailer in the world, sourcing 99% of its coffee sustainably to make coffee drinking guilt-free.
Currently, the company is testing out the use of a variety of greener cups that are both recyclable and compostable. It has also started using lightweight strawless lids in its bid to eliminate 1 billion single-use plastic straws annually. In fact, Singapore is one of the select cities to pilot and introduce these strawless lids for selected drinks and the use of compostable straws made of corn starch-based material.
Customers who bring their own tumbler or mug may even get a discount* for their favourite drinks.
*Terms and conditions apply
Where:
East Coast Park Parkland Green
Opening hours:
Monday to Thursday and Sunday – 7.30 am to 11 pm
Friday, Saturday and eve of Public Holidays – 7.30 am to midnight
3. Food for Tots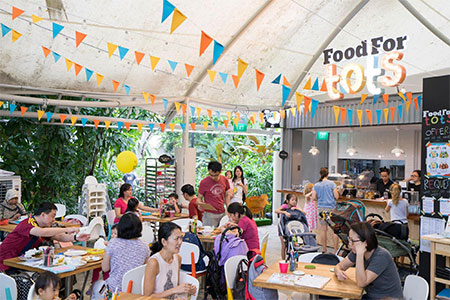 Photo credit: Food for Thoughts
Food For Tots is a self-service kids café that believes children can help themselves and others while positively impacting the world. It runs a series of programmes for children, such as Food Crafternoon and Nature Bingo Trail, to inspire them to be positive change agents.
Food For Tots draws influence from Jacob Ballas Children's Garden's mission to cultivate an appreciation for the natural environment by incorporating an upcycled colander light installation on its premises and adopting the use of sustainable cutlery, biodegradable plant straws and chemical-free bamboo napkins.
Where:
Jacob Ballas Children's Garden, Singapore Botanic Gardens
Opening hours:
Tuesday to Sunday: 9 am to 7 pm
Closed every Monday unless it is a Public Holiday
New Openings at Cyclist Park
Whether you love cycling or are just looking for a new place to chill in the east, head over to the newly opened Cyclist Park at East Coast Park.
1. KNS Restaurant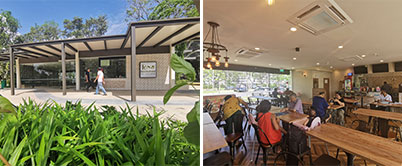 Named after its founders, Kumar, Nila and Sanjay, this affordable halal restaurant offers a wide range of food choices on its menu. Particularly worth the special mention is its $10 buffet spread every Monday to Friday between 11 am and 12 pm. So, fill up on unlimited biryani, pratas and Nasi Goreng Pattaya, and complete your meal with everyone's beverage choice, the Milo Dinosaur.
| | |
| --- | --- |
| Address | #01-03/04 1110 East Coast Parkway, Singapore 449880 |
| Operating hours | 6 am to 11 pm daily |
| Contact number | 6816 1383 |
| Website | www.knsgroup.com.sg |
2. PS.Cafe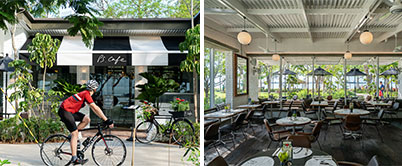 PS.Cafe opens its eighth and first outlet in the east at Cyclist Park. Perfect for dates and gatherings with friends, PS.Cafe serves up platters of creations great for any hour of the day. Those who like to stay in bed till late on weekends will be happy to know that brunch is available till 4 pm. Exclusive to this outlet includes Poached Ocean Trout Nicoise, Chorizo & Calamari Stew as well as Singapore Chilli Crab & Prawns. There is also a junior menu for children under 12 years old, featuring kid-friendly items such as Mini Pancake Stack as well as Grilled Ham & Cheese Toasties.
| | |
| --- | --- |
| Address | 1110 East Coast Parkway, #01-05/06/07 Cyclist Park, Singapore 449880 |
| Operating hours | 9.30 am to 11.00 pm daily |
| Contact number | 6708 9288 |
| Website | www.pscafe.com |
3. 7-Eleven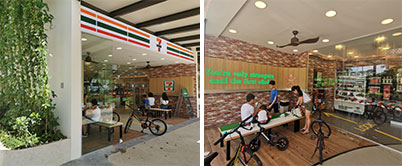 From late night supper fixes to quick meals before the next appointment and getting your emergency supply of paracetamol or hair wax, 7-Eleven is the go-to place for many of our daily needs.

What makes this particular outlet unique, besides its usual treasure trove of Slurpee, 7Cafe coffees as well as a wide range of quality ready-to-eat meals and sandwiches, is its beer-on-the-tap service. If you need to settle your bills or even withdraw cash, 7-Eleven is the place to go.