Caring For Pets and their Owners
With great power, comes great responsibility… especially if you are a pet owner!
Animal issues are often complex and require different approaches involving multiple stakeholders to work together for win-win solutions. This is why volunteers play such important roles, often helping the Animal & Veterinary Service (AVS) promote responsible pet ownership and raising awareness on how people can live cohesively with animals and wildlife.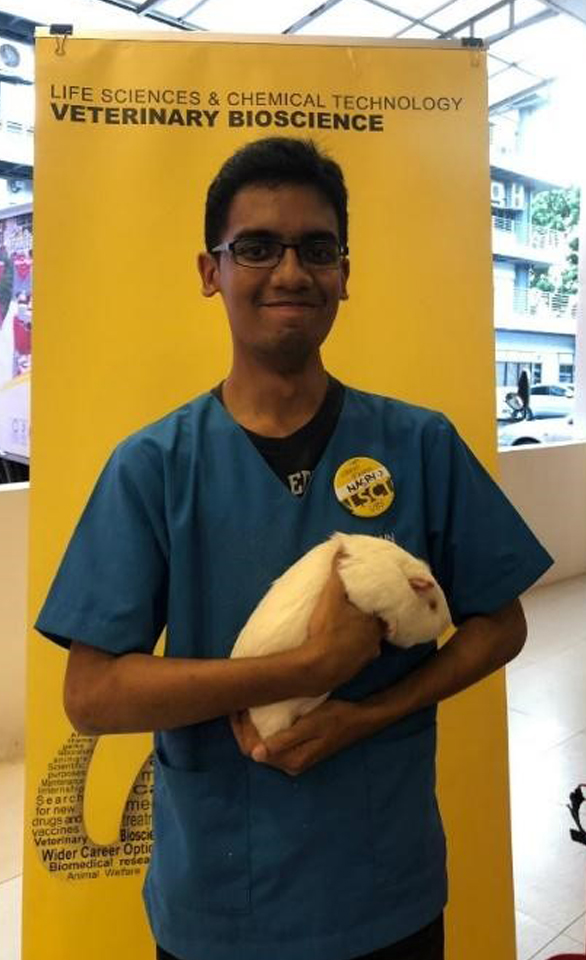 Photo contributed by Muhammad Nasry Bin Abdul Nasir

We meet 21-year-old Muhammad Nasry Bin Abdul Nasir, who has cultivated a keen interest in wildlife and conservation over the years. Currently a full-time National Serviceman, Nasry started volunteering for animals 4 years ago. He received his Diploma in Veterinary Bioscience from Ngee Ann Polytechnic in 2019 and plans to pursue his studies in the fields of zoology or ecology after his National Service.


What motivated you to volunteer?
When I was in polytechnic, I worked in a veterinary clinic and saw what happened to pets whose owners did not know how to care for them properly. For instance, I saw several incidences of pyometra, a life-threatening infection of the uterus which is easily preventable if you sterilised your dog.
I believe in the importance of being a responsible pet owner and decided to play an active role in educating the public. I want to help pet owners and potential pet owners make informed decisions when caring for their animals or before deciding to get a pet.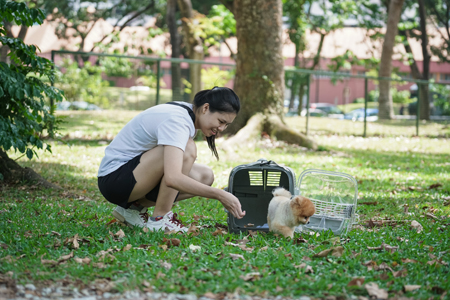 Pet owners have the important responsibility of caring for their pet for life, says Nasry.
What do you feel most strongly about?
Caring for a pet comes with responsibilities! A pet is for life, so the more that owners know about proper care, the better off their pets would be.
What is your most memorable experience as a volunteer?
A few years back, I met a lady during an outreach event in Punggol. She was worried about the condition of a stray cat near her house but didn't know how she could help it. I shared with her some things she could look into – like bringing the cat to a vet, getting it proper vaccinations and sterilisation, microchipping, as well as giving it proper nourishment. I also told her if she can give the cat a good home, she may want to adopt it.
The following year, I ran into her again. She had adopted the cat and I got to meet it! The lady thanked me and said that if she hadn't spoken to me, she probably would not have adopted the cat. She was really happy with her new pet! This inspired me to continue volunteering, knowing that I can make a positive impact to both the owner and the pet!

How has volunteering changed you?
I'm now more empathetic and willing to listen. I recall a couple of years ago, many owners were providing raw feed to their animals which I really couldn't understand. Why would people feed their pets raw meat? But after helping out at an event that year and speaking firsthand with visitors, I realised that these owners were simply doing what they thought was best for their pets.
When they spoke to the vet and understood how this was potentially harmful, I realised that the pet owners just didn't know any better. This was why my work as a volunteer is making a difference, to help educate pet owners on proper care.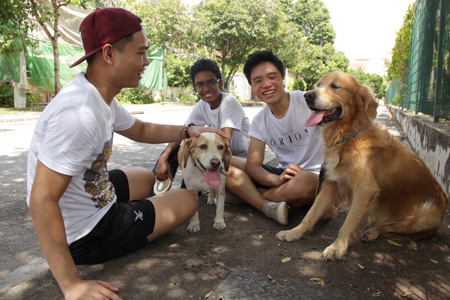 Nasry (centre) says volunteers should be patient and empathetic, to help pet owners provide the best care for their animals.
Photo contributed by Muhammad Nasry Bin Abdul Nasir
What traits should a volunteer have?

Patience and empathy. It is not my place to judge or make assumptions about owners. What's more helpful is to really listen, understand and provide advice to help them become the best owner for their pets.
Why should someone volunteer with AVS?

AVS is definitely a great place to volunteer with if you want to help animals by reaching out to owners and educating them. You get to learn about the responsibilities of owning different kinds of animals and you develop soft skills in the areas of communication and dealing with people. It has been such a fulfilling and rewarding experience!


Be our Volunteer
Love spending time surrounded by nature? Passionate about animals? Then come join us as a volunteer! Whether you are a student, professional, retiree or on a study/career break, we welcome you. Volunteers are important to us, and we value the time and contributions of every one on our volunteer programme.
Choose from a wide range of volunteer opportunities and sign up as a volunteer today. Find out more
here
.

Learning More

What does it take to be a responsible pet owner? Lean about
five key considerations
you should have before you bring a pet into your home.
You are invited to the next edition of Pets' Day Out: a new initiative by NParks. This pets-centric event happens at a park and everyone's invited! Here are the details for the upcoming Pets' Day Out:

Date: 11 January 2020 (2 pm to 7 pm)
Venue: Bishan-Ang Mo Kio Park

There is a pet adoption drive if you are considering an animal for the family. Besides educational activities such as talks on pet care and training, you can also shop for your pets at the event.

AVS is the main touch-point for animal-related issues. Visit the AVS website to learn more.
Text compiled by Felix Siew