Combating AMR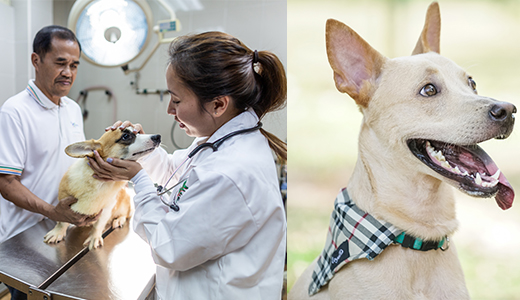 A healthy pet is a happy pet. After all, a healthy animal can fight off infections better.
Antibiotics have long been used by our veterinary profession to save countless lives, making great improvements in animal health and welfare, public health, as well as food safety and security. However, over decades of use in both people and animals, disease-causing bacteria are becoming immune to the effects of antibiotics resulting in a global health problem known as antibiotic resistance.
What is Antimicrobial Resistance?
Antimicrobial resistance (AMR) refers to the ability of microorganisms, such as bacteria, viruses, fungi and parasites, to prevent an antimicrobial, such as antibiotics, antivirals, antifungals and antiparasitics, from effectively preventing and treating the former.
In the case of antibiotic resistance, bacteria adapt and become resistant to the antibiotics used. Over time, antibiotics will become less effective against these resistant bacteria.
Why is AMR a Concern?
Antibiotic resistance is now present in every country in the world. Animals with antimicrobial resistant bacteria may suffer from future bacterial infections that are more serious and last longer. These resistant bacteria may also be transmitted between animals and humans. If antibiotics continue to be misused or overused, we may run out of effective antibiotics eventually.
This threatens our ability to treat common infections, increases risks of complications from medical procedures, and contributes to increased healthcare costs. The agriculture industry can also be adversely impacted, threatening our food security.
Countering AMR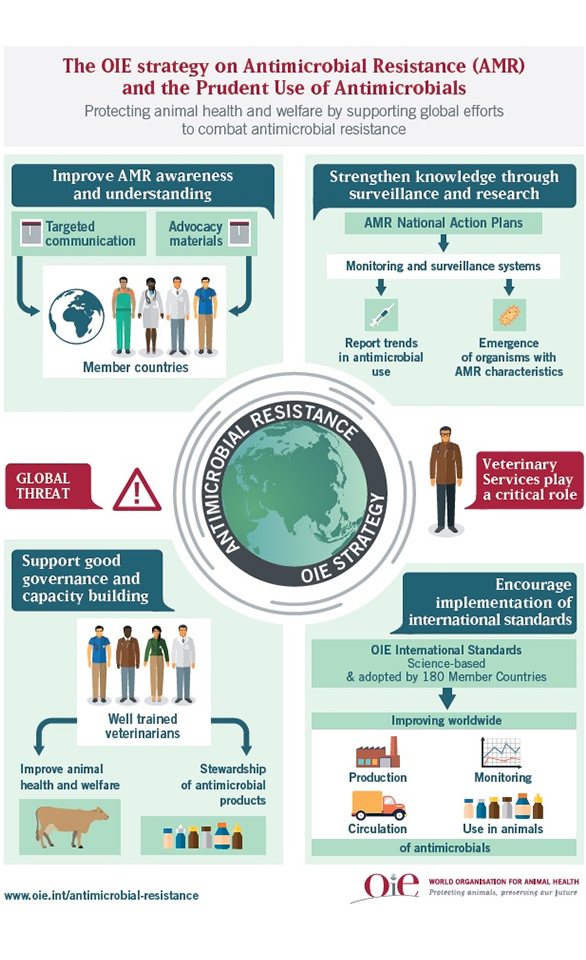 The increasing global threat of AMR precipitated a 'One Health' effort between the World Organisation for Animal Health (OIE), the World Health Organisation (WHO) and the Food and Agriculture Organization of the United Nations (FAO) to mobilise action worldwide and provide crucial resources to reduce its spread.

Here in Singapore, the National Strategic Action Plan (NSAP) to combat AMR was launched in 2017 by four agencies in various sectors in Singapore, namely the Ministry of Health, Agri-Food and Veterinary Authority of Singapore, National Environment Agency and PUB.

Note: On 1 April 2019, AVA was restructured to form the Singapore Food Agency (SFA) and the Animal & Veterinary Service (AVS), a cluster under NParks. All food-related functions and services are managed by SFA, while non-food related animal services are provided by AVS.

What AVS is Doing?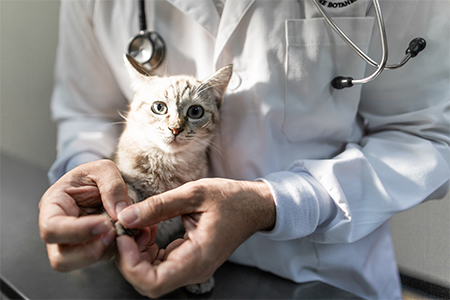 AVS is working with the Singapore Veterinary Association to improve preventative healthcare and contribute to efforts to tackle antimicrobial resistance.

Veterinarians are important stewards of antimicrobial medications. They are advocates of animal health and welfare, and provide veterinary medical services to treat and prevent diseases in animals.
AVS is currently working with the Singapore Veterinary Association (SVA) to publish national vaccination guidelines for dogs and cats, with the aim of improving preventative healthcare and contributing to efforts to tackle antimicrobial resistance.
AVS is also working on conducting AMR surveillance in the animal population in Singapore, which includes not only pet animals, but also farm animals, stray animals and wildlife. With better understanding of the prevalence of this problem, and the risks of AMR spread between animals and humans, policies, regulations and outreach efforts can then be better developed to suit our local context.
What Pet Owners Can Do?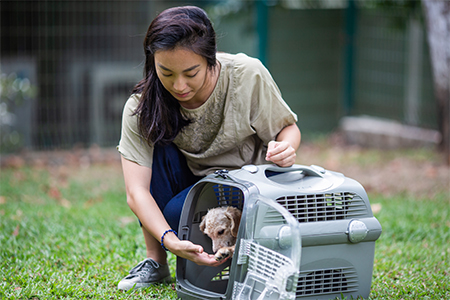 By adopting simple measures such as only using antibiotics as prescribed by the vet, pet owners can help to tackle the problem of AMR.
While veterinarians and healthcare professionals have taken on the responsibility in tackling AMR, we as pet owners also play a critical role in this fight to preserve the efficacy of these life-saving antimicrobial medications.
Here are some measures pet owners can adopt to combat AMR:
> Only use antibiotics when prescribed by a vet. Not every illness requires antibiotic treatment.
> Follow the dose, frequency, and length of antibiotic treatment prescribed by your vet. Complete the entire treatment course, even if your pet seems to have recovered. Contact your vet if you have trouble administering the medications to your pet.
> Avoid sharing leftover medications with other pet owners.
> Keep your pet healthy with appropriate nutrition, exercise and hygiene. A healthy animal can fight off infections better.
> Adopt preventative healthcare measures recommended by your vet. One way is to keep your animal's vaccination and antiparasitic treatment up-to-date, as this helps to prevent infections.
The fight against AMR is a coordinated effort by all parties. While medical professionals like veterinarians and doctors play a key role, as pet owners, we can also tackle this global health threat and safeguard the use of antibiotics for future generations of humans and animals.

For More Information
Learn more about AMR from these resource materials:
> AVMA Antimicrobial Use and Antimicrobial Resistance FAQ
page
> Health Hub Singapore
website
on the "Use Antibiotics Right" programme
> World Organisation for Animal Health (OIE)
factsheet
on antimicrobial resistance
> World Organisation for Animal Health (OIE)
webpage
on antimicrobial resistance
> World Health Organisation
webpage
on antimicrobial resistance
Text by Dr Juline Chua
About the writer
Dr Juline Chua was practising as a private veterinarian for six years before joining AVS. She now works in the Animal and Veterinary Programme Office managing the development of the regulation of veterinary medicines. She also contributes her experience and expert knowledge as a member of the antimicrobial resistance working group.