Doing Good, Feeling Good
A New Year often means a new beginning, and what better way to start the year then to be a partner for greenery, doing your part to conserve our natural heritage and unique biodiversity?

Established by the NParks, the Garden City Fund, a registered charity and IPC in Singapore, partners organisations and individuals to provide a platform for the community to become involved more closely in NParks' conservation, research, outreach and educational initiatives.

Here are a few collaborations, some on-going and others already concluded, in the areas of education as well as conservation and research, that are supported by various organisations helping to create a sustainable future and a viable environment for all residents.

Comprehensive Marine Biodiversity Survey

Partners: Asia Pacific Breweries (Singapore) Pte Ltd, HSBC Care for Nature Trust Fund, Shell, The Air Liquide Group

The Comprehensive Marine Biodiversity Survey (CMBS) was initiated by a proposal from the Blue Plan Group, which was submitted to the Singapore government in 2009. It was agreed that Singapore should conduct a comprehensive survey to document all of our marine life in our natural marine habitats.

Apart from taking stock of Singapore's marine biodiversity, CMBS also aims to build local capacity in the field of marine biology, spread awareness and increase appreciation of our marine natural heritage. Led by the NParks, the survey brings together experts and partners from tertiary institutions such as the National University of Singapore, Nanyang Technological University, non-governmental organisations such as Blue Plan Group, Nature Society Singapore, and volunteers from the community.

Launched in November 2010, this ongoing survey will be carried out in phases. Some 350 local volunteers have contributed in various aspects of the CMBS, including photography, outdoor field sampling and collection, specimen processing, database support as well as organising outreach programmes.

As of May 2013, the project has collected some 30,000 specimens through surveys conducted in mudflats, seabeds and reef habitats. In May 2017, NParks announced that over 500 species, including marine and terrestrial animals, have been discovered or rediscovered over the last five years. These discoveries were made during in-depth surveys including the CMBS.

Mingxin Foundation Rambler's Ridge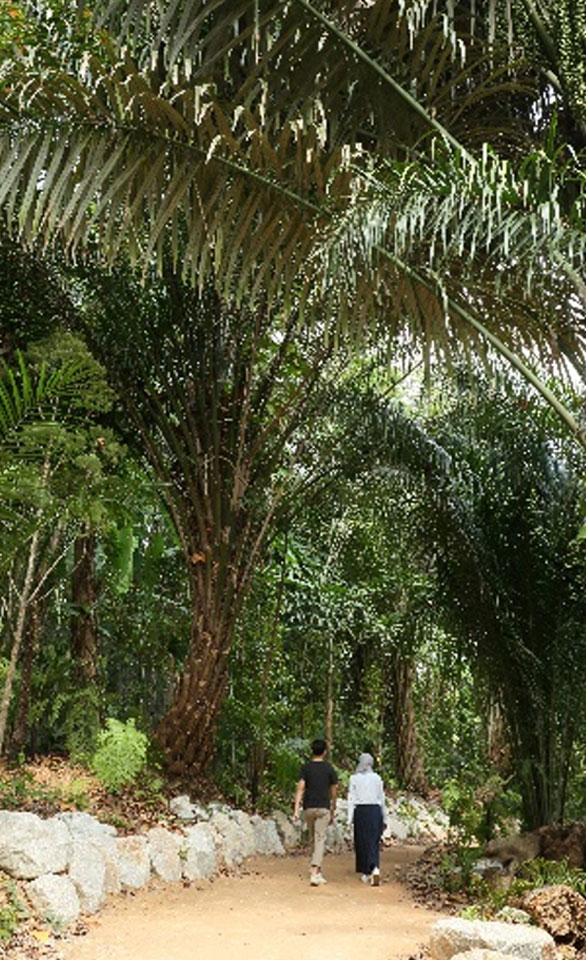 Partner: Mingxin Foundation

Partners can also contribute towards enhancing our parks and gardens, giving visitors the opportunity to view unique plants and critically endangered trees. At the Gallop Extension in the Singapore Botanic Gardens, which opened in October 2019, visitors can get up close and learn about forest ecology at the Mingxin Foundation Rambler's Ridge.

Drawing inspiration from forest habitats on the tropical mountains of Southeast Asia, the Mingxin Foundation Rambler's Ridge features Ant Plants (Hydnophytum spp and Myrmecodia spp) and carnivorous plants such as the Narrow-lid Pitcher Plant (Nepenthes ampullaria) and Raffles' Pitcher Plant (Nepenthes rafflesiana), which have adapted to the harsh conditions such as poor soil and exposure to strong winds, up in the hills.

Wheelchair-bound visitors and families with prams can ascend the ridge via a barrier-free path lined with trees such as the critically endangered Spike Oak (Lithicarpus elegans) and Braided Chestnut (Castanopsis inermis), both tropical members of the oak family. Those looking for adventure can go on the ridge-top hiking trail that leads to the highest point in the Singapore Botanic Gardens.

Firefly Species Recovery Programme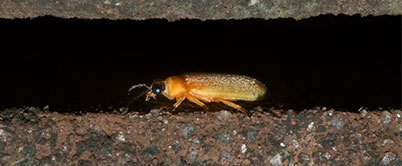 Partner
: Panasonic
As insects that are not commonly sighted in Singapore, fireflies are highly sensitive to changes in their environment and their presence is a good biological indicator of a healthy mangrove habitat.
Panasonic is supporting the Firefly Species Recovery Programme to foster a healthier environment in Pasir Ris Park so as to boost the firefly population in Singapore. This is done in two ways.
First, by installing wildlife-friendly lights along the mangrove area, this will help reduce light pollution. Trees will also be planted in the mangrove to enhance the habitat for fireflies. Next, Panasonic staff volunteers will be trained to conduct regular firefly population surveys so as to monitor the effectiveness of the habitat enhancement works. Educational signboards have also been put up to provide information to the public on the firefly population, their habitat, and ongoing conservation efforts.
The Firefly Species Recovery Programme is a continuation of a previous partnership with Panasonic in 2012, when it contributed to a two-year mangrove biodiversity monitoring study.
Plant-A-Coral, Seed-A-Reef Programme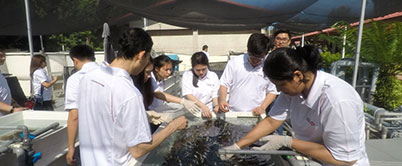 Partners: HSBC and members of the public

The Plant-A-Coral, Seed-A-Reef Programme is a platform for organisations and individuals to support habitat enhancement efforts at the Sisters' Islands Marine Park.

The programme aims to enhance our marine biodiversity by providing areas for marine organisms to grow and reef fish to seek refuge. For every $200 donation made to the programme, a coral nubbin (small coral fragment) is transplanted from a coral nursery to a Reef Enhancement Unit (REU).

HSBC helped to kick off this programme by donating nine REUs, where the coral nubbins are transplanted. Donors of the Plant-A-Coral programme can receive special half-yearly photo updates of the coral nubbins, enjoy an exclusive tour on marine biodiversity as well as be recognised for their support with a certificate for their donation.

Nature Nurtures Programme
Partner: Shell

In addition to a yearly financial contribution, Shell has a team of committed volunteers who are part of Nature Nurtures, a programme that helps teenagers build confidence and cultivate an appreciation for nature.

Every month, Shell and NParks volunteers meet with a group of students to do nature-related activities such as coastal cleanups, nature walks and habitat enhancements. Through these activities, participants get to hone life skills and learn teamwork.

After a year, the programme culminates in a finale event, where the teens apply the skills that they have picked up. For example, the finale event in 2019 involved bringing seniors from a social service organisation to Sungei Buloh Wetland Reserve for a nature tour and a crafting session using recycled material. The students were able to identify various plant species, educate the seniors on the need for mangrove cleanups and were also attentive to the seniors' needs.

The programme started in 2007 and has since impacted hundreds of students from schools such as Chestnut Drive Secondary School, Shuqun Secondary School, Northlight School and Juying Secondary School. Shell and NParks volunteers also find the experience meaningful, particularly when they get to see the students grow in maturity and confidence through the course of the year.

Garden Swings Community Project
Partners: Mr Bharat Mekani and Mrs Kirthida Mekani

In addition to contributions from organisations, passionate individuals can also play an active role in fulfilling our vision as a City in a Garden.

Drop by the tranquil Raintree Cove at East Coast Park and you can find nine garden swings, made possible by a donation from Mr and Mrs Bharat Mekani. Besides providing a space for people to rest and relax amid nature, the swings were also canvases of imagination.

Students of various ages came up with a design concept for the garden swings, based on the theme of nature. As the youths worked on painting and decorating the swings, they also learnt about the importance of collaboration, partnering with NParks to beautify our parks and benefit our community.


Become Our Partner
Over the years, more corporations, foundations and individuals have stepped forward to support our City in a Garden as they understand the importance of their involvement to conserve our natural heritage and unique biodiversity.
The Garden City Fund works closely with organisations and individuals to identify suitable partnership projects that match the organisation's Corporate Social Responsibility principles and ideals, or are in line with donation requests. Support projects in our gardens, parks and nature reserves and there are opportunities abound in areas of value-added enhancements, conservation, research, outreach, and education.

Visit here for more information or email garden_city_fund@nparks.gov.sg to find out more about partnership opportunities.
Text compiled by Magdalene Lim