Me and My Pet Pal
Love, time and money – these are all important factors that go into caring for a pet for its entire lifetime. But for many, the rewards to having a furry companion are also immeasurable. We meet three dog owners who share tips on what it takes to have a lifelong pet pal.

Commitment and Care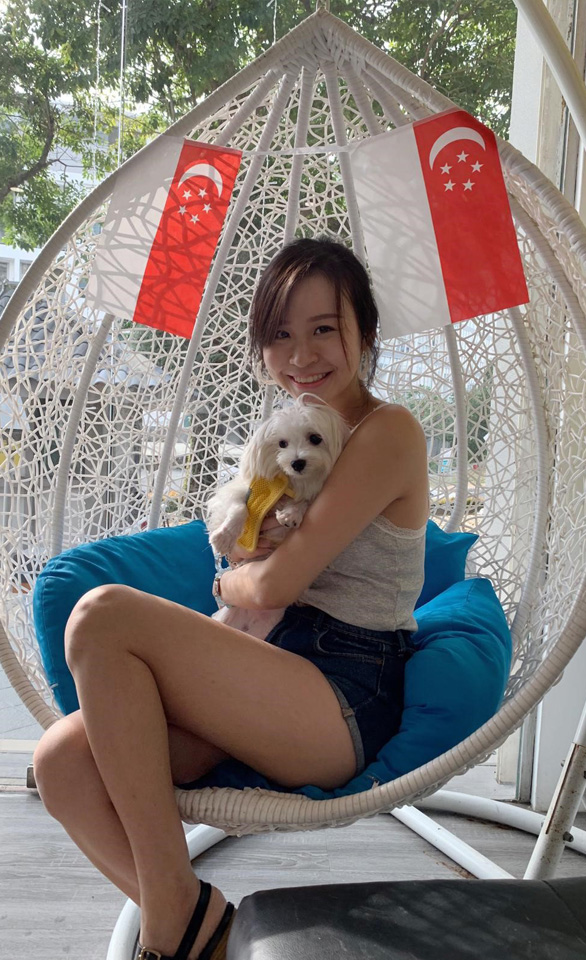 Meet Moki and his owner, Jazz. This Maltese-Yorkie mix is almost a year old and has been with Jazz and her family for the past six months. Jazz tells us more about not rushing into getting a pet.

Q: Why did you decide to get a pet and how did you decide on Moki?
A: I have always wanted a pet since young, but my parents were not willing to get one as it meant taking on extra responsibilities for the family. However, the first time I saw Moki, I knew he was the one! I did not get him immediately as I was worried my parents would be angry, so I visited him every few weeks. By spending time with Moki, my parents saw how committed I was. After three months, I convinced them and brought him home!
Q: Please share your favourite Moki story.
A: He once walked into a glass door as he did not realise it was there! Luckily, he was not injured and everything was okay.
Q: How do you care for Moki?
A: I brush his fur daily to prevent tangles and bathe him weekly. I also brush his teeth, and trim his nails and fur regularly. Moki goes for daily walks to ensure he has sufficient exercise.
Q: What is the most important factor when it comes to looking after Moki?
A: On top of the usual tender loving care that owners give their pets, it is important to maintain cleanliness in their living space. A clean and comfortable environment contributes to their overall well-being and health. This helps keep health problems such as dental issues or skin ailments at bay.
Q: What advice do you have for prospective pet owners?
A: Do your research before getting a pet so that you are prepared to meet its needs. For example, some pets might shed more than others, or are more prone to certain health problems that may be difficult for some families to deal with. Also, talk to other pet owners and interact with the prospective pet beforehand.
Moki has his own Instagram page – you can follow him at @moki_the_morkie.

Good Food and Adequate Exercise


Neptune may be small in size, but is full of energy particularly when he is out at the dog run! His owner, Vinitha, tells us why tough love is necessary when training her chihuahua.

Q: Why did you decide to get a pet and how did you decide on Neptune?
A: My mother chose Neptune as a furry companion for the family. It was especially comforting to have him around when my siblings and I were younger.
Q: Please share with us your favourite Neptune story.
A: When Neptune was around six months old, he learnt to crawl under beds to hide. Since his brown fur matches our wooden floors, we spent almost an hour running around the estate looking for him without realising he was at home the whole time!
Q: What gets Neptune excited?
A: Regular visits to the dog run at Bishan-Ang Mo Kio Park! We make sure he gets the exercise he needs.
Q: What is the most important factor when it comes to looking after Neptune?
A: Ensuring he gets the best food possible. We consulted a vet for advice, who recommended a diet based on Neptune's breed, size, and age.
Q: What advice would you give to prospective pet owners?
A: Stay firm and be consistent when training your dog, or you will find yourself feeding your dog half your meal whenever it decides to make that pleading expression you cannot resist.

Being Happy and Healthy


Having a pet is a lifelong responsibility, but there are so many great memories you make with your furry companion. Xin Hui and her family has had their dog Yoopi for the last six years, and says that every moment has been worthwhile.

Q: When and how did you first meet Yoopi?
A: I saw photos of Yoopi on my Facebook feed in 2014. Someone had put her up for adoption and was looking for a responsible owner to care for her and I immediately messaged them to find out more. My family got on board, and the rest is history!

Q: Why did you decide to get a pet and why did you decide on Yoopi?
A: I have always loved dogs but my parents wanted me to wait till I was older to get one, so that I could be responsible for its care. Something in Yoopi's cute expression just spoke to me and when I met her, it felt like she was meant to come home with me.
Q: Describe your relationship with Yoopi in one word/phrase?
A: We are like soul sisters!
Q: What's your favourite Yoopi story?
A: It was when she stole my brother's sausage mcmuffin burger when he turned his head for two seconds. She gobbled the whole burger down in less than a minute! It was a really funny sight!
Q: What is the most important factor when it comes to looking after Yoopi?
A: Health is wealth, and this includes physical and emotional well-being. I make sure Yoopi is happy and healthy by feeding her a nutritious diet, taking her for daily walks and bringing her for regular vet check-ups.
Q: What advice would you give to prospective pet owners?
A: To always love and care for your pet even when you are busy. A pet is a lifetime responsibility and not something to play with only when you are bored.
Yoopi has her on Instagram page – you can follow @yoopilau for regular updates.

For more Pet Information
To learn more about the ins and outs of responsible pet ownership and animal welfare follow @AnimalBuzzSG or visit the Animal & Veterinary Service webpage here.
Check out five pet-friendly places in our parks and green spaces you can visit with your animal compainion, here.

Thinking about getting a pet? Here are five key considerations before you bring one into your home.

You are invited to the next edition of Pets' Day Out: a new initiative by NParks. This pets-centric event happens at a park and everyone's invited! Here are the details for the upcoming Pets' Day Out:

Date: 11 January 2020 (2 pm to 7 pm)
Venue: Bishan-Ang Mo Kio Park

There is a pet adoption drive if you are considering an animal for the family. Besides educational activities such as talks on pet care and training, you can also shop for your pets at the event.

Text compiled by Darius Tay
About the writer
Darius Bryant Tay Zyn Chong is a final year student at National University of Singapore, pursuing a Bachelor of Science (Life Sciences) degree. He is currently interning with NParks as part of his school's Final Year Internship project. During his five-month stint at NParks, he organised, produced and edited digital content for various platforms to inform the public about Singapore's native flora and fauna. His background in Life Sciences and interest in environmental issues and photography/videography led him to choose NParks as his preferred choice for his school's project.
Please email wong_yeang_cherng@nparks.gov.sg for more information on our internship programme.