Five Findings from Bukit Timah Nature Reserve Survey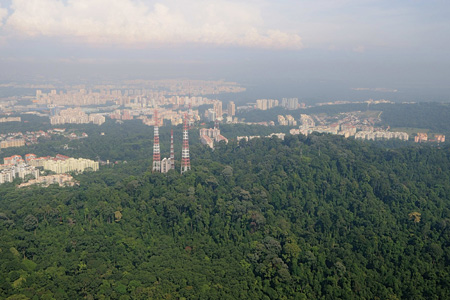 The 163-hectare Bukit Timah Nature Reserve is home to a diverse range of flora and fauna

Did you know that Bukit Timah Nature Reserve is home to some 55% of the native plant species and 84% of native amphibian species found in Singapore? This is in spite of its relatively small size of 163 hectares, which is only 0.23% the size of Singapore!


Significant Findings
In fact, around 200 species new to the Reserve were listed as part of a comprehensive survey, including 160 plant species. More than 30 species of spiders and 10 species of beetles were also found to be potentially new to Singapore, according to results shared in May 2019.

These findings are from both the updated survey, as well as previous surveys conducted by researchers from the Nanyang Technological University, National University of Singapore, NParks and subject experts.

Here are five notable findings from the survey:

1. Yellow-striped Caecilian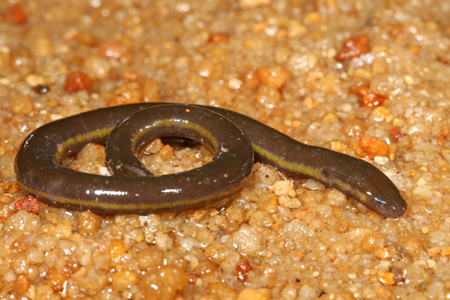 Photo credit: Noel Thomas
A Yellow-striped Caecilian (
Ichthyophis paucisulcus
) was recorded in a hill stream, which is also the first record of this amphibian since 1989. This very rare and poorly known snake-like amphibian species is known from Bukit Timah and Central Catchment Nature Reserves. It has adapted to living underground and has only been recorded a few times locally.
This illustrates the importance of the Reserve as a sustainable site for providing food and shelter for its inhabitants and conserving locally rare and elusive species.
2. Lasianthus attenuatus
Photo credit: Paul Leong Kiam Fee
Lasianthus
is a genus of about 180 species of subshrubs, shrubs and small trees distributed across the tropics.
Lasianthus attenuatus
and 10 other species are identified for Singapore. This uncommon species is easily recognised by its fruits which ripen blue and can be found in the forest understorey of the Bukit Timah and Central Catchment Nature Reserves.
3. Brown-chested Jungle Flycatcher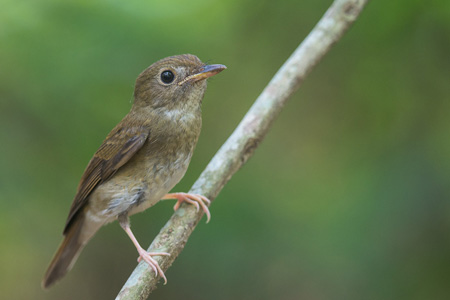 Photo credit: Francis Yap


Although it is no larger than the size of a human hand, the 15 cm long Brown-chested Jungle Flycatcher (
Cyornis brunneatus
) makes an impressive journey every year, flying south from its breeding grounds in central China to the forests of Sumatra in the winter months. Along the way, it stops at forested areas such as the Bukit Timah Nature Reserve and Sungei Buloh Wetland Reserve to rest and refuel. This species is globally threatened due to increasing habitat loss.

4. Straw-headed Bulbul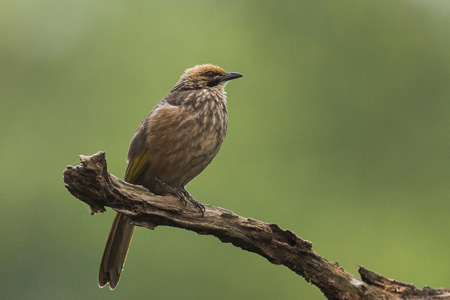 Photo credit: Franics Yap
The Straw-headed Bulbul (
Pycnonotus zeylanicus
) is the largest of the Southeast Asian Bulbuls and like most of its related species, it is arboreal and omnivorous. It inhabits riverine and coastal forests, breeding from December to August. The bird builds a nest high on trees and usually produces two eggs at a time. Unfortunately, its melodious chirps have made it popular in the cage-bird trade and trapping has wiped out many populations throughout its range. It is highly threatened in neighbouring countries but there are positive signs that its population in Singapore seems to be growing.
5. Aetius sp.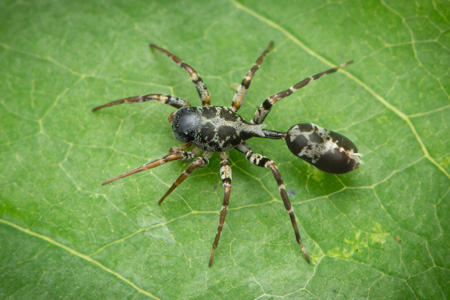 Photo credit: David J Court

Aetius is the name given to a small genus of ant-mimicking armoured sac spiders with a unique carapace (the hard top 'cover' of its front body). The carapace has a sand-paper texture and is broadly convex in front but abruptly narrows into a wedge-like structure at the back.

This species of spider, measuring only 3 to 4 mm, is characterised by an unusual forked or scissor-like tubular extension of the carapace, and is new to science. It can only be found in Singapore, within primary forest pockets in the Bukit Timah and Central Catchment Nature Reserves.


Fragility of the Nature Reserve

Despite the large number of new records, most of the species were not found in large or substantial quantities. This reflects the fragility of Bukit Timah Nature Reserve and the need for continual research and conservation efforts to build the resilience of the Reserve and allow for the conservation of its species.

From September 2014 to October 2016, the Reserve was closed to the public for restoration works and to give the forest an opportunity to recover. Researchers found that several tree roots were exposed due to the constant trampling of trails and soil compaction. As such, weak trees that were on elevated ground were more inclined to slide down the slope due to soil erosion. After the two years of closure, the slopes had stabilised.

Nature Parks and Nature Ways

Windsor Nature Park acts as a buffer to the Central Catchment Nature Reserve.
As part of a holistic conservation approach, some nature parks have been established on the margins of the Nature Reserves to act as green buffers. NParks enhances the habitats within these buffers so that they remain rustic and forested. In addition, nature parks buffer the Nature Reserves against developments that abut the Reserves.
Ecological connectivity between Nature Reserves and our parks and gardens is enhanced by Nature Ways. These are routes planted with layers of trees and shrubs that mimic the structure of the rainforest. They act as immediate habitats for animals and facilitate the movement of these animals between green spaces of high biodiversity. It is hoped that the enhanced ecological connectivity will not only strengthen the resilience of these green spaces, but it also brings nature closer to Singapore residents.
Interested to learn about the flora and fauna found in Singapore? Visit NParks Flora & Fauna Web
here
.
If you like what you read, follow us on Facebook, Instagram and Telegram to get the latest updates.

Text by Charlyn Ng and Darius Tay

About the writers
Darius Bryant Tay Zyn Chong is a final year student at National University of Singapore, pursuing a Bachelor of Science (Life Sciences) degree. He interned with NParks as part of his school's Final Year Internship project. During his five-month stint, he organised, produced and edited digital content for various platforms to educate the public about Singapore's native flora and fauna. His background in Life Sciences and interest in environmental issues and photography/videography led him to choose NParks as his preferred choice for his school's project.
Charlyn Ng is an undergrad at the Wee Kim Wee School of Communication and Information. She is currently in her third year and specialises in Media Research and Analytics. Ever since starting her internship with NParks, Charlyn has been heavily involved in collecting and analysing data from various NParks' social media platforms. Her efforts are focused on increasing the public awareness towards Singapore's biodiversity. She also conceptualised and organised photoshoots and wrote articles about NParks conservation initiatives.
Please email
wong_yeang_cherng@nparks.gov.sg
for more information on our internship programme.