The Joys of Gardening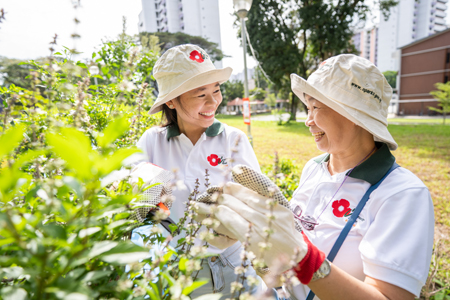 Why garden?

In our busy lives, some people may overlook gardening, seeing it as something retirees do, just to pass the time.

But as the recent 'stay at home' period demonstrated where, antedotally, it appears that plant sales have increased as well as the strong support for the Gardening with Edibles programme, more people have become interested in this pasttime.

After all, gardening goes beyond beautifying your house and common corridor or backyard and can actually benefit your physical and mental health. Need more convincing? Here are four simple reasons to get you interested in greening your thumbs:

1. Good For Your Body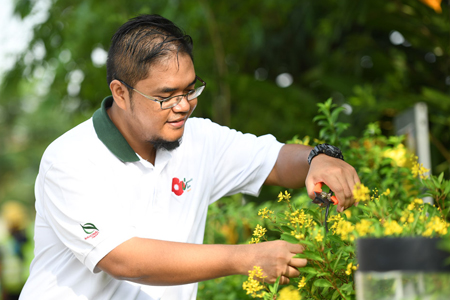 Gardening is good physical activity for anyone.

Gardening involves a lot of movement! Activities such as weeding, raking or even harvesting can help to burn up to 300 calories an hour!

All that motion and moving about also improves your flexibility and strengthens your joints and muscles. Some studies have shown that gardening can help to prevent osteoporosis as well as to decrease the risk of a heart attack. But remember, just like any physical activity, do some simple stretching before and after your gardening.

2. Boosts Your Mental Health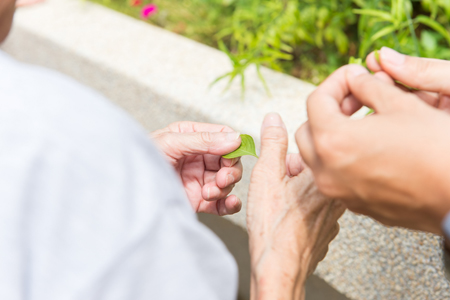 Gardening can help stimulate your sense of touch, smell and sight, helping to boost your mental well-being.

Besides physical health, gardening helps to reduce the levels of cortisol, a hormone produced by your body when you are stressed.

Your stress levels can be reduced by mindfulness, whereby your mind is only focused on the present moment and nothing else. This is achieved when you are concentrating on gardening and not worrying about anything else at that same time.

Gardening can also enhance your creativity, especially when you are planning the layout of your garden, or even choosing the colours of the plants to spruce up your home! The opportunity to touch and smell your plants can in turn, help to alleviate the onset of dementia.

Finally, more and more people now acknowledge and accept the therapeutic power of just being close to plants and the natural world. Research has shown that humans find comfort in, and are rejuvenated by, nature. This innate connection to nature is also known as biophilia.

3. Builds Bonds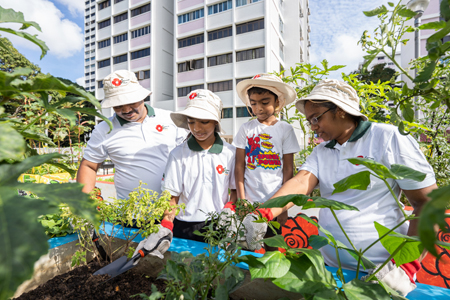 Gardening is a good activity that the whole family can do together.

Gardening is a great cross-generational activity to bring people together, especially family members who have been spending more time together during this period. While tending to the plants, the very young learn patience while seniors can impart the values of care and consideration to them, building stronger ties with one another.

And together, whatever the age, everyone can enjoy the fruits of their hard work caring for the garden. This can be beautiful flowers to admire, actual fruits to harvest, or the opportunity to get closer to butterflies or birds that may visit your garden.
Kids will love the sights and smells of being in a garden.

4. Enjoy the Fruits of Your Labour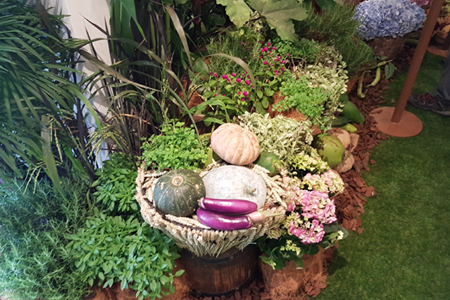 Why not grow edibles so that you can enjoy the fruits of your labour!

Of course, you can also grow fruit and vegetables in your own garden. Some edibles suitable for our tropical climate are cherry tomatoes, brinjal and kangkong (water spinach), just to name a few.

Growing your food may help to save costs in the long run as well. They will also be fresher than store-bought food, as you can choose the types of fertilisers and pesticides that come into contact with your food and the harvesting time. The time taken for the vegetables or fruits to reach your kitchen after they ripen will also be shorter.

When you can see the fruits of your labour, why not share the harvest and your interest in gardening with neighbours and friends? You can share your stories on social media with the hashtag #GardeningwithEdiblesSG!

Besides the multiple benefits of setting up your garden, or growing your plants, gardening provides a sense of accomplishment as well. If you are keen on gardening but never had the opportunity to embark on it, why not start now?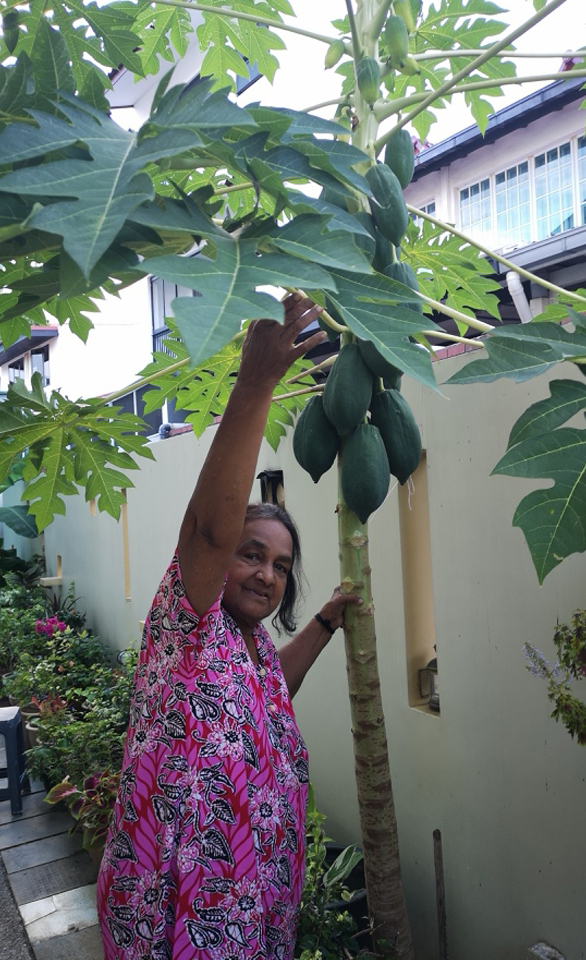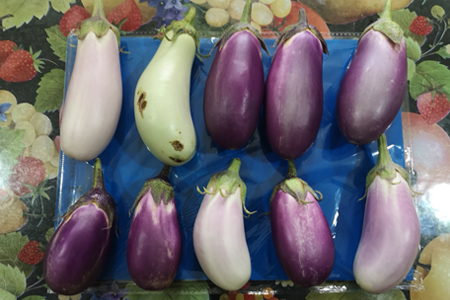 A gardener for 50 years, 82-year-old Mdm Mahendran Sahiyadevi can enjoy fresh fruit and vegetables such as papaya, brinjal and lady's fingers, grown in her own yard.
Photo credit: Mahendran Rudrarani

Gardening with Edibles
The City in Nature vision seeks to bring greenery closer to all residents. The community plays a key role in the ownership and stewardship for nature which will benefit our health and well-being.

NParks is also partnering residents to make Singapore our City in Nature and spark a love for community gardening through the Gardening with Edibles initiative launched in June 2020. Under this programme, some 400,000 free seed packets will be distributed to interested members of the public. Relevant resources are also available online, to guide gardeners along the way.

NParks is also expanding the allotment gardening scheme and the Community in Bloom programme, to welcome even more residents into the gardening family.

The Gardening with Edibles initiative is aligned with Singapore's national strategy to strengthen our food resislience. The "30 by 30" goal, led by the Singapore Food Agency, aims to produce 30% of Singapore's nutritional needs locally by the year 2030. The programme is jointly funded by founding partners DBS Bank and Tote Board through the Garden City Fund.

Learning More
If you are a gardening newbie, visit NParksSG, our refreshed YouTube Channel that serves as a one-stop repository for close to 300 video resources. It covers topics ranging from types of soil needed for your garden and how to plant, harvest and even cook your edibles.

If you are heading to our green spaces, do the right thing and be socially responsible. Maintain a safe distance from other park goers and keep to not more than five persons in a group. Always wear a mask except when you are engaged in strenuous exercise or when consuming food, drink or medication.

Do check out the visitorship levels of our parks using our safe distancing portal before you head down and avoid the ones with high visitorship.

For more information about the flora and fauna found in Singapore, please visit NParks Flora and Fauna Web.

If you like what you read, follow us on Facebook, Instagram, Telegram and YouTube to get the latest updates.

Text by Sarah Anne Tan

About the writer

Sarah Anne Tan is a Third Year Communications and Media Management student from Temasek Polytechnic. As part of her school's Student Internship Programme, she was attached to the NParks' Communications and Community Engagement department for five months. During this time, she contributed ideas towards social media posts, produced videos and wrote articles for My Green Space.

Please email wong_yeang_cherng@nparks.gov.sg for more information on our internship programme.