Learning About Cuckoos
The cuckoos belong to the Cuculidae family that includes roadrunners, anis, malkohas and couas. They are one of the more well-known bird families due to their unique breeding habits.

Many species lay their eggs in the nests of other birds and rely on these "foster parents" to raise their young. However, some members of the family, like malkohas, do build their own nests as well.

Learn about six different species of cuckoos you can spot, and often hear, in Singapore!

Greater Coucal
The Greater Coucal (Centropus sinensis) has a glossy black plumage, chestnut wings and red eyes. Measuring about 52 cm, this species is a large, crow-like bird.

The Greater Coucal is more often heard than seen as its skulks in the dense understorey of forests. Its call is a prolonged series of deep booms. It is uncommonly sighted in various nature parks in Singapore and is widespread throughout Southeast Asia.

Lesser Coucal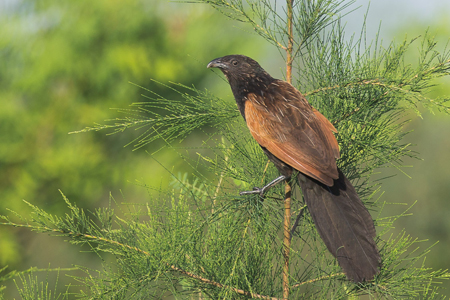 With its chestnut wings and black plumage, the Lesser Coucal (Centropus bengalensis) is physically similar to the Greater Coucal. However, as its name suggests, the Lesser Coucal is smaller in size, measuring about 37 cm. It also lacks a red eye and is heavily streaked on its head, wings and back.

Unlike the Greater Coucal, it inhabits grasslands where it is usually seen sunning itself on the top of shrubs in the early morning or after periods of heavy rain. It typically makes a call of "ko-kok, ko-kok!".

Asian Koel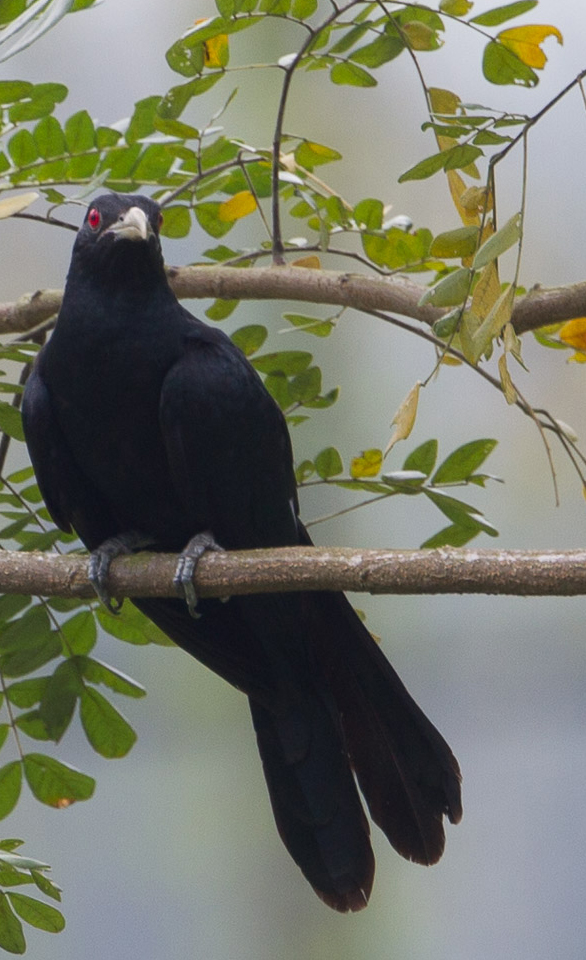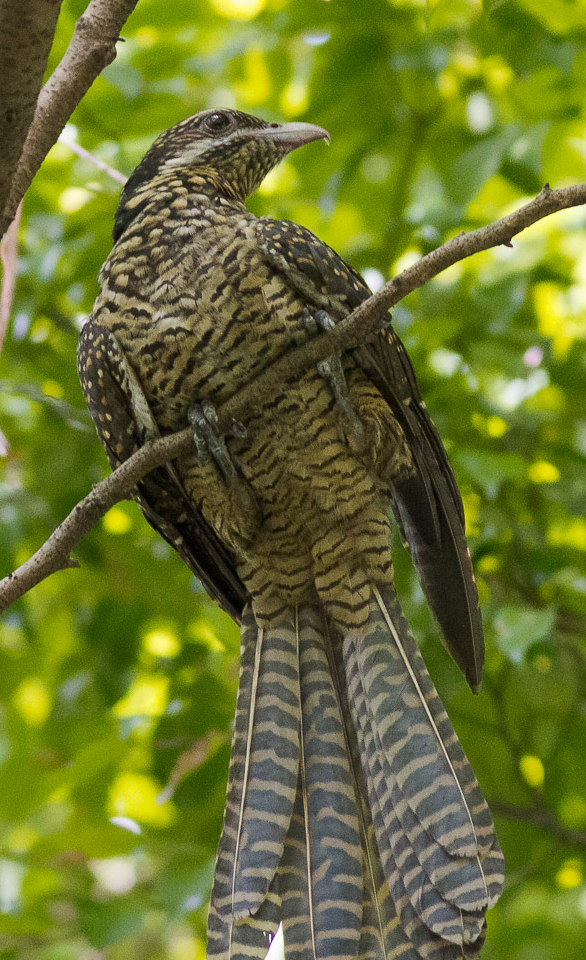 Unlike the other cuckoos featured in this article, male and female Asian Koels (Eudynamys scolopacea) look different. The male (top left) has a uniformly glossy black plumage, while the female (top right) is generally brownish with numerous barrings and spots

Measuring around 42 cm, the Asian Koel is found in most parts of Southeast Asia. It can be spotted in a variety of habitats, including urban areas. It is a brood parasite of the introduced House Crow and helps keep the population of this invasive species in check. This species has a call which many of us are familiar with: "Ko-el, Ko-el!".

Malaysian Hawk-cuckoo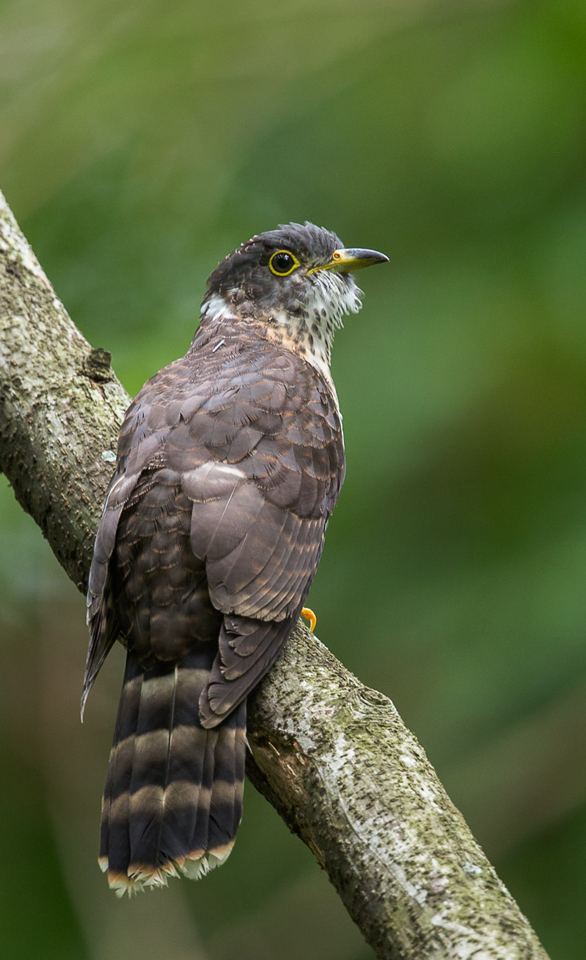 The Malaysian Hawk-Cuckoo (Hierococcyx fugax) is an uncommon visitor to Singapore. It has a dark grey-brown head and a white-hind collar. Its upperparts are dark brown with black bars across its ashy-grey tail, while its underparts are creamy white with bold black streaks.

Measuring at about 30 cm, this species is usually observed in Singapore's forests and well-wooded parks during the migratory season between October and April.

Chestnut-bellied Malkoha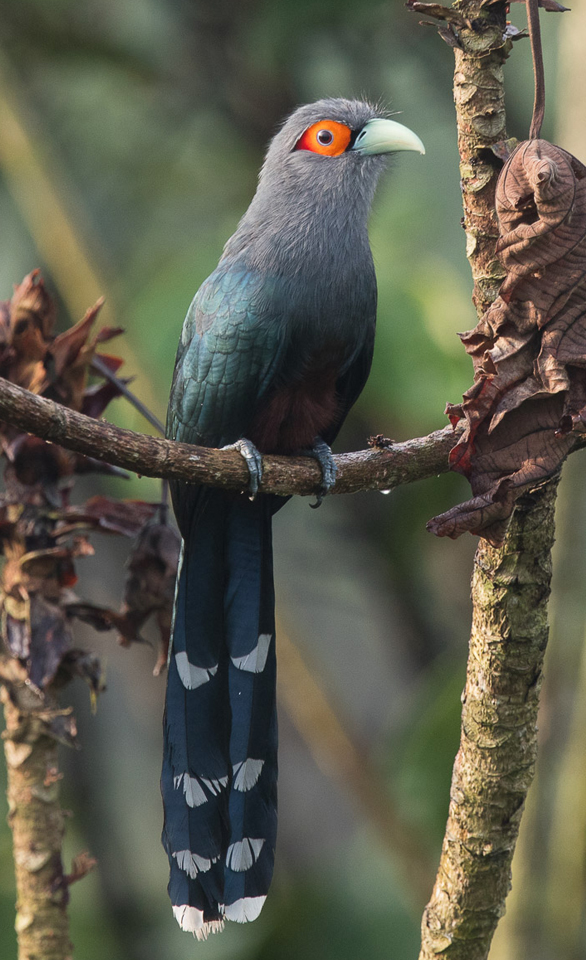 The Chestnut-bellied Malkoha (Phaenicophaeus sumatranus) is a large bird, measuring about 40 cm with a light grey head, throat and chest. It has glossy dark green upperparts and wings, a light green bill, a long tail with white tips and a prominent red patch around its eyes.

It is the only remaining Malkoha species in Singapore, and is regularly encountered within our nature reserves. This species generally lives in the forest canopy where it moves around in pairs feeding on insects and small animals. Unlike many cuckoos, this species builds its own nest to raise its chicks.

Learning More

Want to learn more on identifying garden birds? During this period, you can do so even without leaving your house! Learn more about our common birds through our interactive e-learning module, accessible via Internet Explorer or Mozilla Firefox browser.

Visit NParksSG, our refreshed YouTube Channel that serves as a one-stop repository for close to 300 video resources. It also provides you a platform for existing and future digital outreach including DIY gardening and related crafts, virtual tours of our green spaces, and livestream events.

If you are heading to our green spaces, do the right thing and be socially responsible. Maintain a safe distance from other park goers and keep to not more than five persons in a group. Always wear a mask except when you are engaged in strenuous exercise or when consuming food, drink or medication.

Do check out the visitorship levels of our parks using our safe distancing portal before you head down and avoid the ones with high visitorship.

For more information about the flora and fauna found in Singapore, please visit NParks Flora and Fauna Web.

If you like what you read, follow us on Facebook, Instagram, Telegram and YouTube to get the latest updates.

Text by Charlyn Ng
Photos by Francis Yap

About the writer

Charlyn Ng is an undergrad at the Wee Kim Wee School of Communication and Information. She is currently in her third year and specialises in Media Research and Analytics. Ever since starting her internship with NParks, Charlyn has been heavily involved in collecting and analysing data from various NParks' social media platforms. Her efforts are focused on increasing the public awareness towards Singapore's biodiversity. She also conceptualised and organised photoshoots and wrote articles about NParks conservation initiatives.

Please email wong_yeang_cherng@nparks.gov.sg for more information on our internship programme.