Who, What and Where of Wallace
You have probably heard about Charles Darwin, but did you know that Alfred Russel Wallace also developed the theory of evolution by natural selection?

Who: Singapore Connection
Dr Alfred Russel Wallace (1823 – 1913) was a British naturalist, anthropologist and biogeographer. In 1854, Wallace began an eight-year exploration of the Malay Archipelago. This is the largest archipelago in the world, with 25,000 islands. It lies between Southeast Asia and Australia, and includes the present-day countries of Singapore, Malaysia and Indonesia.

During his journeys, he made several stopovers in Singapore, collecting about 700 species of beetles in the vicinity of the present-day Dairy Farm Nature Park. In fact, Singapore was used as his base for his regional operations and Wallace wrote enthusiastically in his journals of his productive explorations of local areas.


During his stay in Singapore, Wallace bunked at the St. Joseph's Church in Bukit Timah. He trekked through the nearby forests to survey Singapore's biodiversity. He was worried about deforestation in Singapore and worked to quickly document the biodiversity that he found here. He documented the new species he encountered by making illustrations of them.

What: Contribution to Science
Wallace returned to his native London in 1862, armed with a collection of some 125,600 wildlife specimens of insects and birds he observed and collected in Southeast Asia. About 1,000 of these species were new to science at that time.

His eight-year foray into Southeast Asia's natural history is chronicled in his book, The Malay Archipelago. First published in 1869, the book describes the region's flora and fauna and provides some initial evidence supporting the theory of evolution by natural selection. It was one of the most popular and influential journals of scientific exploration of its time and remains a significant work of natural history today.

Wallace came to the same conclusion on the process of evolution through natural selection at about the same time Darwin did. It was the same theory that Darwin had dabbled with for some time but had yet to publish. They communicated and collaborated with each other on the idea of natural selection. Reportedly, a letter from Wallace spurred Darwin into action and two months later, Darwin presented a paper on the subject acknowledging Wallace's contributions in it.
Where: Exploring Wallace Education Centre and Wallace Trail
To recognise Wallace and his contribution to conservation in Singapore, the Wallace Education Centre and the Wallace Trail were developed in Dairy Farm Nature Park in 2009.

The Centre is housed in a converted old cow shed that was erected when this area in the foothills of Bukit Timah was the home of a dairy farm. The farm was set up to meet the need for high-quality pasteurised milk for children of expatriates living in Singapore in the 1930s.


There is also a new permanent exhibition showcasing Wallace's scientific discoveries and Singapore's rich biodiversity at the Centre. The exhibition houses 3D models of biodiversity found in Dairy Farm Nature Park, a conservation-themed video game, a trick-eye wall and a 2.2 m tall walk through display of Wallace's book, The Malay Archipelago.

Meanwhile, an enhanced Wallace Trail with refreshed educational signs was opened in December 2020, providing visitors with the opportunity to discover the flora and fauna found in the area through the eyes of Wallace himself.
Experience it for Yourself
Wondering what to expect along the Wallace Trail? Here are some flora and fauna you can expect to find there.
1. Figs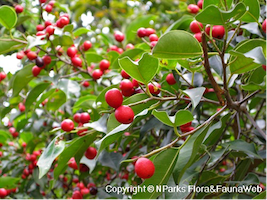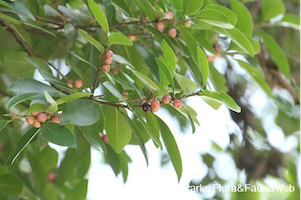 Look out for the (left) Weeping Fig and the (right) Malayan Banyan Fig while on the trail.
Photo credit: (Left) Ricky Yeo and (right) Ang Wee Foong


Along the trail, be sure to look out for Fig trees. They can be easily recognised from the small and round fruits on the tree trunks. The fig 'fruit' is actually a tiny bouquet of flowers turned inside out such that the reproductive parts are enclosed in a fruit-like case.

Figs are important sources of food for animals as they are widely distributed. There are some 900 species of figs in the tropical regions of which the majority are found in Southeast Asia. In Singapore, we have 48 species of native figs.

Look out for four common species along Wallace Trail: Weeping Fig (Ficus benjamina), Malayan Banyan Fig (Ficus microcarpa), Common Yellow-stem Fig (Ficus fistulosa) and Common Red-stem Fig (Ficus variegata).
2. Squirrels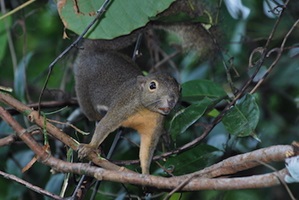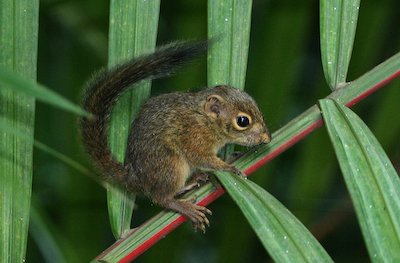 At 20 cm, the Plantain Squirrel (left) is larger than the Slender Squirrel (right), which measures about 15 cm.
Photo credit: Daniel Ng and Robert Teo


The Plantain Squirrel (Callosciurus notatus) and Slender Squirrel (Sundasciurus tenuis) can be spotted here. The Plantain Squirrel measures about 20 cm and has black and white stripes and a long bushy tail, while the Slender Squirrel takes on a greyish appearance. These are native animals that live on the trees of the nature park.

The Plantain Squirrel is active both in the day and night, feeding on a mix of animal and plant materials. It uses twigs to build a spherical nest. The Slender Squirrel has a similar diet as the Plantain Squirrel, but at about 15 cm, is smaller in size.


3. Torch Ginger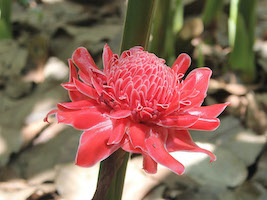 The Torch Ginger has an eye-catching inflorescence.
Photo credit: Pauline Tay

The striking bulb of the Torch Ginger (Etlingera elatior) is also known as the Rojak flower. It is an indispensable ingredient in rojak and many nonya dishes. This is a large herbaceous plant that grows to between 3 to 6 m tall. It has banana leaf-like leaves that are green with wavy leaf margins and a distinct groove along the midrib.
4. Durian Trees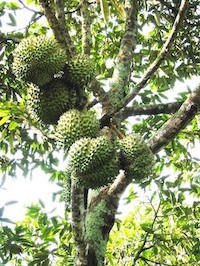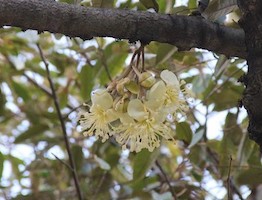 Most people can easily spot the fruit of the Durian tree, but can you recognise its bright yellow flowers that bloom at night, releasing a strong odour to attract bats which are the main pollinators. Photo credit: Boo Chih Min and Jessica Teo

You will definitely be able to spot some Durian trees on this trail. Just keep a lookout for leaves with coppery or golden undersides!

Generally, Durian trees can grow up to 40 m in height, with a straight trunk and almost horizontal branches near the upper region of the trunk. Its bark is rough and scaly, a grey to reddish brown colour. It produces flowers that are large, white, cream or yellow in colour, and growing as bunches on the branches of the tree. They are pollinated by bats.

The Durian is widely cultivated in Southeast Asia for its unmistakable large spiny fruits that split open to expose its creamy white flesh. Did you know that it was reported that Wallace was the first to describe the durian as 'The King of Fruits'? In one of his journals, he praised the fruit for its unique appearance, texture, flavour and even its odour!
5. Common Mormon
Can you tell the difference between the male and female Common Mormon?
Photo credit: Jason Yong

Spot the male Common Mormon (Papilio polytes romulus) with its large whitish-yellow spots running across the hindwing, or the female butterfly with its black body and red spots on the hindwings. The Common Mormon belongs to a group of butterflies called swallowtails, named for the long tails that extend from their hindwings.

The best time to catch butterflies in action is when it is sunny, usually from 9.30 am to 3 pm. The Common Mormon flies low within ten feet off the ground, so you can keep a lookout for it along the trail.
Learning More
If you are heading to our green spaces, do the right thing and be socially responsible. Maintain a safe distance from other park goers and keep to not more than eight persons in a group, with no intermixing between groups. Always wear a mask except when you are engaged in strenuous exercise or when consuming food, drink or medication.

Do check out the visitorship levels of our parks using our safe distancing portal before you head down and avoid the ones with high visitorship. Learn about some simple do's and don'ts when visiting our Nature Reserve and Nature Parks here.

Visit NParksSG, our refreshed YouTube Channel that serves as a one-stop repository for close to 300 video resources. It also provides you a platform for existing and future digital outreach including DIY gardening and related crafts, virtual tours of our green spaces, and livestream events.
For more information about the flora and fauna found in Singapore, please visit NParks Flora and Fauna Web.
If you like what you read, follow us on Facebook, Instagram and Telegram to get the latest updates.


Text by Charlyn Ng
About the writer
Charlyn Ng is an undergrad at the Wee Kim Wee School of Communication and Information. She is currently in her third year and specialises in Media Research and Analytics. Ever since starting her internship with NParks, Charlyn has been heavily involved in collecting and analysing data from various NParks' social media platforms. Her efforts are focused on increasing the public awareness towards Singapore's biodiversity. She also conceptualised and organised photoshoots and wrote articles about NParks' conservation initiatives.
Please email wong_yeang_cherng@nparks.gov.sg for more information on our internship programme.