The Story of Native Forests
Singapore's landscape features a rich palette of green cover.
Our native vegetation is the tropical rainforest and the most ecologically diverse of this – the primary rainforest – can be found in places such as the Bukit Timah Nature Reserve and Central Catchment Nature Reserve.
The primary rainforests are often fringed by mature secondary forests with a rich diversity of native species. Examples of these can be found in the Central Catchment Nature Reserve and the Dairy Farm, Hindhede and Windsor Nature Parks.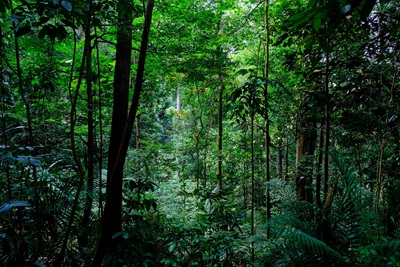 Primary rainforest in Bukit timah Nature Reserve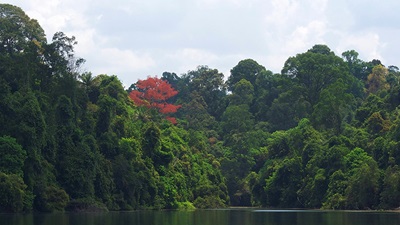 Mature secondary forest in the Central Catchment Nature Reserve
There are also younger secondary forests which are dominated by native pioneer species. For example, the Adinandra belukar is a secondary forest found in areas where past agricultural activities have resulted in degraded soil. Hence, they tend to be dominated by species that are able to thrive in such conditions.
Besides these, there are stretches of greenery populated by exotic species which have taken root on land that has been left fallow. These include grasslands and scrublands dominated by weeds such as Guinea Grass (
Urochloa maxima
) and Mimosa (
Mimosapudica
), and young forests dominated by fast-growing non-native species such as Albizia (
Falcataria moluccana
), Lead Tree (
Leucaena leucocephala
) and the Snake Tree (
Cecropia pachystachya
).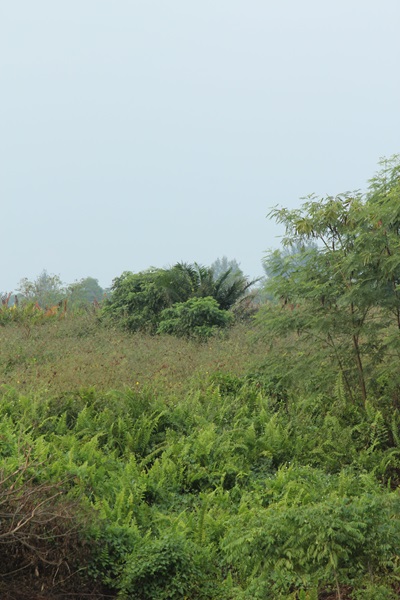 Scrublands on Semakau Island
The non-native species tend to dominate young forest growth and crowd out native trees. Albizias, for example, can grow up to 4 m a year, unlike the native Kempas (
Koompassia malaccensis
) which grows about 1 m. They also pose a safety issue because of their short life span, shallow root system and brittle wood structure which makes their branches more prone to snapping.
In prioritising Singapore's conservation efforts, NParks is cognisant of these different shades of green and continues to be guided by science. Different conservation strategies will be applied in various areas, depending on the size and type of vegetation and ecological connectivity to other green spaces.
Core biodiversity areas are protected as nature reserves, and buffer areas have been
established to protect them from abutting developments. Under the Forest Restoration Action Plan, which is part of Singapore's Nature Conservation Masterplan, ecological processes and biodiversity in our native rainforests are being restored and enhanced with the help of the community. For example, nitrogen-fixing species are being planted to improve the soil conditions and exotic weeds that compete with our native species are being removed.
Meanwhile, exotic species which prevent native species from taking root will have to be managed, and tracts of exotic-dominated secondary vegetation may have to give way to competing demands for land use. It is important, therefore, to look at our nature areas as a whole and adopt a strategic, science-based approach that will ensure sustainability in our efforts to protect Singapore's natural heritage.
Our City In Nature

Over the years, NParks has created a green network comprising roadside planting and a Park Connector Network that links up parks and other green spaces. Skyrise greenery dot developments while biophilic design has been adopted in restoring habitats.

But as Singapore continues to urbanise, the growing infrastructure will put increasing pressure on the established green cover. Coupled with climate change and more extreme weather conditions, this will result in higher urban temperatures and the increased risks of localised flooding events. Our City in Nature vision works to ensure the city develops in a way that continues to provide a high-quality living environment for residents while ensuring Singapore remains a distinctive global city.

Learn more about City in Nature here.

Learning More

If you are heading to our green spaces, do the right thing and be socially responsible. Maintain a safe distance from other park goers and keep to not more than five persons in a group, with no intermixing between groups. Always wear a mask except when you are engaged in strenuous exercise or when consuming food, drink or medication.

Do check out the visitorship levels of our parks using our safe distancing portal before you head down and avoid the ones with high visitorship. Learn about some simple do's and don'ts when visiting our Nature Reserve and Nature Parks here.

Visit NParksSG, our refreshed YouTube Channel that serves as a one-stop repository for close to 300 video resources. It also provides you a platform for existing and future digital outreach including DIY gardening and related crafts, virtual tours of our green spaces, and livestream events.

For more information about the flora and fauna found in Singapore, please visit NParks Flora and Fauna Web.

If you like what you read, follow us on Facebook, Instagram and Telegram to get the latest updates.