Bringing A Pet Into Singapore
The Covid-19 pandemic may have curbed much of leisure travel for the last year or so, but people are still travelling to and from Singapore, often relocating to Singapore for an extended period of time.

Besides moving personal items, some are also hoping to bring their pets to Singapore. What are some things you need to prepare before doing so? Here are some key factors to consider and requirements to fulfil before making that trip.

(1) Identification of Rabies Risk Category
Different countries/regions have been categorised according to their rabies risk status. This means dogs and cats coming into Singapore from these countries/regions are also subject to different veterinary conditions.

These conditions include vaccinations, blood tests and parasite treatments, and need to be fulfilled within specific time frames before the importing of the pet is approved. Why is this necessary?

"Singapore has been rabies-free since 1953, and there have also been no cases of lyssaviruses including rabies in local wildlife. However, the disease is endemic in many countries. Given the risk of rabies incursion, Singapore has instituted strict import control and quarantine measures to mitigate the risk of disease incursion," explained Dr Kelvin Lim, Director, Veterinary Public Health of the Animal & Veterinary Service (AVS)
(2) Breed of your Dog or Cat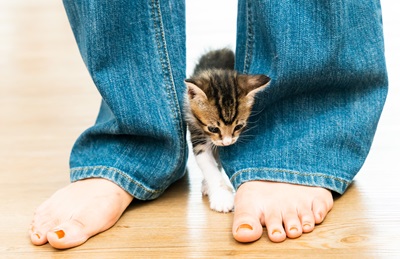 Not all breeds of dogs or cats are allowed into Singapore. For example, dog breeds such as Akita, Neapolitan Mastiff and Pit Bull, among others, and first to fourth generation Bengal or Savannaj cat crosses, cannot be brought into Singapore. So do check what breeds are allowed. You also need to check that your pet will be allowed at your intended residence in Singapore. For example, only selected dog breeds can be kept in a Housing Development Board (HDB) residential flat. Non-HDB residential premises may also have specific rules on keeping cats, so do speak with your building management ahead of time.

(3) Rabies Vaccination and Serology Test
Dogs and cats coming from certain countries must have valid rabies vaccination supported by vaccination records upon arrival in Singapore. Current vaccinations and booster date must also be recorded as part of the documentations. A blood sample taken and tested for acceptable rabies antibody levels must be done for your pet, at least 30 days after the above vaccination. The antibody level must be at least 0.5 IU/ml. Additionally, at each veterinary visit for testing or vaccination, ensure that your dog or cat is scanned and the microchip number is recorded on all documentation.

(4) General Vaccinations
Ensure that your dog has valid vaccination against canine distemper, canine hepatitis and canine parvoviral infection supported by vaccination records upon arrival in Singapore. Cats must have valid vaccination against cat flu (feline calicivirus and feline viral rhinotracheitis) and cat enteritis (that is, feline panleukopenia/ feline parvovirus) supported by vaccination records upon arrival in Singapore. These vaccinations must be given in accordance to their respective manufacturer's recommendations to ensure continued protection against these diseases.

Your pet's microchip number must be indicated in all vaccination records.

(5) Quarantine Space
Depending on where you are arriving from, your pet dog or cat may need to be kept at the Animal Quarantine Centre for some days before they are returned to you.

These quarantine services are to help to ensure that exotic diseases such as rabies are not introduced into Singapore. Do reserve a quarantine space through AVS at least three to six months before your dog's or cat's anticipated arrival into Singapore.

While this time apart may be a stressful experience, owners can visit their imported pets undergoing quarantine to spend time with them.

Mr David Than was one such pet owner whose dog, Trixie, had to be quarantined after arriving from China, last year. He recalled, "It was a stressful time in trying to ensure Trixie could arrive in Singapore as her flight kept getting delayed by the day. So I heaved a sigh of relief when at the eleventh hour, the cargo plane finally took off from Shanghai."

"During her quarantine, I had the opportunity to visit her multiple times and was also able to chat with the Centre's staff. I will say wholeheartedly, the service provided has been exemplary with the current resources at hand. Everyone deserves praise for their commitment and dedication to their duties and responsibilities," he added.

(6) Dog and Import licence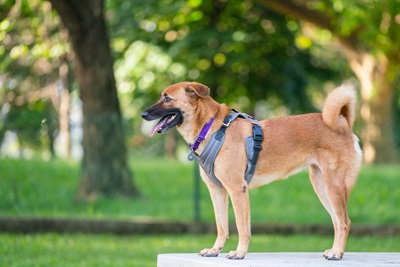 If you are importing a dog, you must obtain a dog licence before applying for an import licence. Do note that the dog licence cost varies depending on a variety of conditions. An import licence is valid for 30 days from the date of issue. Its cost also varies.

(7) Inspection for your dog or cat
You also need to book a time slot for inspection of your dog or cat. This must be made at least five days before the animal's arrival. Bringing your pet for an inspection without a prior appointment will incur an additional fee.

Dogs and cats entering Singapore by air are inspected at the border control office located at Changi Airfreight Centre. Dogs and cats entering Singapore from Malaysia vialand can only do so from Tuas Checkpoint.
(8) Veterinary Health Certificate
You must obtain a veterinary health certificate certifying that your dog or cat fulfils the required veterinary conditions for import, is healthy, and is free from any clinical sign of contagious or infectious disease and fit for travel at the time of export.
Your dog or cat must also be treated for external and internal parasites.

This article is just a summary outline of the key considerations you must have before importing your pet. For more details as well as some of the necessary documents you must fill out, visit the AVS website
here
.
Opening of Animal Quarantine Centre
The Animal Quarantine Centre at Jalan Lekar was officially opened on 26 November 2021. This is where dogs and cats that just arrived in Singapore can be quarantined temporarily, so that they can be monitored for any potential diseases. The Centre was formerly located in Sembawang.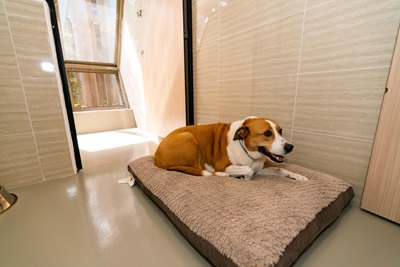 Dogs and cats arriving in Singapore may have to be quarantined temporarily in the Animal Quarantine Centre, so that they can be monitored for any potential diseases.
The new purpose-built facility is designed to cater to the health and welfare of animals, by providing a green, well-ventilated environment for the animals, and leveraging technology tools that can help monitor the animals. It also includes fields where pet owners can walk their dogs.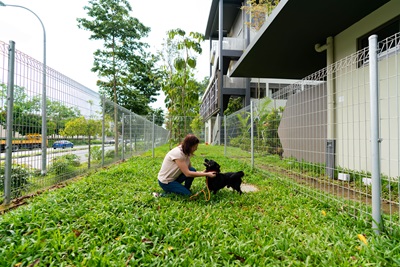 Owners can take their dogs for walks in specially allocated green spaces in the Animal Quarantine Centre.
Mr Lawrence Lam's family was satisfied by the care their dog, Sonia, received from staff of the Centre. His daughter said Sonia was kept clean and well-fed throughout her stay in quarantine.
The Animal Quarantine Centre forms an integral part of AVS's biosurveillance strategy to manage the threat of animal and zoonotic diseases, and safeguard public and animal health.
Learning More
Visit NParksSG, our refreshed
YouTube Channel
that serves as a one-stop repository for close to 300 video resources. It also provides you a platform for existing and future digital outreach including DIY gardening and related crafts, virtual tours of our green spaces, and livestream events.
To learn more about the ins and outs of responsible pet ownership and animal welfare, follow
@AnimalBuzzSG
or visit the
Animal & Veterinary Service webpage
.
If you like what you read, follow us on
Facebook
,
Instagram
and
Telegram
to get the latest updates.
Text compiled by Felix Siew