Our City in Nature Explained: Climate Resilience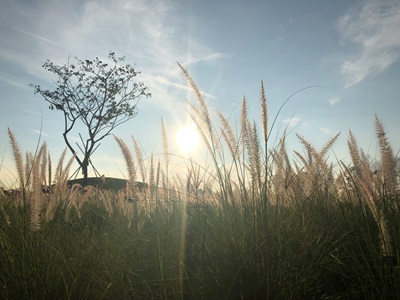 If it feels like the weather seems even hotter or wetter than before, you are not imagining things. These are the impacts of climate change, which can bring about extremes in weather.
From 1980 to 2020, the annual mean temperature for Singapore has increased from 26.9°C to 28.0°C, while rainfall has become more intense, with the annual total rainfall from 1980 to 2019 increasing at an average rate of 67 mm every 10 years.
As such, we need to look at how to build our climate resilience – the ability to cope with and reduce the impacts of climate change. Singapore is currently tackling climate change under the Singapore Green Plan 2030, of which NParks' City in Nature vision forms one of the key pillars.



Nature Ways such as Kheam Hock Nature Way help to beautify and keep roads cool, while providing shelter and food for animals such as birds and insects.


Greenery plays a major role in our City in Nature, helping to cool down our surroundings and regulate the climate. NParks has carefully curated greening plans to restore nature into the built environment, including:
Lining streets with Nature Ways, a multi-tiered planting scheme that aims to create a forest-like structure along roads;
Planting more trees in industrial estates (which are actually among the hotter areas in Singapore!); and
Increasing the amount of skyrise greenery (e.g. vertical green walls and rooftop gardens) on buildings and infrastructure.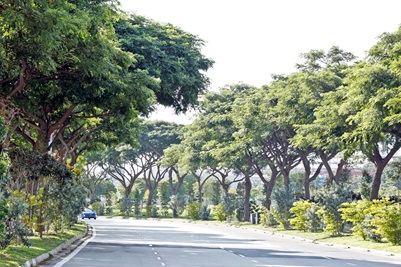 Jurong Island Highway, located on Jurong Island, has been enhanced with trees that provide shade, colour and vibrancy.
At the same time, NParks is working on making waterbodies in parks and green spaces more natural. Transforming concrete canals into naturalised rivers and reservoirs into naturalised lakes means they are able to catch and retain larger amounts of rainwater, giving us additional protection from floods due to increased rainfall. At the same time, they provide more recreational opportunities for park visitors and habitats for biodiversity.
These are just two nature-based solutions NParks has adopted to address the impacts of climate change. For more information on the other ways we can make Singapore climate resilient, watch this video.
Everyone has a role to play in building Singapore's climate resilience, and you can take action too! Be involved in the OneMillionTrees movement to help plant one million additional trees throughout the island, such as at park connectors, nature reserves, and nature parks, or bring greenery to your neighbourhood through the Community in Bloom programme. You can also join the Friends of the Parks initiative to contribute ideas to help shape and manage our parks.
Text by Victoria Cheong