Contest July 2021
In this issue, we are giving away three Singapore Botanic Gardens' Metal Landmark Bookmark Sets.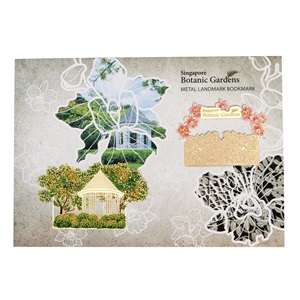 Colourfully wrought in sturdy metal, this bookmark set features two landmarks found in the Singapore Botanic Gardens, Tanglin Gate and the Bandstand. The Tanglin Gate is the main entrance to the Gardens, welcoming visitors to the oldest part of the Gardens, established at Tanglin in 1859. Erected in 1930, the octagonal gazebo known as the Bandstand was previously used for music performances by military bands for many years, and is now a popular spot for painters and wedding photography.

Simply answer the questions below and you could be a lucky winner!

In the article, "From Flower to Fruit", we find out about commonly seen pollinator-attracting plants in Singapore. According to the article,
What colour are the petals of the Coral Vine (Antigonon leptopus)?

What is the common name of the host plant for the Knight butterfly (Lebadea martha parkeri)?


Contest closes on 23 July 2021. Provide your answers to this link, together with your name, e-mail address, mailing address and contact number.

NParks Buzz May 2021 Contest Winners:
Ellen Choo
Amanda
Marianne Ang
NParks Buzz June 2021 Contest Winners:
Will be announced in the next issue.