Bigger, Bolder and More Beautiful
Still need convincing that gardening has indeed taken root in Singapore?

Just consider the quality of entries received over the years for the Community Garden Edibles Competition (CGEC). Established in 2015, the CGEC is an annual event that unites people through their love for gardening and a platform for them to showcase their harvest. It enables both novice or seasoned gardeners to share their skills and passion in growing edibles, as well as to display the fruits (and vegetables!) of their hard work.
In this competition, the fruits and vegetables are judged based on length or weight, as well as colour and freshness, within their crop type sub-category. The first edition of the CGEC saw over 600 submissions, and the calibre of submissions has improved tremendously in size, freshness and vibrancy across the years.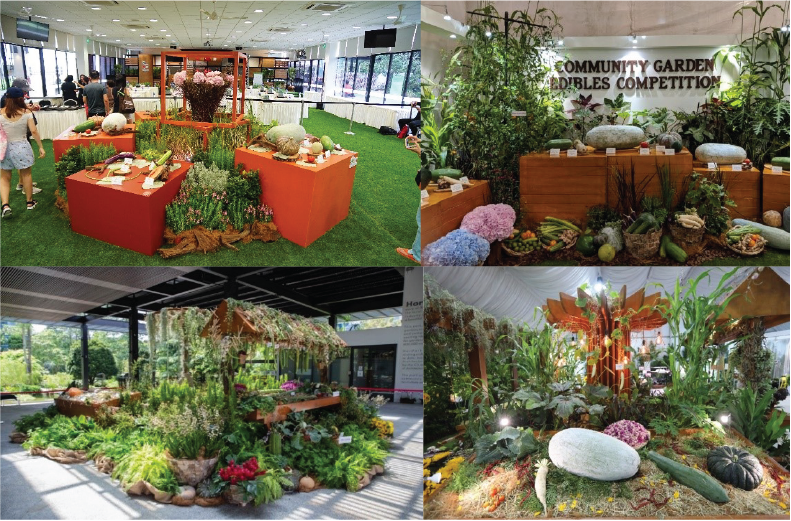 Displays of winning entries of the CGEC over the years (clockwise from top left): 2017, 2018, 2019 and 2021
Charting Gardening Trends
Over the years, the types of fruit and vegetables grown for the competition have shown certain trends. For instance, the number of submissions for the Radish and Cherry Tomato sub-categories grew significantly. It is likely that these crops, being smaller in size, are easier to grow and thus favoured among gardeners who live in apartments. Moreover, their seeds are readily available and it helps that they are frequently used in cooking as well.
There was also an increase in Luffa and Winter Melon entries. Interestingly, such large edibles have a creeping growth habit that requires a larger space with support structures for them to flourish. The growing interest in community and/or allotment gardening might be the main reason for more Luffa and Winter Melons submissions! Under the Community in Bloom (CIB) programme and allotment gardening scheme, gardeners have access to bigger planting beds and ample sunlight, conditions needed for cultivating these crop types.
At the same time, the category composition of the competition has evolved over time. Some crop types were retained due to their popularity while others were changed – the Bitter Gourd, Cabbage and Sweet Melon were replaced due to their perishable nature. As the competition is held over a few days, the competition entries need to remain in good condition until the end of the event for judging and display. As such, hardier or more lasting crops were introduced instead – namely Sword Bean and Cauliflower for the recent CGEC 2021 March edition.
The upcoming CGEC 2021 October edition will welcome Sword Bean and Cauliflower entries again, along with the ever-popular Lady's Finger and Pumpkin sub-categories. As these crop types can be more challenging to cultivate, they help to engage the gardeners' interest in growing them and promote horticultural excellence as well.
The Open Category will also return for the CGEC 2021 October edition. Introduced in the March 2021 edition, the Open Category saw the submission of over 100 unusual and/or uncommon fruits and vegetables of different varieties. Participants surprised the judges with an assortment of lesser-grown edibles including the Chester Thornless Blackberry plant and Kohlrabi.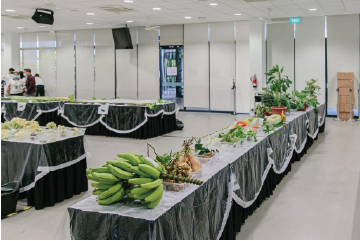 Various edibles submitted for the Open category in the CGEC 2021 March edition
The top three entries in the newly introduced open category in the CGEC 2021 March 2021 edition (from left): Kohlrabi, Chester Thornless Blackberry plant and Gac fruit
Thinking Bigger, Bolder and More Beautiful
With each new edition of the CGEC, submissions keep getting better in quality. Year by year, the top three entries for the Pumpkin, Radish and Snake Gourd sub-categories are noted to be increasing on average in weight/length. The colour, quality and freshness of edibles on the whole have also improved across the competition categories.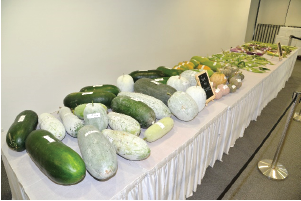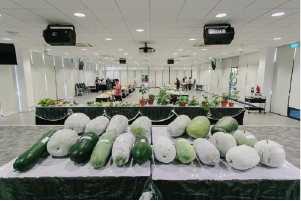 (From left) Heaviest Category (Winter Melon) submissions in the 2016 CGEC, and Heaviest Category (Winter Melon) submissions in the CGEC 2021 March Edition
The CGEC winning entries come from people from all walks of life and with different levels of gardening experience, be it first-time growers or seasoned gardeners, taking part either as individuals or as a group.
A notable group would be from Khoo Teck Puat Hospital, which has ranked within the top three in the Heaviest Category (Pumpkin) for the past four editions of the CGEC. Over the years, the weight of each entry has grown steadily; the latest being an impressive 7.06 kg which earned them third place at the most recent CGEC!
Ms Rosalind Tan, a member of the Khoo Teck Puat Hospital group, also chose to compete as an individual in the same category. Weighing 7.02 kg, her individual submission snagged second place in the latest CGEC.

(From left) Khoo Teck Puat Hospital group's 1st runner up entry for the Heaviest Category (Pumpkin) in the CGEC 2017 weighing 4.77 kg, and Mr Benjamin Ee's winning entry for the Heaviest Category (Pumpkin) weighing 7.20 kg in the CGEC 2021 March edition
Ever since the Longest Category (Snake Gourd) was introduced, Mr Liew San Chaw has nabbed the top prize in this sub-category every year. His submissions have increased in length yearly, exceeding 2 m. His 2019 entry was an astounding 2.62 m long, just 1 cm short of the current world record!
Knowing that each and every submission is a love of labour, care is taken to ensure that the crops do not go to waste after the competition. As much as possible, they are used as part of lush decorative displays, showcased at events such as the Singapore Garden Festival and Community Garden Festival.
Join the Edibles Growing Community
We hope to inspire fellow gardeners by conducting sharing sessions with winners of the previous editions of the CGEC, who can talk about their experiences growing prize-winning edibles. In the meantime, you can get great tips on growing edibles through our Gardening With Edibles Masterclass Series from your home. They are conducted by NParks horticulturists, focusing on unique and challenging edibles across different plant families.
Raring to show off your green thumbs and your own prized produce? You can still take part in the October 2021 edition of the CGEC – just bring your entry in person on the submission day, 21 October 2021, to Jurong Lake Gardens from 9 am to 7 pm. Do check out our website for more details. We look forward to seeing your fruits of labour!
Gardening with Edibles
The City in Nature vision seeks to bring greenery closer to all residents. The community plays a key role in the ownership and stewardship for nature which will benefit our health and well-being.

NParks is partnering residents to make Singapore our City in Nature and spark a love for community gardening through the Gardening with Edibles initiative launched in June 2020. Under this programme, some 400,000 free seed packets have been distributed to interested members of the public. Relevant resources are also available online, to guide gardeners along the way.

Also, NParks is expanding the allotment gardening scheme and the Community in Bloom programme, to welcome even more residents into the gardening family.

The Gardening with Edibles initiative is aligned with Singapore's national strategy to strengthen our food resilience. The "30 by 30" goal, led by the Singapore Food Agency, aims to produce 30% of Singapore's nutritional needs locally by the year 2030. The programme is jointly funded by founding partners DBS Bank and Tote Board through the Garden City Fund.
Learning More
If you are a gardening newbie, visit NParksSG, our refreshed YouTube Channel that serves as a one-stop repository for close to 300 video resources. It covers topics ranging from types of soil needed for your garden and how to plant, harvest and even cook your edibles. You can also learn more about growing your own edibles here.

If you like what you read, follow us on Facebook, Instagram and Telegram to get the latest updates.
Text by Valerine Cheow
About the writer
Valerine Cheow is a final year student from Ngee Ann Polytechnic, pursuing a Diploma in Landscape Design and Horticulture. She is currently interning at HortPark as part of the school's final year internship programme and is responsible for the care of plants in the Outdoor Balcony Garden. She also assists in the production of Gardeners' Day Out videos.