Eat Native Herbs and Spices
Pepper, Chilli, Mint and Basil. We are familiar with these herbs and spices used in our daily cooking.
However, there are actually lesser-known local plants that have been used to impart flavours to many of our traditional dishes as well! Let's take a look at some of these native species that serve as herbs and spices.
1. Indonesian Bayleaf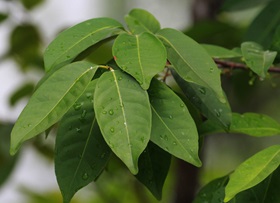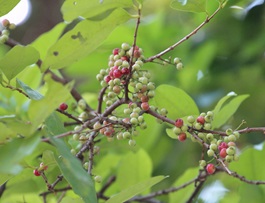 Leaves and fruits of the Indonesian Bayleaf
Also known as Salam, Indonesian Bayleaf (Syzygium polyanthum) is a fast-growing native tree species usually found in secondary forests and disturbed vegetation. It can grow up to 30 m tall. Similar to how Bay leaves are used in European cuisine, the aromatic leaves of the Salam, fresh or dried, are also used as a herb in many Southeast Asian dishes.
The Indonesian Bayleaf's yellowish white flowers attract native pollinators such as butterflies and bees. Its fruits, which ripen from green to dark purple, are usually eaten by birds and mammals. It can be easily propagated by seed, stem cutting and air-layering.
2. Wild Pepper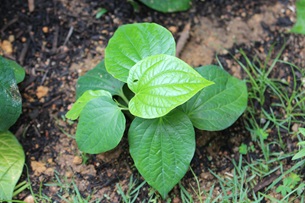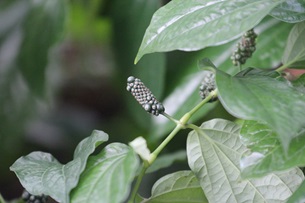 Leaves and infructescence (aggregate fruit) of the Wild Pepper
Wild Pepper (Piper sarmentosum) is a common native herbaceous creeper, found in the understory of secondary forests. It can form mounds up to 60 cm in height, and is also often planted as a groundcover along streetscapes and gardens.
The dried inflorescence of the Wild Pepper is used as a spice. Its young leaves and shoots are eaten raw or dipped in sambal as part of a salad. The leaves are also used to wrap snacks or otak-otak (spiced fish cake). This plant can be propagated by seeds and stem-cutting.
3. Buah Kulim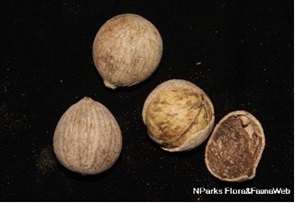 Fruit of the Buah Kulim
Photo credits: Jessica Teo
Buah Kulim or Garlic Nuts (Scorodocarpus borneensis) is an Endangered tree species found in our mature secondary and primary forests. It can grow up to 40 m tall.
The entire tree, including its bark, leaves, branches and fruits have a strong garlic smell. Leaves are eaten as vegetables while the nuts are cooked and used to flavour food. This tree can be propagated by seeds.
4. Asam Gelugor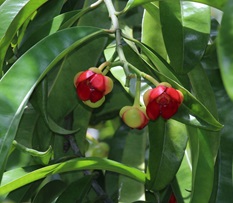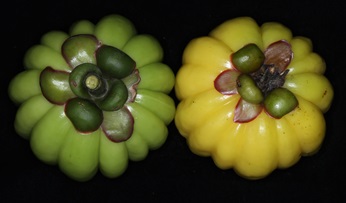 The flowers and fruits of the Asam Gelugor
Asam Gelugor (Garcinia atroviridis) is a Critically Endangered native tree that can grow up to 27 m tall. Found in primary and secondary rainforests, it has beautiful glossy leaves, large reddish flowers and bright coloured fruits which turn orange-yellow when ripe.
Its fruits are often sold as sun-dried slices which are extremely sour and commonly used as a seasoning or sour relish in cooking, such as curries and soups. This tree can be propagated by seeds.
Please do not cut, collect or remove anything from our green spaces. Let our beautiful flora and fauna thrive in their natural habitats. Learn more about some simple do's and don'ts here before visiting our green spaces.

Read more about our native greens here.


Gardening with Edibles
The City in Nature vision seeks to bring greenery closer to all residents. The community plays a key role in the ownership and stewardship for nature which will benefit our health and well-being.

NParks is partnering residents to make Singapore our City in Nature and spark a love for community gardening through the Gardening with Edibles initiative launched in June 2020. Under this programme, some 400,000 free seed packets have been distributed to interested members of the public. Relevant resources are also available online, to guide gardeners along the way.

Also, NParks is expanding the allotment gardening scheme and the Community in Bloom programme, to welcome even more residents into the gardening family.

The Gardening with Edibles initiative is aligned with Singapore's national strategy to strengthen our food resilience. The "30 by 30" goal, led by the Singapore Food Agency, aims to produce 30% of Singapore's nutritional needs locally by the year 2030. The programme is jointly funded by founding partners DBS Bank and Tote Board through the Garden City Fund.
Learning More
If you are a gardening newbie, visit NParksSG, our refreshed YouTube Channel that serves as a one-stop repository for close to 300 video resources. It covers topics ranging from types of soil needed for your garden and how to plant, harvest and even cook your edibles.
For more information about the flora and fauna found in Singapore, please visit NParks Flora and Fauna Web.

If you like what you read, follow us on Facebook, Instagram and Telegram to get the latest updates.
Text by Ng Xin Yi
Photos by Ng Xin Yi
About the writer
Ng Xin Yi is a Native Plant Centre Manager with the Horticulture and Community Gardening Division in NParks. Her daily work includes weekly field trips to various nature reserves to monitor native plants for signs of flowering and fruiting as well as to collect and propagate critically endangered species for the Species Recovery programme. These plants are eventually re-introduced into suitable sites in nature reserves, parks and streetscapes to conserve native plant species and enhance the diversity of our forest and urban habitats.