Eat Straight from Your Palm
Found throughout the tropics, palms have been used by humans for millennia in a variety of ways. They serve as materials for textile and buildings, and for preparing delicious dishes, just to name a few. You might be surprised to know that the ingredients in some of your favourite foods come from palms! There are dozens, if not hundreds of edible palm species.
Palms are also popularly used to beautify our landscapes. Let's take a look at three such palms you may find in our neighbourhoods and parks that also produce tasty edible parts. These are large palms which are most suited to cultivation in the ground rather than in pots.
Sago Palm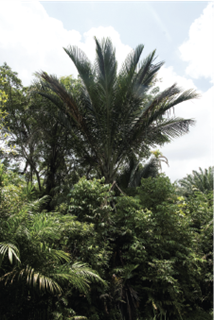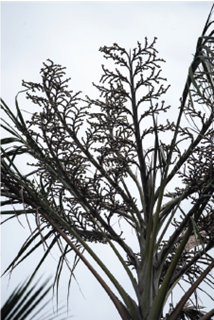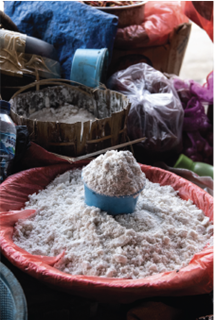 (From left) Sago Palm, its inflorescence, and sago starch sold at a market in Sulawesi, Indonesia
Did you know that sago comes from the starch found in the trunk of the Sago Palm (Metroxylon sagu)? The Sago Palm originates from South-east Asia, where it grows in swamps. This palm is not to be confused with the Japanese Sago Palm (Cycas revoluta), which is actually a cycad.
Sago starch is a staple food and is of commercial importance to certain regions of Southeast Asia. Locally, sago starch can be found in our markets, usually sold in the form of tiny balls in packets. Once boiled, these sago balls are used in popular desserts like honeydew sago.
Each palm produces 150 to 400 kg of starch over its lifetime. At eight to twelve years of age, the palm retains around 20 leaves, and it produces and stores a high amount of starch in its stem in preparation for flowering. It is harvested just before it begins diverting its energy to produce flowers. This palm is monocarpic, which means the flowering stem dies right after flowering. Since it's a clustering palm, new stems will emerge from the base.
Beautiful clumps of the Sago Palm can be found near the Tanglin entrance of the Singapore Botanic Gardens. These can be seen from Napier Road before you enter the Gardens!
Açai Palm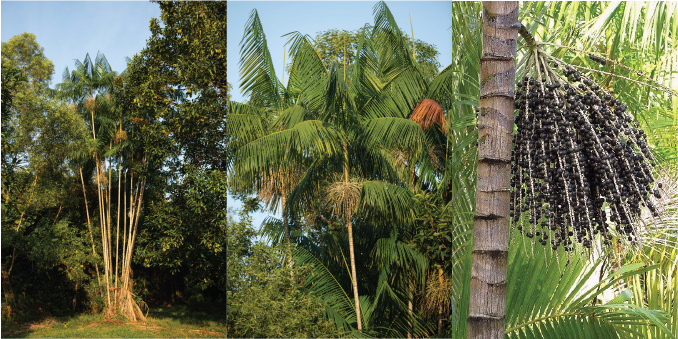 (From left) Açaí Palm, close-up of the crown and infructescence
Photo credit: Zaki Jamil and Scott Zona
The Açaí Palm (Euterpe oleracea) is another edible palm species commonly found in Singapore. Native to South America, it is commonly cultivated here for its beautiful foliage, inflorescences, and its dense clumps of stems. Its dense foliage keeps the environment cool in parks and gardens. Unlike the Sago Palm, the Açaí Palm can flower and fruit many times on the same stem.
This palm is famous for its fruits which are Açaí berries commonly found in health foods and products, such as the currently trending Açaí dessert bowls. These purple fruits are said to be rich in polyphenols, which have antioxidant properties. The flesh of the Açaí berry surrounds an oil-rich seed. Once pressed and refined, this oil has a range of uses from salad dressings to cosmetics.
Nipah Palm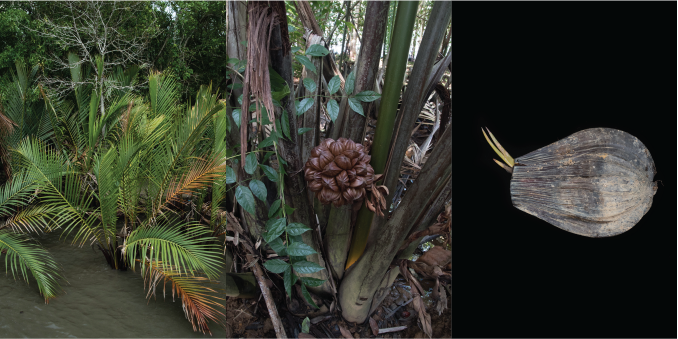 (From left) Nipah Palm, its fruit, and one of its germinated seeds
Native to Asia including Singapore, the Nipah Palm (Nypa fruticans) is a true mangrove palm. It has numerous economic uses: its sap is used in wine and sugar production, while it's leaves serve as thatching materials for houses and huts. The sap from Nipah inflorescences is often used to make the familiar brown gula melaka (palm sugar).
The attap chee in our local dessert, ice kacang, comes from the fruit of the Nipah Palm. The chestnut-brown fruits are borne in huge clusters and the seeds germinate while they are still attached to the parent palm, like true mangrove plants. This gives them an advantage over other species in terms of reproduction when they wash up at a suitable location. The seed is protected by fibrous husk which traps air that keeps it afloat. Because of this, the Nipah Palm has a wide distribution all over coastal Southeast Asia.
Not only is the Nipah Palm used widely in food, it also plays an important part in the ecosystem, being a valued resource in coastal areas. It usually grows in large colonies, which help resist tidal changes and strong waves. As such, Nipah Palm colonies are natural buffers that protect our coasts. You can find this species lining our shores in places such as Pulau Ubin and Admiralty Park.
These are just three of many edible palms you may see in our neighbourhoods, parks and gardens. They also serve as valuable food sources for a wide range of native animals, such as birds, fruit bats and squirrels, in our City in Nature. Be sure to keep an eye out for them the next time you're out and about!
Please do not cut, collect or remove anything from our green spaces. Let our beautiful flora and fauna thrive in their natural habitats. Learn more about some simple do's and don'ts here before visiting our green spaces.
Gardening with Edibles
The City in Nature vision seeks to bring greenery closer to all residents. The community plays a key role in the ownership and stewardship for nature which will benefit our health and well-being.

NParks is partnering residents to make Singapore our City in Nature and spark a love for community gardening through the Gardening with Edibles initiative launched in June 2020. Under this programme, some 400,000 free seed packets have been distributed to interested members of the public. Relevant resources are also available online, to guide gardeners along the way.

Also, NParks is expanding the allotment gardening scheme and the Community in Bloom programme, to welcome even more residents into the gardening family.

The Gardening with Edibles initiative is aligned with Singapore's national strategy to strengthen our food resilience. The "30 by 30" goal, led by the Singapore Food Agency, aims to produce 30% of Singapore's nutritional needs locally by the year 2030. The programme is jointly funded by founding partners DBS Bank and Tote Board through the Garden City Fund.
Learning More
If you are a gardening newbie, visit NParksSG, our refreshed YouTube Channel that serves as a one-stop repository for close to 300 video resources. It covers topics ranging from types of soil needed for your garden and how to plant, harvest and even cook your edibles.
For more information about the flora and fauna found in Singapore, please visit Flora and Fauna Web.

If you like what you read, follow us on Facebook, Instagram and Telegram to get the latest updates.
Text by Zaki Jamil
Photos by Zaki Jamil and Scott Zona
About the writer
Zaki Jamil is a horticulturist at Pasir Panjang Nursery, under the NParks Horticultural and Community Gardening Division. He grows a wide range of palms, from rare natives to exotics, and finds them charismatic plants to work with.