Nature-Inspired Collectibles
In need of a relaxing retreat? Get your daily dose of nature with a tranquil walk around the Singapore Botanic Gardens and find time to admire the flora and fauna around you.
You can also enjoy a slice of greenery by exploring the Gardens Shop and choosing a special and unique gift from its wide range of nature-inspired merchandise. There is something for everyone, from functional mugs and scarves to delectable tea featuring herbs and spices from the gardens.

Here we offer you two ideas:
Orchid Scarf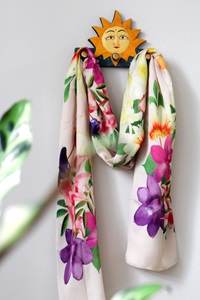 Colourful, vibrant and sophisticated – inspired by the many pretty and elegant orchids found in the National Orchid Garden, this silk blend Orchid Scarf exudes femininity and grace. It captures the beauty of green foliage and the diverse colours of exotic orchids.

Wrap yourself with this soft scarf to keep warm when the air conditioner is turned up or use it as a versatile accessory to elevate your outfit with a pop of colour.
Botanic Post Cards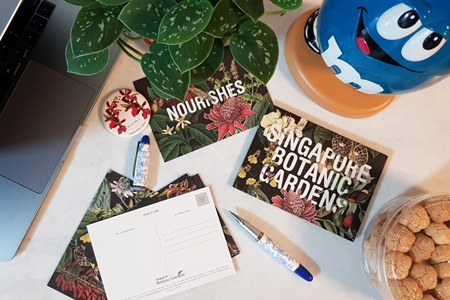 Miss seeing a loved one for some time? Reach out and catch up on each other's lives the old fashion way! Put down your thoughts and best wishes using this lovely set of Botanic Post Cards, exclusively available at the Gardens Shop.

In this age of instant text messages, penmanship is a soon-to-be forgotten art. Nonetheless this way of communication is personal and widely appreciated as a delightful way of delivering messages of love and care to each other. The postcard selection comes in a set of six, each one artfully designed and featuring plants and animals found within the Singapore Botanic Gardens.

You may check these items out at The Gardens Shop in the Singapore Botanic Gardens or view these products on www.botanicgardensshop.sg.