Hello MacRitchie
MacRitchie Reservoir Park is a place many of us know and probably have visited over time, a popular spot for nature lovers and water sports enthusiasts alike.
Designed and built in 1867 by James MacRitchie, MacRitchie Reservoir is the oldest and biggest reservoir in Singapore, lying amidst the lush greenery of the surrounding Central Catchment Nature Reserve. Both the reservoir park and nature reserve are ideal places for nature lovers, joggers, hikers, bird watchers and anyone wanting to escape the busy city life.
Depending on what your interests are, it is best to plan your itinerary to get the best of your visit. For nature lovers, you can consider exploring the Prunus and Petai Trails, starting from the eastern end of the reservoir. This is a relatively easy walk with a scenic view of the waters.
There are also plenty of interesting plants and animals to spot here, some familiar and others that you may have overlooked before.
Pretty In Pink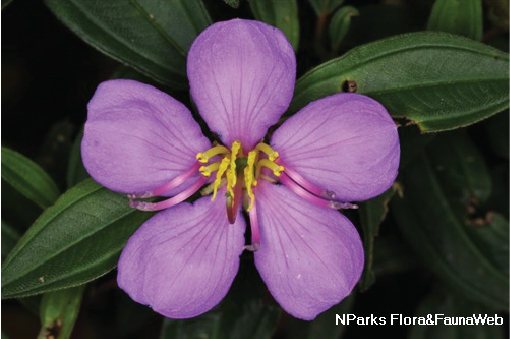 Flower of the Singapore Rhododendron
Photo credit: Ang Wee Foong
During your walk, you may notice shrubs with pretty pink flowers. This is the Singapore Rhododendron (Melastoma malabathricum). Although not exclusive to Singapore, they can be seen in many of our open spaces and along the coast. Its leaves have medicinal properties and are used to make traditional Chinese medicine for the treatment of diarrhoea and dysentery.


Crackle and Pop



Leaves and seeds of the Rubber Tree
Photo credit: Cerlin Ng
If you happen to hear a crackling sound similar to a gunshot, it is likely from the Rubber Tree (Hevea brasiliensis). This happens when it's dried fruit 'explodes' and the seeds are dispersed.

Originally from Brazil, the seeds were brought over to Singapore by the British from Kew Gardens, United Kingdom, in 1877. Although rubber plantations were once important to our economy, they have since been phased out. The trees, however, continue to flourish in our forests.


A Hardened Heart



Bark and fruit of the Tembusu
Photo credit: Cerlin Ng
As you walk along the trail, look for one of Singapore's most distinctive trees, the Tembusu (Cyrtophyllum fragrans). This tree is recognized by its fissured dark brown bark and unique perpendicular branching. It is known for its strength and durable hardwood which is resistant to termite attacks. The local term 'heart of Tembusu' is used to describe someone with a
hard, unfeeling heart.

You have probably seen a photograph of the Tembusu at the back of the $5 Singapore bill. It also has pale yellow flowers which gives off a sweet scent that eventually develops into bright red berries. The berries are sought after by birds and bats.


Strong Smelling Stuff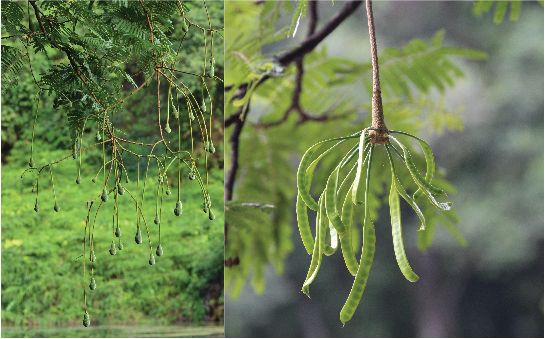 Flowers and seed pods of the Petai
Photo credit: Cerlin Ng
Petai beans, also called stink beans due to their garlic-like scent, are commonly used in our local dishes and even in some Thai dishes. You can spot the Petai tree (Parkia speciosa) by its feathery crown and numerous pairs of small leaflets. When the tree is flowering or fruiting, you can see large clusters of flowers or seed pods.


Yummy Jelly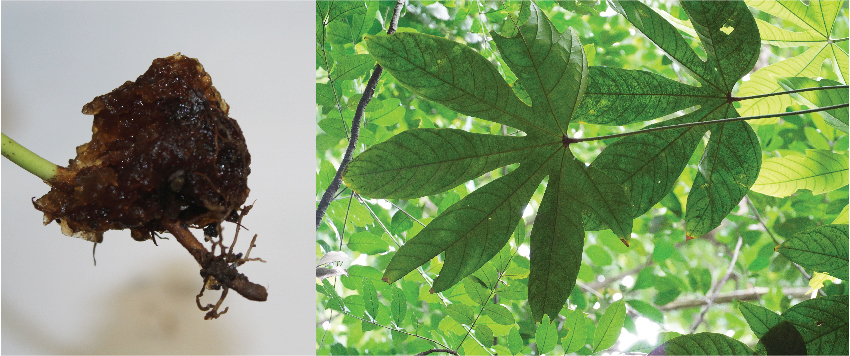 Brown gelatinous layer that forms around the seed and palmately-lobed leaves of the Cheng Tng tree
Photo credit: Cerlin Ng and Reuben Lim

Many Singaporeans are familiar with the local dessert called Cheng Tng. The jelly-like substance that you find in the dessert comes from the seeds of the Cheng Tng tree (Scaphium macropodum). The Malay name for this tree is Kembang Semangkok which means 'fill a cup' as when the seeds are soaked overnight in water, a brown spongy jelly fills the cup. A young Cheng Tng tree can be recognized by its palmately-lobed leaves but once it matures, it will be completely unlobed.


Sweetly Scented



Inflorescences growing out from the trunk of the Setambun and close-up of its flowers and developing fruits
Photo credit: Reuben Lim

While walking you may get a citrus-like scent in the air. It is from the Setambun (Baccaurea parviflora). We usually see flowers growing at the ends of branches or stems, but have you seen flowers on the trunk or branches? This unusual trait called cauliflory is common in tropical rainforests. The male flowers grow along the entire trunk while the female flowers are found near the base.

There are many other varieties of plants and trees along the trail. You may be able to see wildlife along your walk too.


Monkey Business



Long-tailed Macaque and Banded Leaf Monkey
Photo credit: Holly Siow and Jayasri

While checking out the trees and plants you might encounter monkeys – the Long-tailed Macaque (Macaca fascicularis) and the Critically Endangered Banded Leaf Monkey (Presbytis femoralis). The Long-tailed Macaque is one of the most frequently seen mammals in the nature reserve. They feed on small prey animals, fruits and vegetative parts from a variety of plants. This helps with the seed dispersal as well.

These monkeys are generally shy but can approach people for food. Do not feed them as this will cause them to lose their natural ability to hunt and in turn, cause them to be unable to perform their ecological role as seed dispersers. When animals do not have easy access to food, they will spend more time foraging rather than resting and this would impact their reproductive capacity too.

It is advisable not to carry small bags or plastic bags as monkeys are becoming conditioned to associate these bags with containing food. Learn more about what to do when encountering monkeys here.


Birds of MacRitchie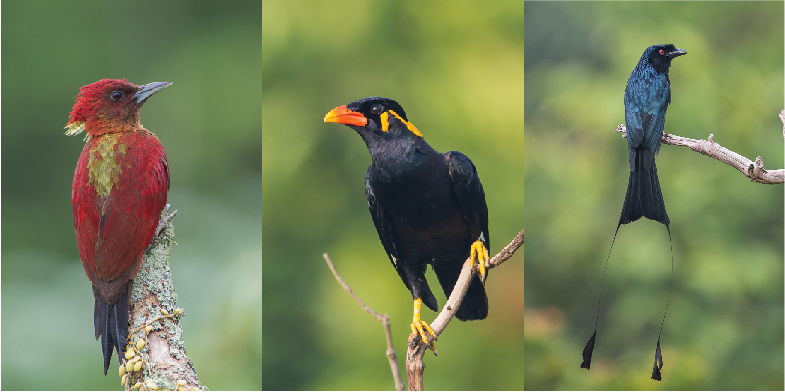 Banded Woodpecker, Hill Myna and Greater Racket-tailed Drongo
Photo credit: Francis Yap

Besides looking at the plants and trees, do look out for the birds too. Bird watching does require patience and time. Some birds found at MacRitchie include the Banded Woodpecker (Picus miniaceus), Hill Myna (Gracula religiosa) and the Striped Titbabbler (Macronous gularis).

The Greater Racket-tailed Drongo (Dicrurus paradiseus) is easily identified by its twisted pendant-like tail extensions. These birds are very brave as they will not hesitate to give chase to larger birds if their nest is threatened. The Drongo can also imitate the calls of other birds. So do look up if you hear bird calls and try to spot the real from the fake ones!


More to Explore
If you still have more energy to explore the place or plan to visit again, do visit the other attractions like the Treetop Walk. This free-standing suspension bridge is the first of its kind in Singapore and the region, with a total length of about 250 m and varying height from the forest floor, the highest point at 25 m. It offers panoramic view of the animals, plants and the surrounding lush rainforest.

Making Your Way to MacRitchie
Nature Reserve opening hours
It is opened from 7:00 am to 7:00 pm daily. Entering or remaining in the nature reserve after 7:00 pm is strictly prohibited.
TreeTop Walk opening hours
Weekdays: 9:00 am to 5:00 pm
Weekends and Public Holidays: 8:30 am to 5:00 pm
Closed on Mondays (except Public Holidays) Last entry at 4:45 pm

Venus Drive Carpark opening hours:
7:00 am to 7:00 pm daily
For your safety, please do not enter the nature reserve and forested areas during stormy weather as such inclement weather may cause trees and branches to fall. Do note that when planning to go outdoors, you may dial 65427788 for the weather forecast.
Learn about some simple do's and don'ts when visiting our Nature Reserve and Nature Parks here.


Learning More About Our City In Nature
Over the years, NParks has created a green network comprising roadside planting and a Park Connector Network that links up parks and other green spaces. Skyrise greenery dot developments while biophilic design has been adopted in restoring habitats.

But as Singapore continues to urbanise, the growing infrastructure will put increasing pressure on the established green cover. Coupled with climate change and more extreme weather conditions, this will result in higher urban temperatures and the increased risks of localised flooding events. Our City in Nature vision works to ensure the city develops in a way that continues to provide a high-quality living environment for residents while ensuring Singapore remains a distinctive global city.

Learn more about City in Nature here.


Visiting our Green Spaces
If you are visiting our green spaces, mask-wearing in outdoor settings such as parks, gardens and nature reserves is optional but continues to be required when you visit our indoor facilities, such as museums, galleries and enclosed visitor centres.

Do check out the visitorship levels of our parks using our safe distancing portal before you head down and avoid the ones with high visitorship.
Visit NParksSG, our refreshed YouTube Channel that serves as a one-stop repository for more than 500 video resources. It also provides a platform for existing and future digital outreach including DIY gardening and related crafts, virtual tours of our green spaces, and livestream events.

For more information about the flora and fauna found in Singapore, please visit NParks Flora and Fauna Web.

If you like what you read, follow us on Facebook, Instagram and Telegram to get the latest updates.

Text by Sabrina Solomon



About the writer
Sabrina Solomon is an Executive with the Attorney-General's Chambers and currently on a part-time attachment programme with NParks, initiated by the Public Service Division. Her interest in nature, writing and proof-reading led her to seek this opportunity to work with NParks.