Five Uncommon Edibles to Grow at Home
Love growing edibles at home? Since the launch of the Gardening with Edibles in June 2020, some 400,000 free seed packets have been distributed to interested members of the public to encourage ordinary Singaporeans to garden at home with edible plants.
If you are getting more confident with your green fingers and itching to try something new or unique, here are five uncommon edibles you can challenge yourself to grow.
Jerusalem Artichoke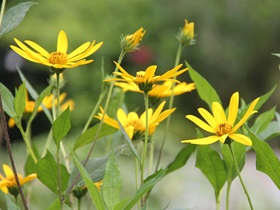 Photo credit: Jennie Tang Yurue
The Jerusalem Artichoke (Helianthus tuberosus), also known as Sunchoke, is not an artichoke but is a variety of sunflower! Its name is not associated with the place Jerusalem but is actually derived from the Italian word 'girasole' which means 'sunflower'.
It has a nutty, crunchy underground tuber that resembles a ginger rhizome. Popular as a cooked vegetable in Europe, the edible tuber can be boiled, roasted, or even fried the same way as potatoes.

Its yellow flowers will brighten any garden, and can be grown under full sun in well-drained soil with moderate watering.
Gac Fruit


Photo credit: Jessica Teo
The Gac Fruit (Momordica cochinchinensis), also known as Spiny Bitter-Cucumber, is a climbing vine with tendrils that can grow up to 3 m tall.
The round or oblong fruit is the size of a small melon about 15 to 20 cm long, which turns from green to yellow to dark orange when matured. Its outer surface has numerous small spines, and on the inside contains reddish aril that surrounds the large seeds.

Apart from the edible fruit, the young leaves and shoots can also be cooked and eaten. The pulp is used as a red colourant and flavour to make a traditional rice dish commonly served during celebrations in Vietnam. The seeds are also used in Traditional Chinese Medicine.

Before sowing the seeds, use a nail clipper to cut the sharper end of the seed and soak them overnight in warm water. Fresh seeds usually have a higher germination rate. This large, fast-growing climber can be grown under full sun in fertile, well-drained soil with moderate watering.

As male and female flowers are produced on separate plants, you will need to grow at least a male and female plant in the garden to ensure fruit production. Hand pollination may be required to transfer pollen from male flowers to female flowers for fruits to form.
Stevia

Photo credit: Vicky Lim Yen Ngoh
If you are wondering what are "stevia-sweetened" soft drinks, look no further! The Stevia (Stevia rebaudiana) is a herbaceous plant with edible raw and sweet-tasting leaves. It is commercially cultivated to be used as an artificial zero-calorie sweetener for food and beverages.
Suitable for herb gardens and containers, it grows up to 0.3 m in height under cultivation and its small white flowers are produced in clusters of two to six florets. There tends to be more flowers and seeds produced under full sun, and bigger leaves produced in semi-shade.

This plant prefers moist, well-drained slightly acidic soil. Avoid excessive use of nitrogen-rich fertiliser which tends to produce large leaves with little flavour. Stevia plants can be propagated using stem-cuttings.
Indian Lettuce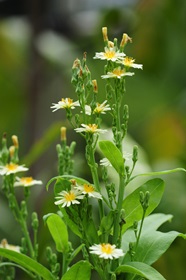 Photo credit: Nur Liyana Zolpakar
The Indian Lettuce (Lactuca indica) is an herbaceous shrub that can grow up to 2 m tall when in bloom with its small and bright yellow flowers. It is mainly grown for its slightly bitter-tasting leaves which are eaten raw, boiled, or steamed as vegetables, or even used for wrapping and frying fish.
If you are intending to grow this uncommon edible at home, do provide it with full sun and lots of water. While it prefers fertile well-drained soil with high organic matter content, it can tolerate a wide range of soils. It is easily grown from seeds.
Lemon Verbena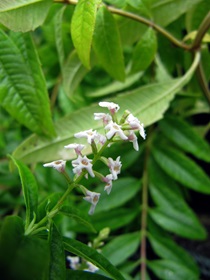 Photo credit: Vicky Lim Yen Ngoh
The Lemon Verbena (Aloysia citriodora) is an herbaceous shrub with long trailing stems. It gets its name from its aromatic leaves which have a lemony, sweet citrus flavour.
Gardening with Edibles
The City in Nature vision seeks to bring greenery closer to all residents. The community plays a key role in the ownership and stewardship for nature which will benefit our health and well-being.

NParks is partnering residents to make Singapore our City in Nature and spark a love for community gardening through the Gardening with Edibles initiative launched in June 2020. Relevant resources are also available online, to guide gardeners along the way.

Also, NParks is expanding the allotment gardening scheme and the Community in Bloom programme, to welcome even more residents into the gardening family.

The Gardening with Edibles initiative is aligned with Singapore's national strategy to strengthen our food resilience. The "30 by 30" goal, led by the Singapore Food Agency, aims to produce 30% of Singapore's nutritional needs locally by the year 2030. The programme is jointly funded by founding partners DBS Bank and Tote Board through the Garden City Fund.

Gardeners' Day Out
Participate from the comfort of your home with online activities such as talks and demonstrations, video tutorials of activities and promotions offered. Enjoy Gardeners' Day Out online at www.nparks.gov.sg/GDO.

You can also enjoy videos of our Gardening With Edibles Masterclass Series. They are conducted by NParks horticulturists, focusing on unique and challenging edibles across different plant families.

Learning More
If you are a gardening newbie, visit NParksSG, our refreshed YouTube Channel that serves as a one-stop repository for close to 300 video resources. It covers topics ranging from types of soil needed for your garden and how to plant, harvest and even cook your edibles.
Keep your garden safe from attack by insect pests. Learn more about five such common pests of edible plants here. How can you make your garden more welcoming to bees? Learn more here.

For more information about the flora and fauna found in Singapore, please visit Flora and Fauna Web.
If you like what you read, follow us on Facebook, Instagram and Telegram to get the latest updates.
Text by Charlotte Tan